| | |
| --- | --- |
| | |
In Memoriam of Phillipa Ryan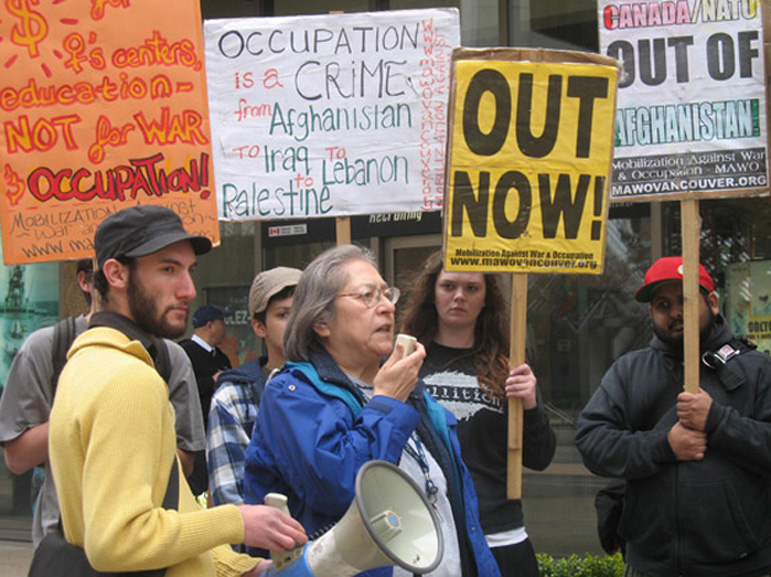 May 3, 2010

On Monday April 26th, we lost a beloved mentor and an inspiration to social justice activists in Vancouver and beyond. Phillipa Ryan was an Indigenous elder, warrior and social justice activist, who impacted so many people with her openness, honesty, strength and commitment to those facing oppression, injustice, war and occupation. Phillipa was someone who was full of generosity and caring for others. At the same time, she was always prepared with sharp words against the forces who inflict injustice on others. We in Mobilization Against War and Occupation benefited immensely from Phillipa's presence and contribution to the struggle against war and occupation and for self-determination of oppressed nations, especially of Indigenous people. We could always count on Phillipa to share her knowledge and experience in a discussion, and to connect the struggle at hand with that of all oppressed people around the world.

If we are to honour Phillipa's memory, it must be by learning from the qualities that she possessed and practiced constantly and making them our own cornerstones to live by. Phillipa had a clarity of vision that put aside petty differences in order to make the common struggle a stronger one. This is why you could see Phillipa speaking against war and occupation one afternoon, in the evening working against the oppression of women in the Downtown Eastside and beyond, then fighting for Indigenous rights, for affordable housing, and speaking out in defence of Cuba. Phillipa saw all of these struggles together – as the struggle of oppressed people and oppressed nations, for dignity, for rights, for justice and for self-determination. Phillipa connected all these battles with the understanding that together, in unity, our battles can – and must - be won.

It is people like Phillipa, who with utmost conviction are not only committed to the fight for social justice but truly believe that the world can be a better place, that keep the hope of the social justice and antiwar movement alive, and inspire us to continue fighting for a better world.

How must we remember this remarkable woman, who we were privileged to have known? As a great leader, whose perspective was far-reaching, whose message was unity in this time of struggle, and whose example we must learn from and uphold.

Phillipa is not gone. Phillipa is here in our hearts and in our minds and we will carry her legacy and her spirit with us until the end of our struggle against oppression and suppression, for a better world.


Mobilization Against War & Occupation (MAWO)
www.mawovancouver.org