---
SWAWO #8
---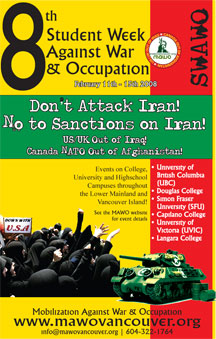 February 11-15 2008
8th Student Week Against War & Occupation
Don't Attack Iran!
No to Sanctions on Iran!
US/UK Out of Iraq!
Canada/NATO Out of Afghanistan!

---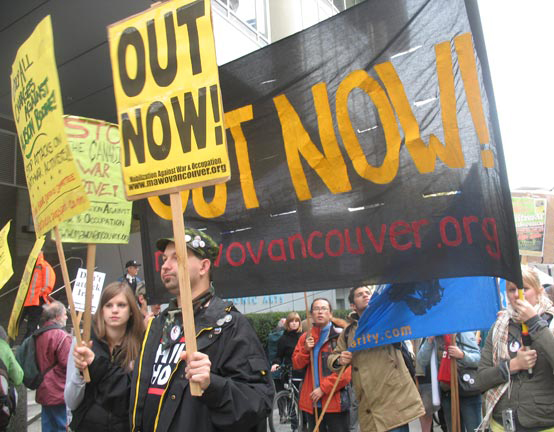 Contacts On-Campus


The Student Week Against War & Occupation is co-organized by Mobilization Against War & Occupation (MAWO) and antiwar clubs and committees on Lower Mainland university, college and high school campuses and is endorsed and sponsored by
many students unions.

* * * * *

To contact the club or committee on your campus, and to get involved see below for contact information!


---

UNIVERSITY OF BRITISH COLUMBIA (UBC)
UBC AMS Coalition Against War on the People of Iraq & Internationally (CAWOPI)
email: cawopi_ubc@yahoo.ca
phone: 604.780.7604


SIMON FRASER UNIVERSITY (SFU)
Mobilization Against War & Occupation Club - SFU
email: tamarah@sfu.ca
phone: 778.882.5223


CAPILANO COLLEGE
Capilano Students Against War (CSAW)
email: csaw@csu.bc.ca
phone: 604.719.6947


LANGARA COLLEGE
Langara Students United Against War & Occupation Club
email: antiwarlangara@gmail.com
phone: 778.881.6156


DOUGLAS COLLEGE - New Westminster
Douglas College Students Against War
email: douglasagainstwar@gmail.com
phone: 604.710.4994


UNIVERSITY OF VICTORIA (UVIC)
Mobilization Against War & Occupation - UVIC Club
email: mawouvic@yahoo.ca


SWAWO 2008
Report Back!
---
With school back in session, anti-war organizing is on the move at campuses the lower mainland and Vancouver Island. The beginning of February brought a coordinated week of workshops, forums, film showings and more. As students face skyrocketing tuition fees and barrage of military recruiters, the reality of Canada's war abroad has impacted students to get involved in organizing against this current era of war and occupation!

* * * * * * * *

---

PHOTOS!
(click on the photo for a larger version)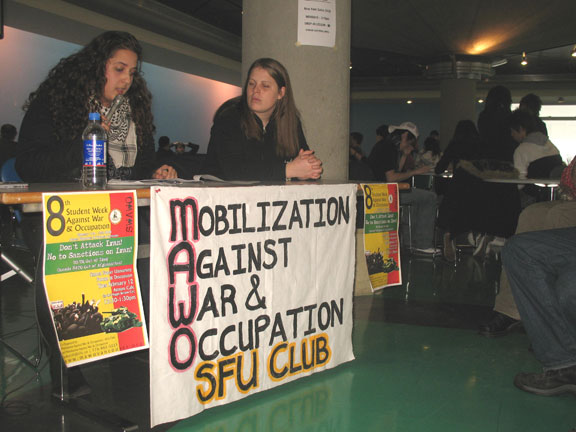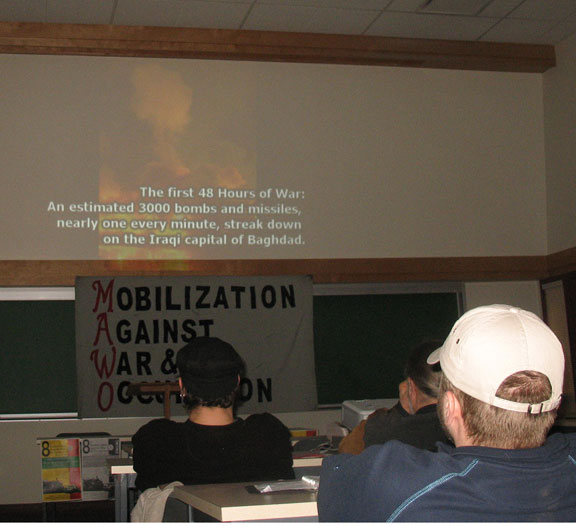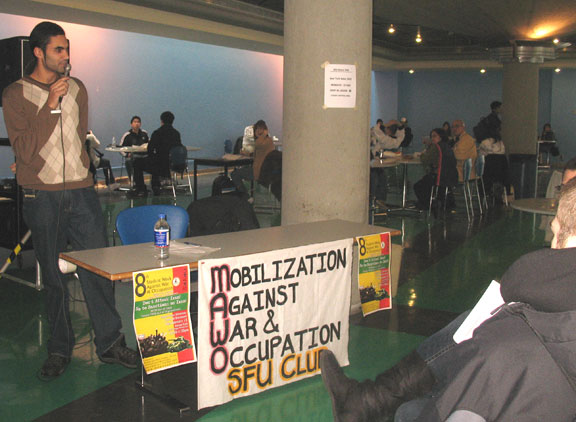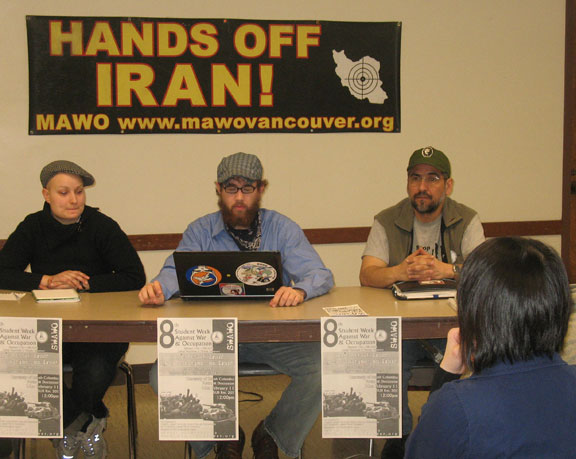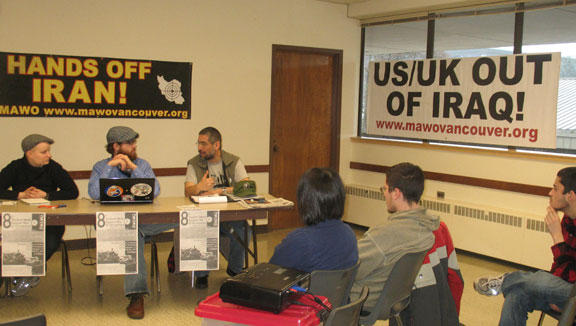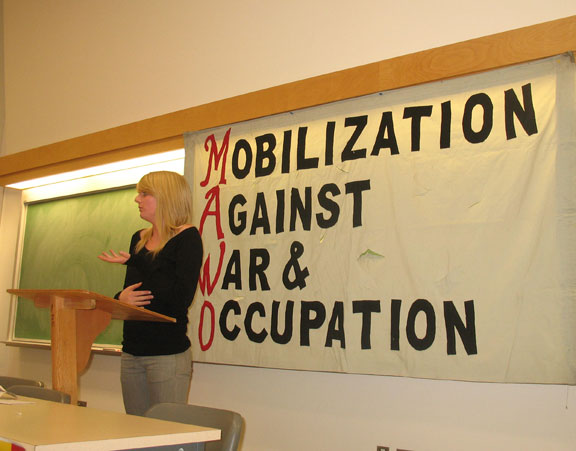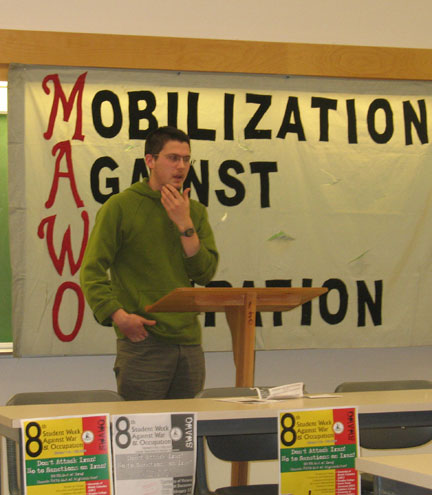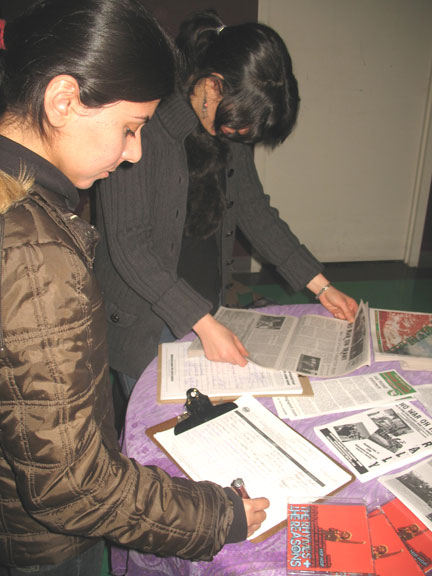 Schedule of Events

MONDAY FEBRUARY 11

University of British Columbia
Film Showing, Forum & Discussion
SUB Room 205
12:30pm-1:30pm
Organized by UBC AMS Coalition Against War on the People of Iraq & Internationally (CAWOPI)
Endorsed by UBC AMS Social Justice Center


TUESDAY FEBRUARY 12

Simon Fraser University (Burnaby Campus)
Film Showing, Forum & Discussion
Atrium Cafeteria (Maggie Benston Center)
12:30pm-1:30pm
Organized by MAWO-SFU Club
Endorsed by Simon Fraser Student Society

WEDNESDAY FEBRUARY 13



Langara College
Film Showing, Forum & Discussion
Room B023, bottom floor of 'B' Building
12:30pm-1:30pm
Organized by Langara Students United Against War & Occupation Club
Capilano College
Film Showing, Forum & Discussion
CSU Lounge
12:30pm-1:30pm
Organized by Capilano Students Against War
Endorsed by Capilano Students Union University of Victoria
Forum, Film Showing & Discussion
David Strong Building, Rm C112
7:00pm
Organized by MAWO UVIC Club



FRIDAY FEBRUARY 15



Douglas College (New Westminster Campus)
Petition Drive & Antiwar Information Table
Main Concourse
12:30pm
Organized by Douglas Students Against War