---
Event Reports
---
May 24th, 2012

Activists Report Back from Chicago!

15,000 March in Chicago

No to NATO!

No to War & Occupation!

Yes to Self-Determination!

Yes to Peace!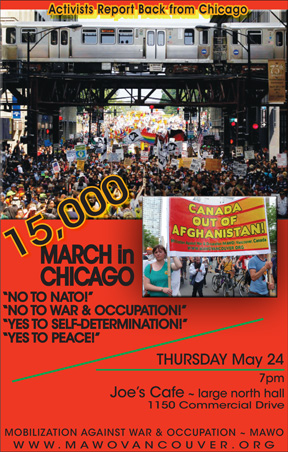 Organized by Mobilization Against War & Occupation (MAWO)


---
Activists Report Back from Chicago!
Only a few days after returning from actions against NATO on the streets of Chicago, activists from Vancouver spoke at a public event organized by Mobilization Against War and Occupation (MAWO), to report back about their experiences. On May 24, the delegation from MAWO, Vancouver's peace coalition, addressed a full room at Joe's Cafe on Commercial Drive, sharing video, photos and perspective about their time in Chicago.

Among the highlights of the evening was video from the May 20 mass antiwar rally that marched to the meeting place of the NATO summit. This included footage from the closing rally ceremony where over 50 US veterans who were in Iraq and Afghanistan returned their medals to the NATO leaders. Some yelled, "Free Bradley Manning!" as they denounced their own participation in the imperialist war crimes that Bradley Manning exposed. Also shown were two CBC interviews with MAWO co-chair, Alison Bodine who spoke from the main stage of the rally on May 20.

Following the videos, MAWO activists Noah Fine and Mike Larson narrated a photo slideshow of the events against NATO in the week leading up to the NATO summit, as well as from the May 20 demonstration. The photos showed the diversity, strength and unity of peace-loving people that had gathered in Chicago from all over the world. Then Alison Bodine, MAWO co-chair and Tamara Hansen, MAWO and Cuba solidarity organizer both talked about their experiences in Chicago. They focused on the strength and unity of organizing, as well as the significance of an international day of action against NATO-led wars and occupations.

The significance of these actions comes especially from the experience that poor, working and oppressed people gained in the 8 months spent organizing for the historic anti-NATO actions in Chicago and coming together on the streets. MAWO organized this report back event so that some of that perspective, feeling and determination could be spread to peace-loving people in Vancouver. The anti-NATO action in Chicago helped cement a growing international antiwar movement, but it cannot be allowed to fade into history. From this week of action must come more international actions against NATO-led wars and occupations from Afghanistan to current threats against Iran and Syria.