---
Event Reports
---
FEBRUARY 25, 2012

Antiwar Rally & Petition Campaign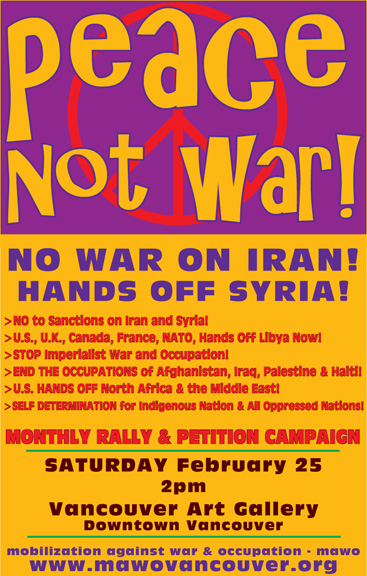 Organized by Mobilization Against War & Occupation (MAWO)


---
MAWO Rally and Petition Drive Attracts Hundreds of People on the Streets of Vancouver



Demands of "Hands Off Syria!" "No War on Iran!" were heard in Vancouver as peace-loving people gathered in front of the Downtown Public Library on Saturday February 25th. This rally and petition drive, organized by Mobilization Against War and Occupation (MAWO), took place the day after the "Friends of Syria" meeting held in Tunisia. At that meeting the governments' of the U.S., Canada, France, Britain and the European Union made plans for further interventions and destruction in Syria as Western forces looked for allies and support in their drive for foreign military intervention in Syria.

MAWO's petition drive focused on two petitions directed towards the Prime Minister and Foreign Affairs Minister of Canada. One of the petition demands an end to sanctions, manipulation and threats of war against Iran. The other calls for an end to sanctions and inference by the government of Canada in the internal affairs of Syria. MAWO organizers and supporters spoke to hundreds of people as they passed by this busy area of downtown Vancouver, stopping to learn more when asked "would you like to sign a petition against war on Syria?" of "Stop this petition to end threats of war against Iran!" Although not everyone that stopped signed the petition, it was clear that peace-loving people in Vancouver are looking for more information about the government of Canada's sanctions and threats of war against people in Iran and Syria and what they can do to stop this march towards war.

Throughout the 3 hour rally and petition campaign many people also stopped by the MAWO information table. On the table were more materials about MAWO's upcoming educational events and how to get involved in antiwar events and actions in Vancouver. Every person that stopped to sign a petition, or get more information from the table, represents a victory for building a stronger antiwar movement. These successes are only possible when the antiwar movement is consistently in the streets and talking to people about war, occupation and what we all can do to stand in opposition and resistance with our brothers and sisters under attack from imperialism.