---
Event Reports
---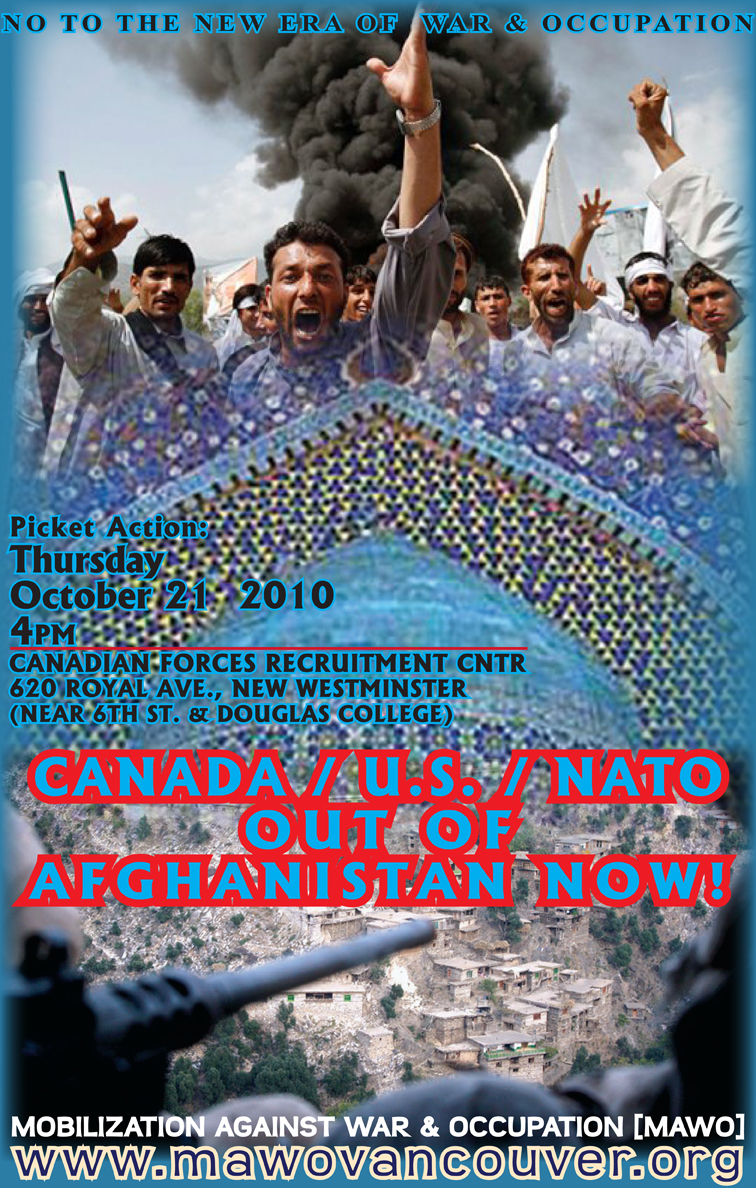 October 21, 2010
Picket Action

CANADA/US/NATO Out of Afghanistan Now!


Organized by Mobilization Against War & Occupation (MAWO)




---

October 21 MAWO Picket Action Report

69th Picket Action Demanding Canada/US/NATO Out of Afghanistan Now!

On October 21st Mobilization Against War & Occupation (MAWO) organized its 69th monthly protest in front of the Canadian Forces Recruitment Centre near Vancouver, Canada. The demand was simple and clear:
Canada/US/NATO Out of Afghanistan Now!

The picket was organized at a time when the occupation forces of Afghanistan are in a quagmire. 2010 has been the deadliest month for US and NATO troops and there is no end in sight for this path of death and destruction.

Andrew Barry, a co-chair with MAWO, welcomed the picketers to the action and began the day by reading the picket statement. The statement ended with the chant: SELF DETERMINATION FOR AFGHANISTAN NOW!

This led to an energetic first round of picketing where protesters made their voices loud and clear. Andrew welcomed the first speaker of the day, David Whittlesey, a long time antiwar activist who fought in the civil rights movement. David spoke passionately and angrily at how the occupation forces are killing and tormenting Afghans the same way these same countries did against the Vietnamese in the 1960s and 70s.

A second round of picketing ensued following Davidís words. A huge sign that read HONK FOR CANADA OUT OF AFGHANISTAN! was faced towards the hundreds of passing cars that went by. The sign generated a large amount of support, that at times was so loud that the picketers had to stop the program and wait for the honking to quiet down!

The final speaker of the action was Janine Solanki, an outreach coordinator with MAWO and student at BCIT. Janine gave an overall perspective of how this war and occupation has led to widespread suffering and misery for Afghans of all ages. She emphasised on the true nature of the war which was recently exposed by the Wikileaks scandal that released over 70,000 pages documenting US crimes in Afghanistan.

The protesters went for one final round of picketing in front of the Recruitment Centre. As the picket came to a close Andrew emphasised on how the resistance movement in Afghanistan is gaining more and more strength against the occupation. He concluded on the necessity of peace and antiwar coalitions from Canada and around the world to follow the example of Afghans protesting against the war, and join in this international protest for peace.


CANADA OUT OF AFGHANISTAN NOW!
US OUT OF AFGHANISTAN NOW!
NATO OUT OF AFGHANISTAN NOW!
TROOPS OUT NOW!
SELF DETERMINATION FOR AFGHANS NOW!