CLICK ON PHOTO FOR LARGER VERSION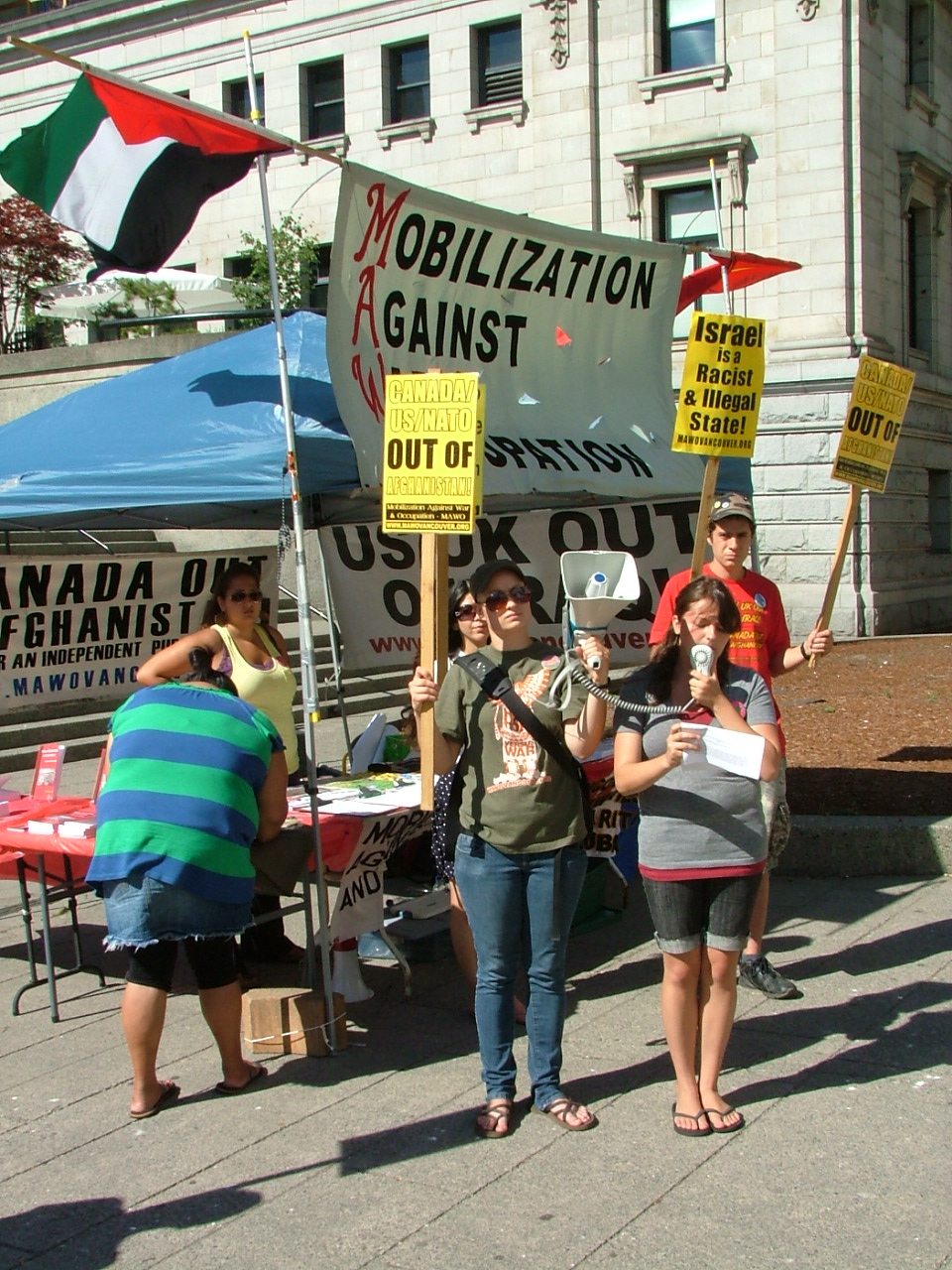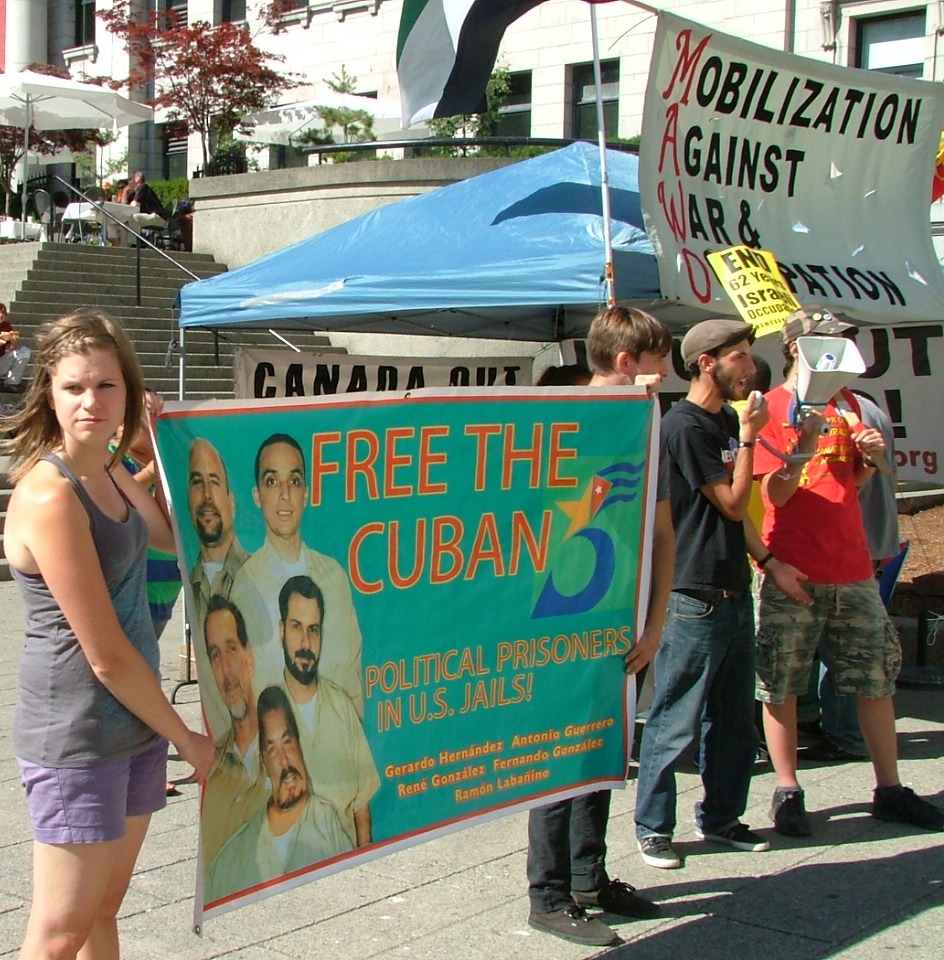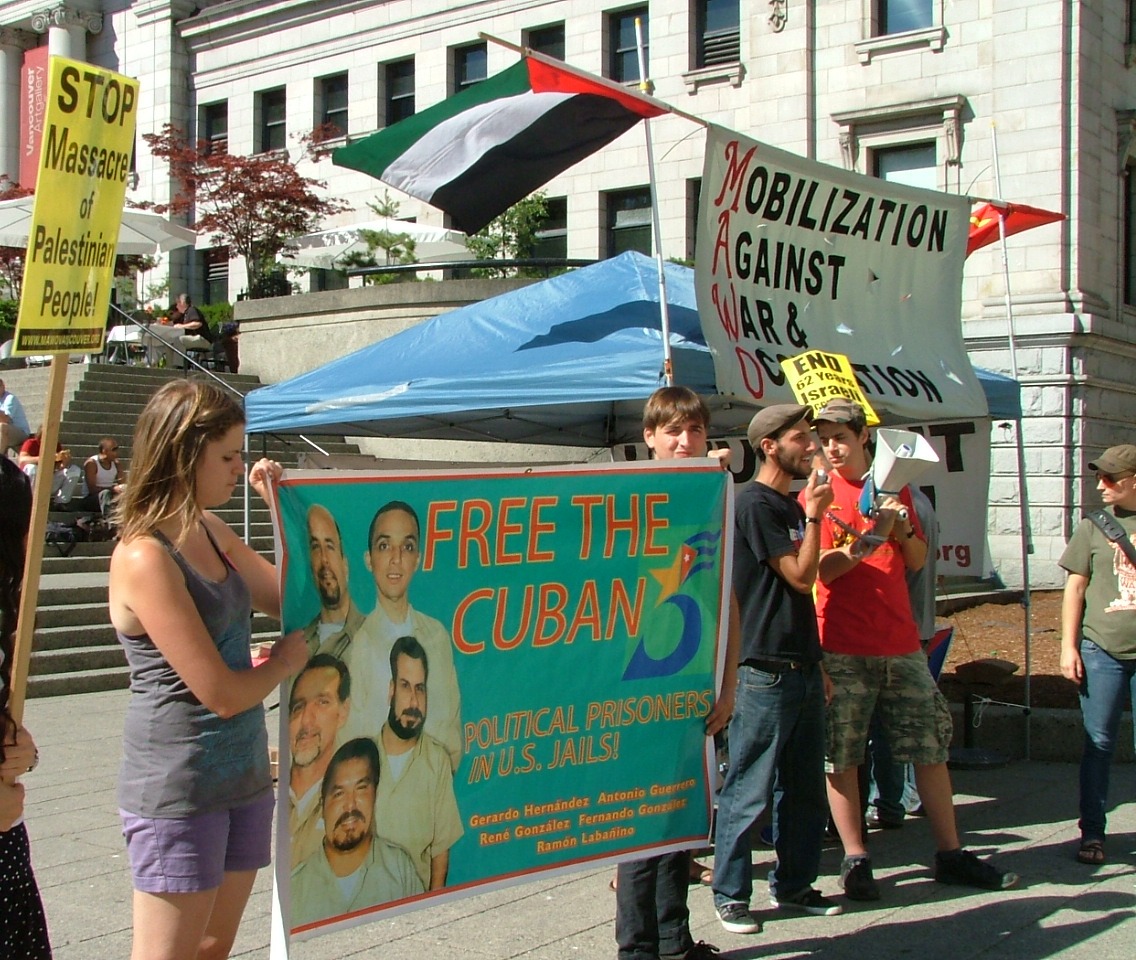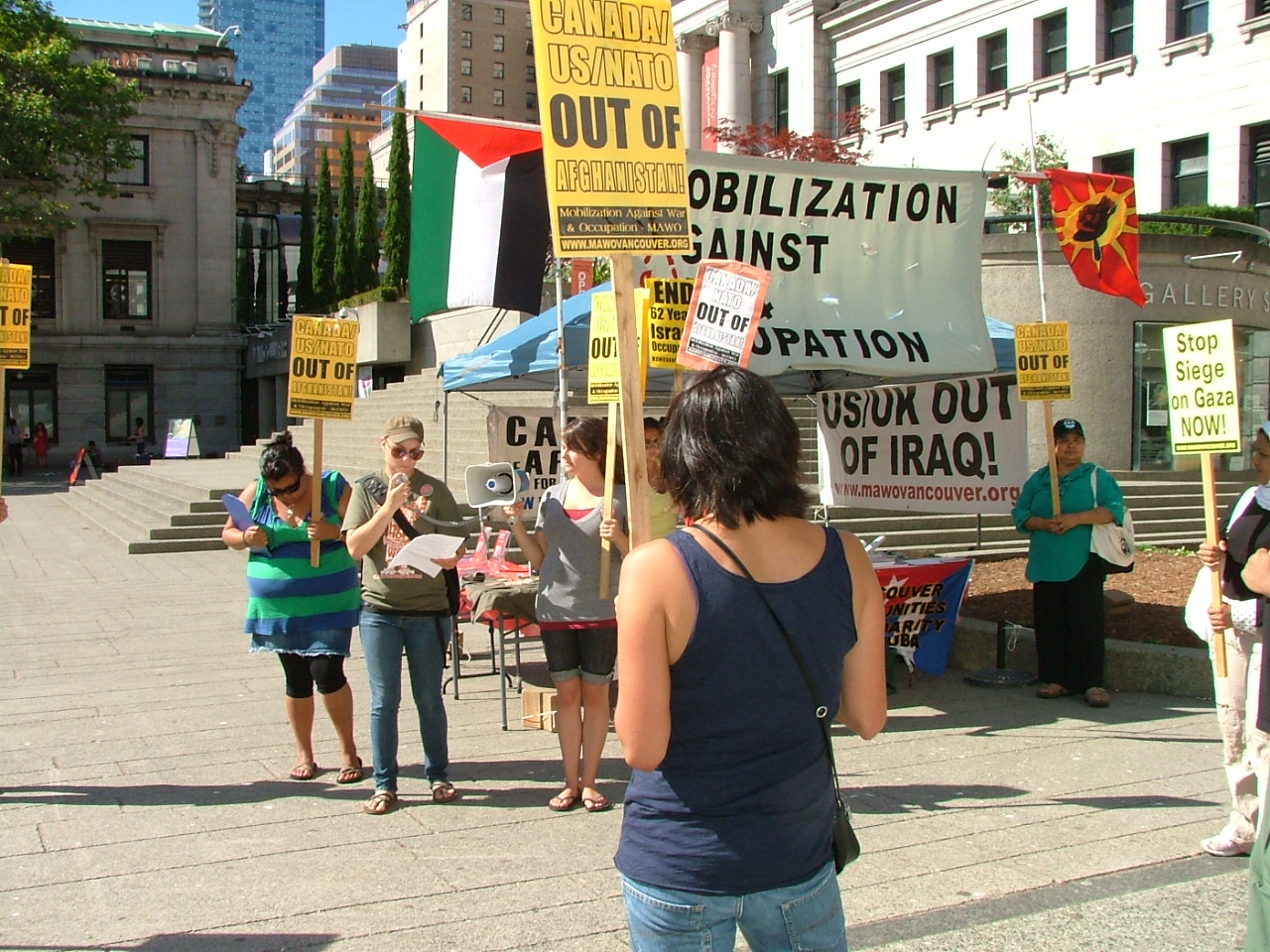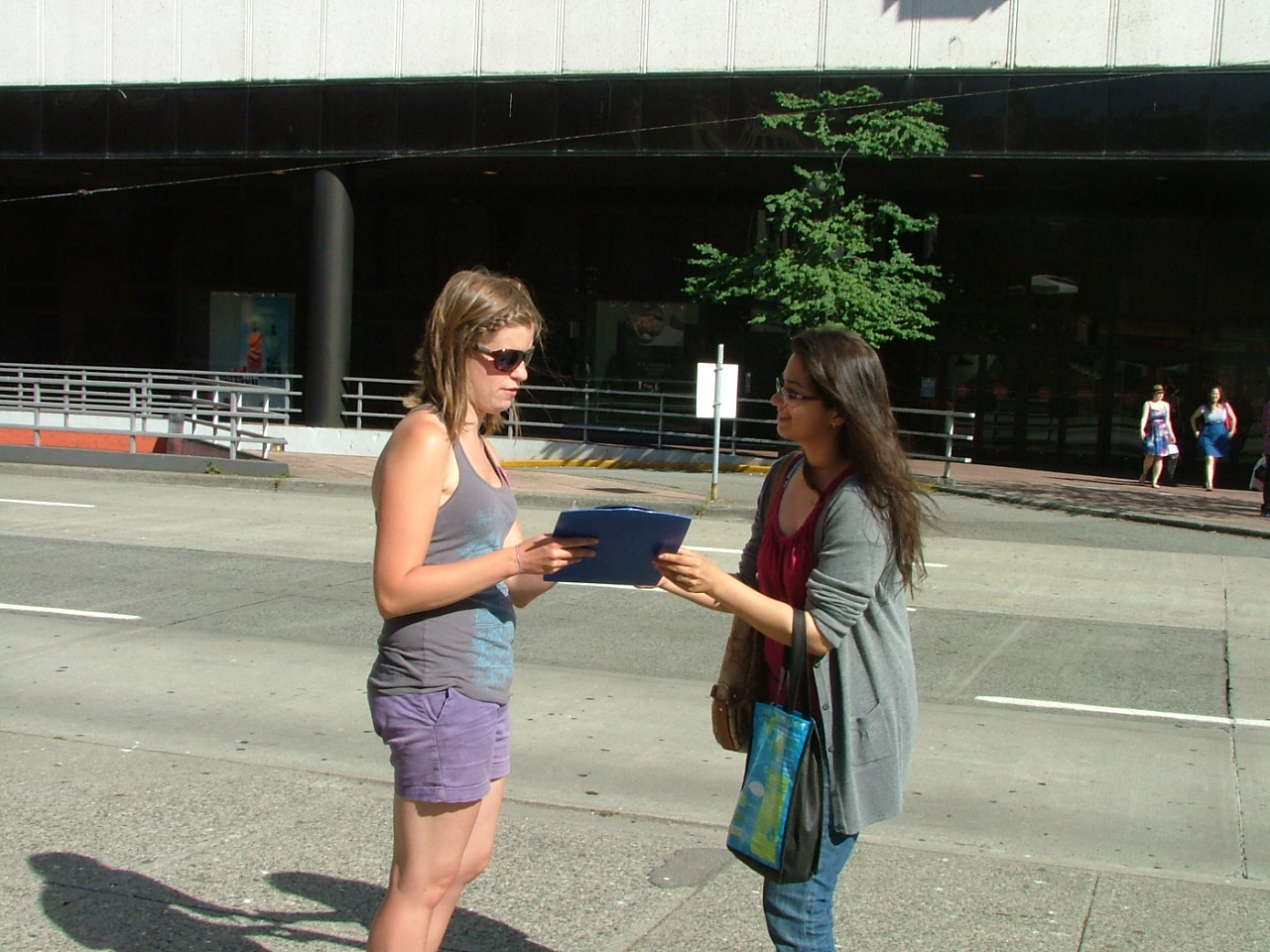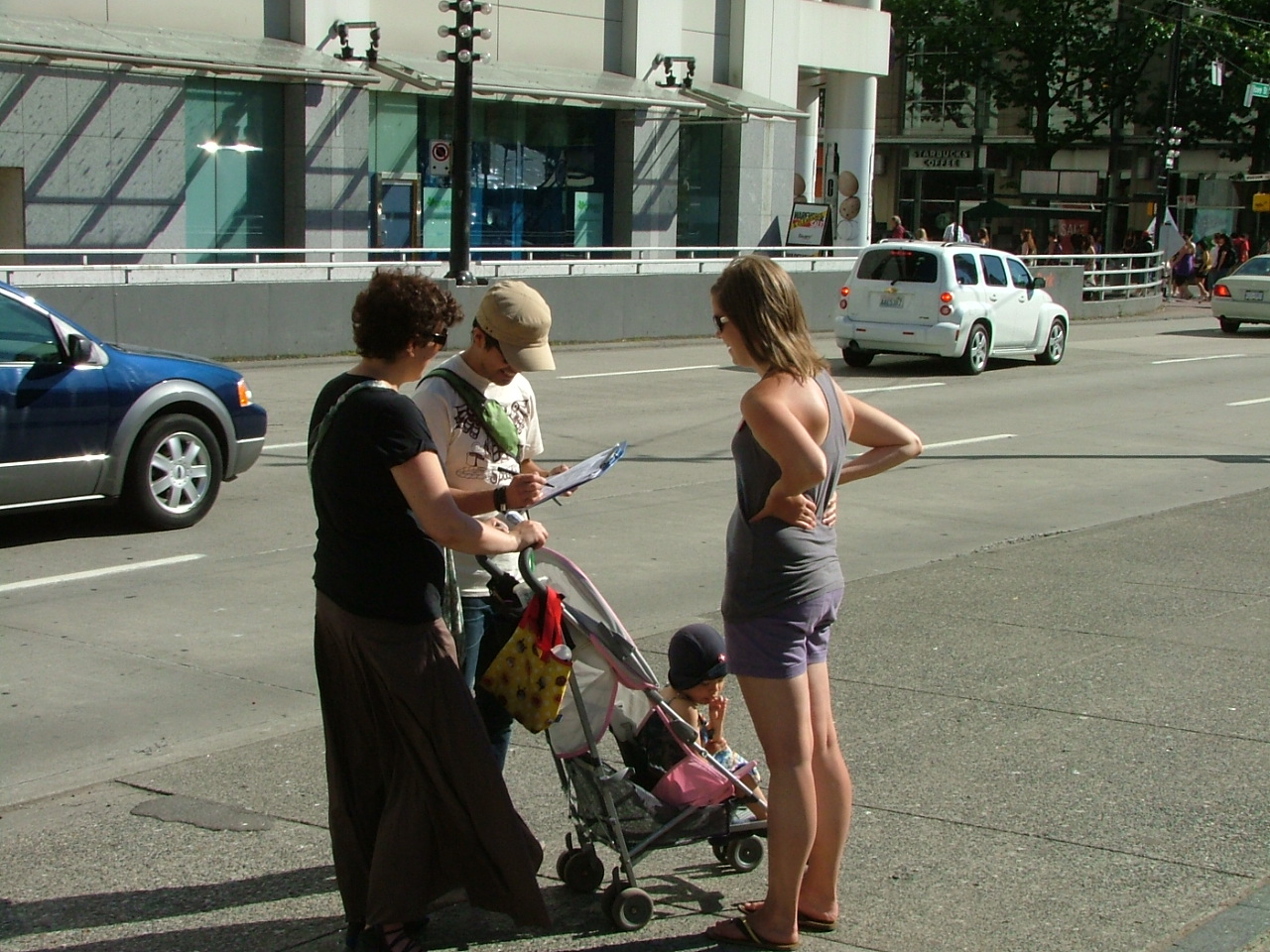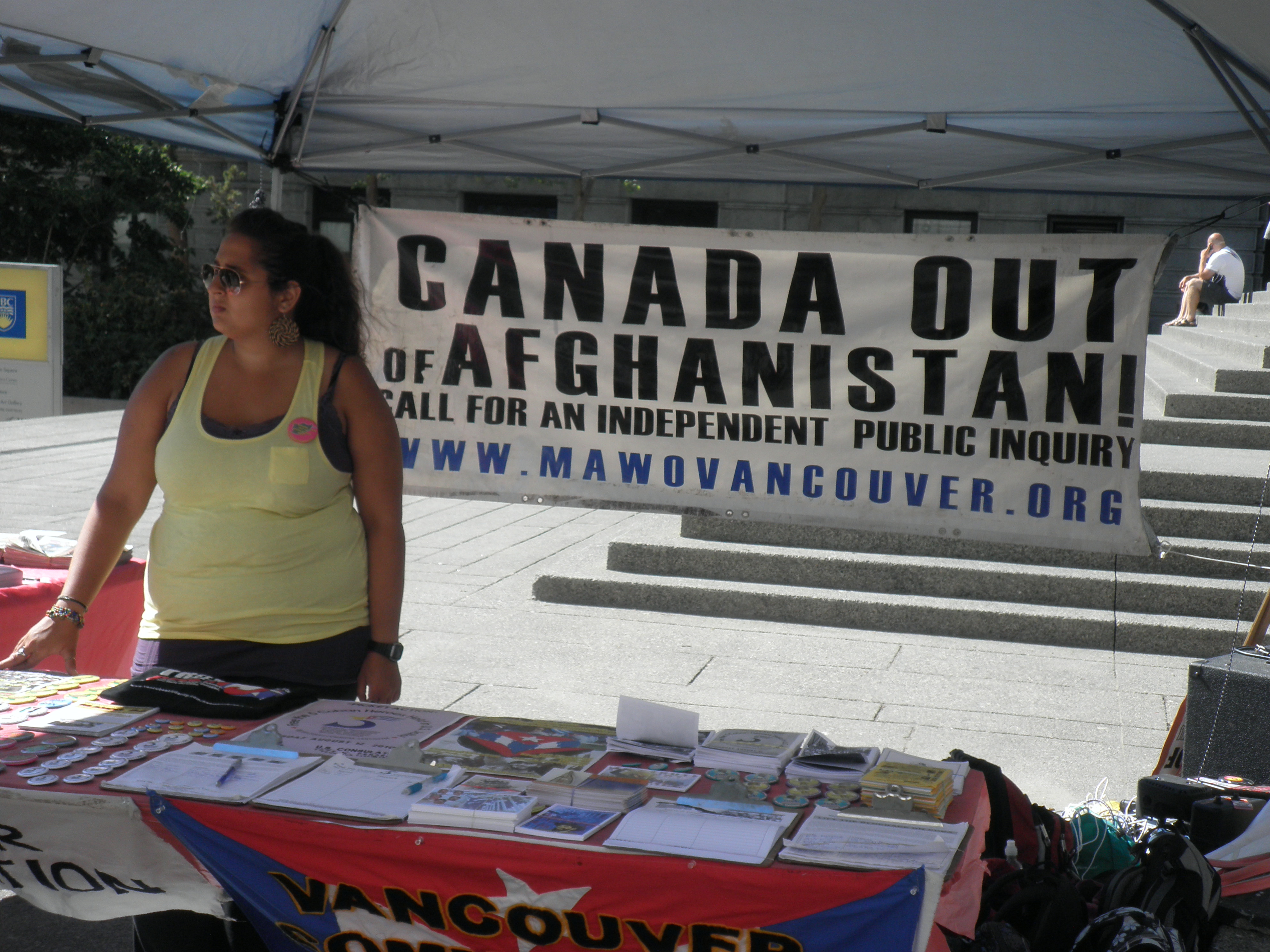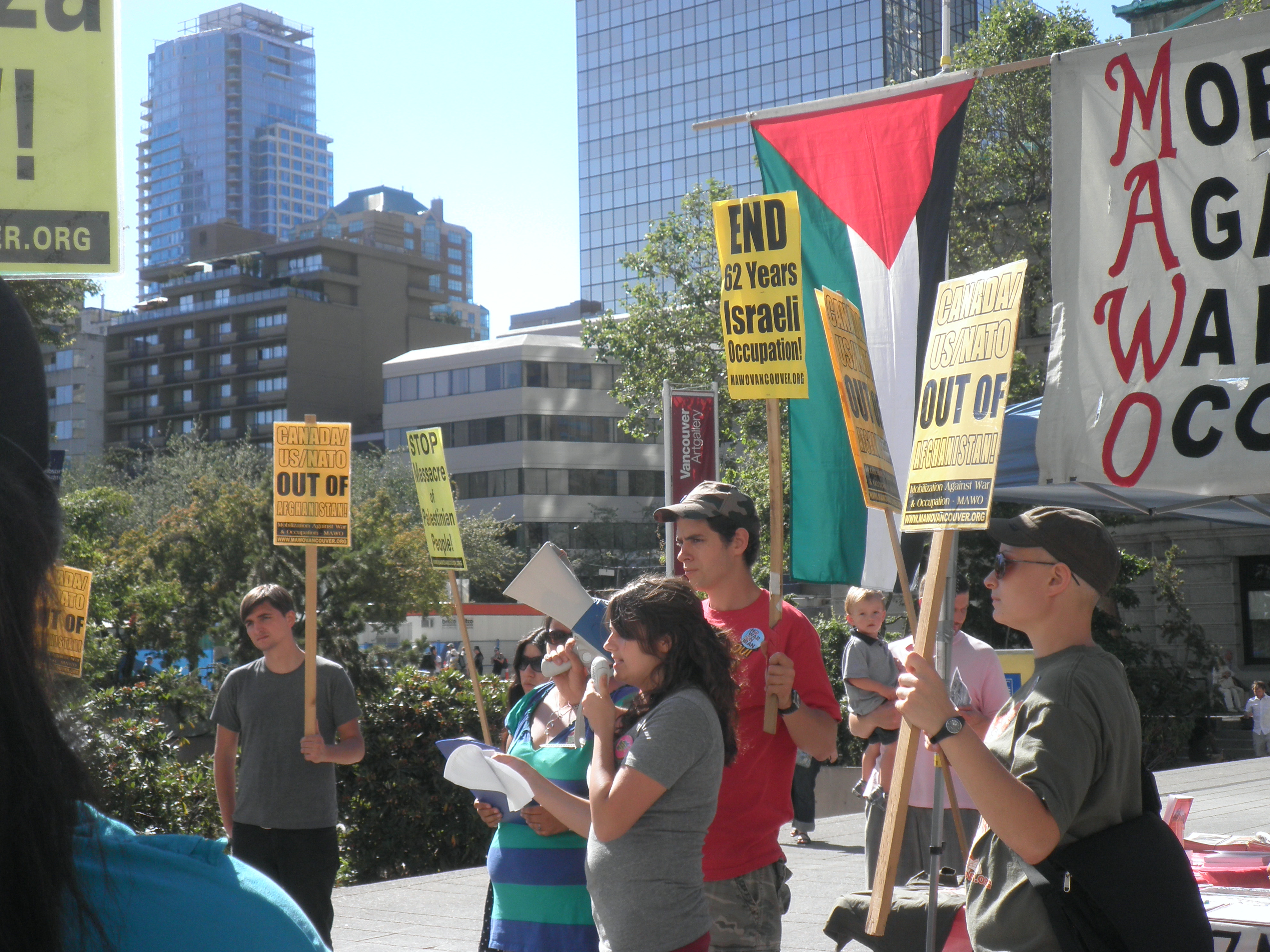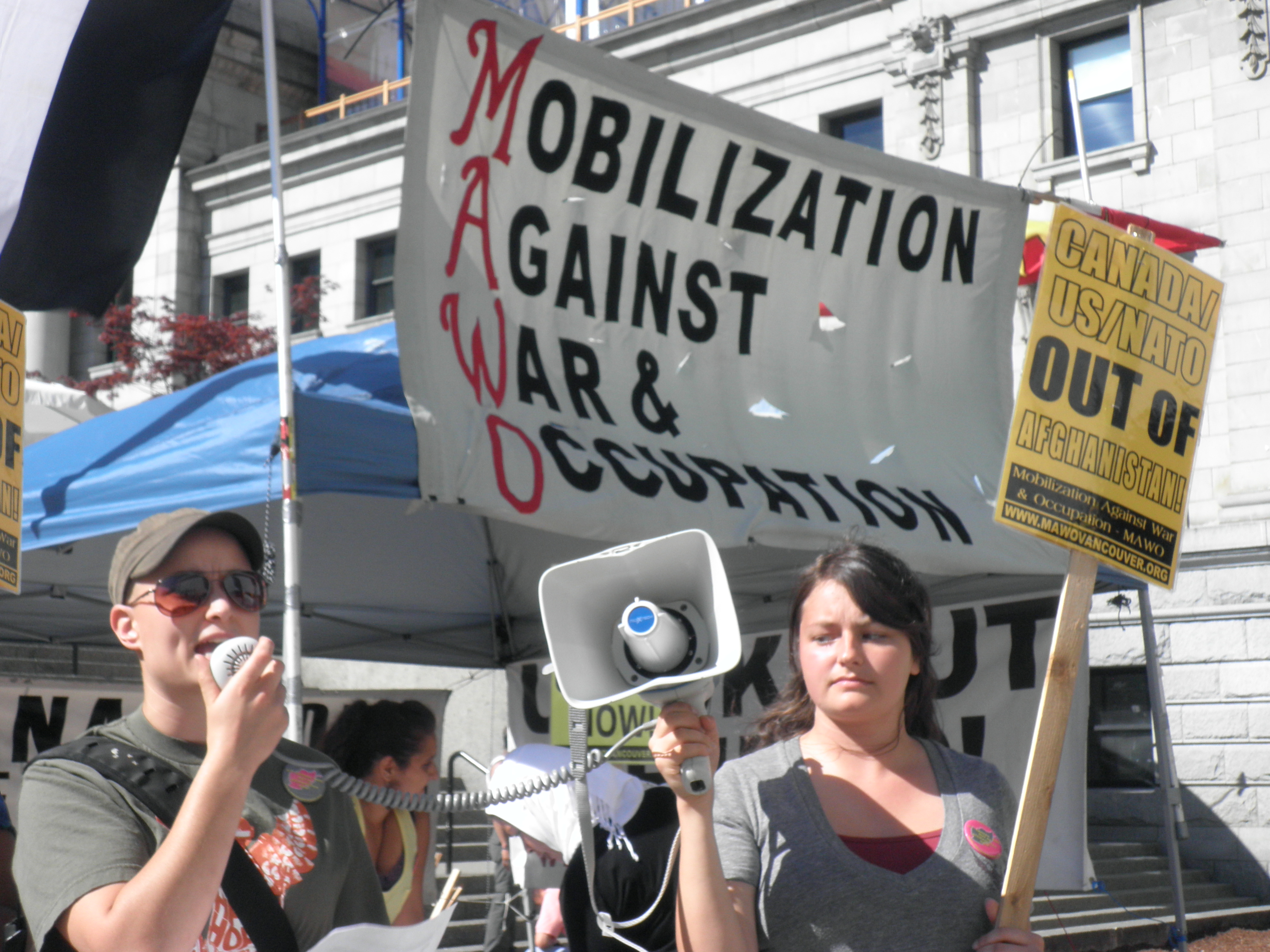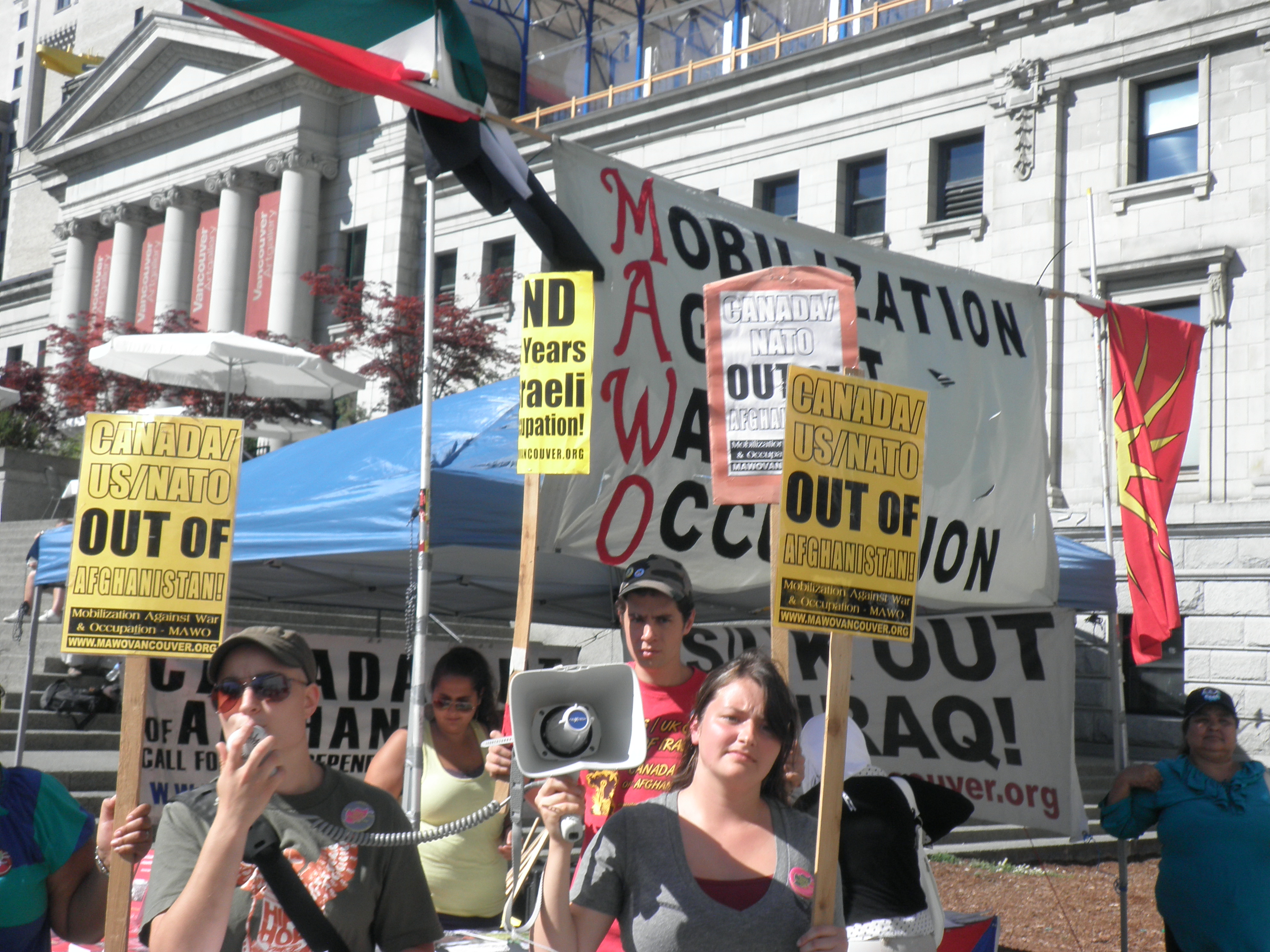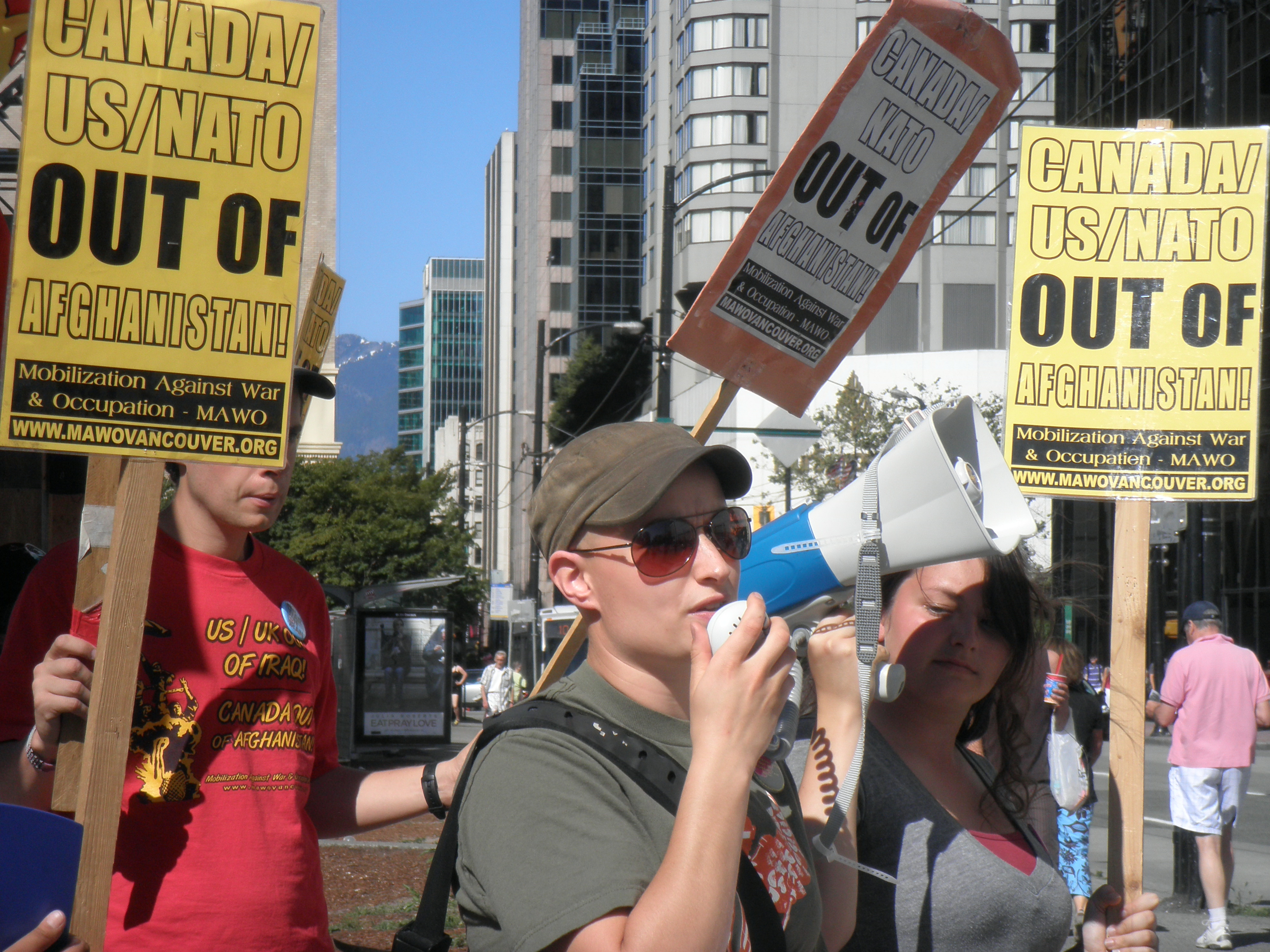 July 24 MAWO Antiwar Rally Report

On July 24th, dozens of activists and peace-loving people came together outside the downtown Vancouver Art Gallery for an antiwar rally. Chants of 'Canada out of Afghanistan!' and 'Bring the troops home now!' echoed off the downtown buildings as the crowd made their voices heard in the busy downtown district. Organized by Mobilization Against War and Occupation (MAWO), this rally also doubled as a petition campaign, as organizers collected signatures against Canada's brutal military occupation of Afghanistan.

Kerri Goodwin, MAWO's outreach coordinator and the rally MC, got the crowd started with some energetic chants. She then introduced Kelly White, a Coast Salish elder and Indigenous media activist, to open up the day. Kelly related the current wars and occupations that are taking place in Iraq and Afghanistan to the historical and continuing occupation and theft of Native land in Canada. She closed with a powerful interactive peace anthem on her drum.

Veronika Tonkovidova spoke next. As a young person and student at Capilano University, Veronika conveyed how war and occupation is destroying the lives of young people all over the world. From access to education, the necessities of life such as food, access to healthcare, and housing, every aspect of a young person's life under occupation is suppressed.

The antiwar rally also shed light on an issue of political prisoners in the United States. Commonly known as the Cuban 5, Gerardo Hernandez, Ramon Labanino, Antonio Guerrero, Fernando Gonzalez and Rene Gonzalez have been held as political prisoners in the United States simply for defending their homeland, Cuba, from terrorism. Noah Fine, an organizer with the Free The Cuban 5 Committee—Vancouver, elaborated on their case and the hypocrisy of the US for claiming to be fighting terrorism around the world, but funding anti-Cuban terrorist groups in Miami and locking up the Cuban 5 for their counter-terrorism work.

Nita Palmer, a MAWO executive committee member and author of the newly released book, 'War and Occupation in Afghanistan: Which Way Forward?' spoke next. Speaking on the new developments in Afghanistan, she emphasized that the same imperialist countries that created the horrible situation in Afghanistan after 9 years of occupation, are escalating threats of war against Iran and are expanding their scope to other countries in this new era of war and occupation. As people living in Canada, she stressed the need for us to unite with our brothers and sisters in occupied countries to demand their self-determination.

The energetic rally ended with petitions filled and the vocal passing of a resolution, read by the MC, demanding:

End the Occupation of Afghanistan and Iraq!
End the Occupation of Palestine and Haiti!
US Hands off Iran and Pakistan!
Self-determination for Indigenous nations!
Self-determination for all oppressed nations!