---
Event Reports
---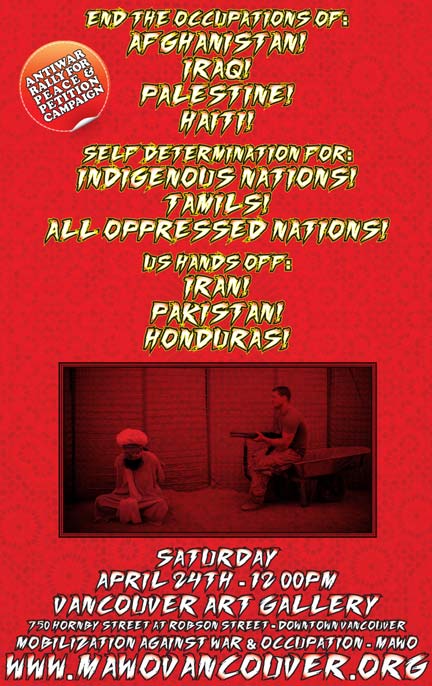 April 24, 2010
Antiwar Rally

END THE OCCUPATIONS of Afghanistan, Iraq, Palestine and Haiti!
U.S Hands off Iran & Pakistan!
U.S Hands off Honduras!
Self-determination for Indigenous Nations in Canada!
Self determination for all Opressed Nations!

Organized by Mobilization Against War & Occupation (MAWO)



---
CLICK ON PHOTO FOR LARGER VERSION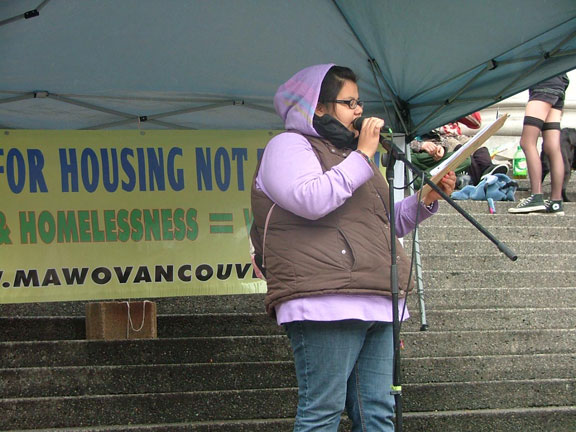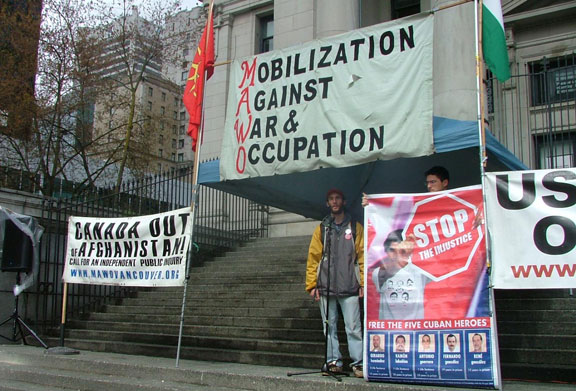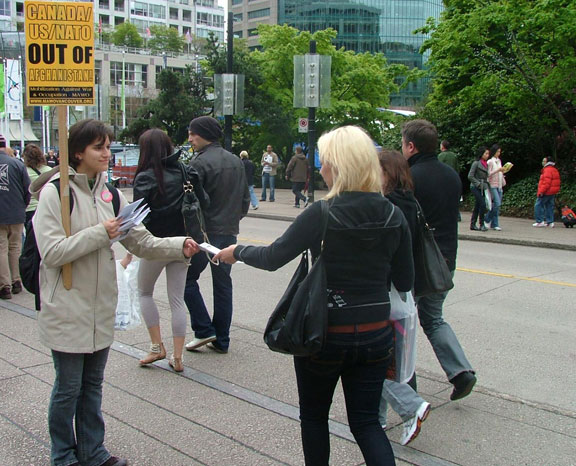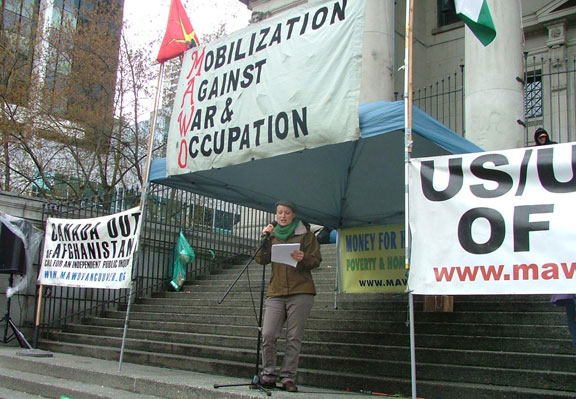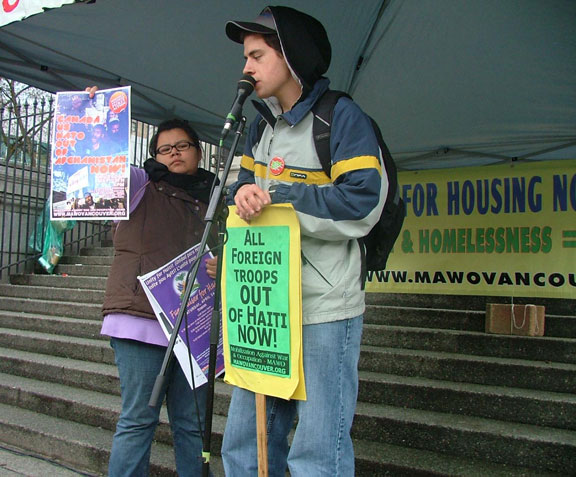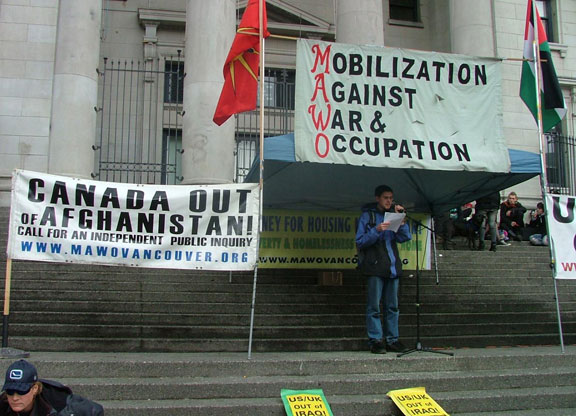 April 24 MAWO Antiwar Rally Report

On Saturday April 24th Mobilization Against War & Occupation (MAWO) organized the monthly antiwar rally in front of the Vancouver Art Gallery. This rally comes as 2010 is becoming the worst year of occupation for occupying forces. The people of Afghanistan are only becoming stronger and firmer in their demand for an immediate end to this war and occupation that has only caused death and destruction.

The rally began with MAWO executive member and MC, Kerri Goodwin who opened with the recent development from the Canadian parliamentary committee on Afghanistan. At this committee, a former translator for the Canadian military exposed a glimpse of the reality of the occupation of Afghanistan with the case of the Canadian military killing and torturing an Afghan teenager.

Then Alison Bodine, MAWO Co-Chair, who currently works with Pastors for Peace and lives in New York passionately spoke of the necessity of the antiwar movement in Canada and the US to have unity and demand an end to these wars and occupations.

Noah Fine, organizer with the Free the Cuban Five Committee – Vancouver exposed the hypocrisy of the US War on Terror with the Case of the Cuban 5. The Five Cuban Heroes have been unjustly imprisoned in US jails for over 11 years for investigating terrorist organizations that have been operating freely in Miami who have been committing terrorist acts against Cuba.

Nita Palmer, MAWO executive member gave an overview of this new era of war and occupation. This new era of war and occupation has seen attacks at home with cuts to social programs and education as well as ongoing attacks abroad with the Western imperialist wars and occupations. We as peace-loving people need to stand with our brothers and sisters around the world and demand an immediate end to these wars and occupations.

The rally finished with Max Tennant, organizer with MAWO who strongly read the resolution demanding an end to these wars and occupations and for the right of all oppressed people to self-determination.

Throughout the rally, MAWO gathered more signatures to add to the over 15,000 signatures already collected demanding an immediate end to the war and occupation in Afghanistan. These rallies will continue to happen monthly at the Vancouver Art Gallery until there is an end to these wars and occupations.