---
Event Reports
---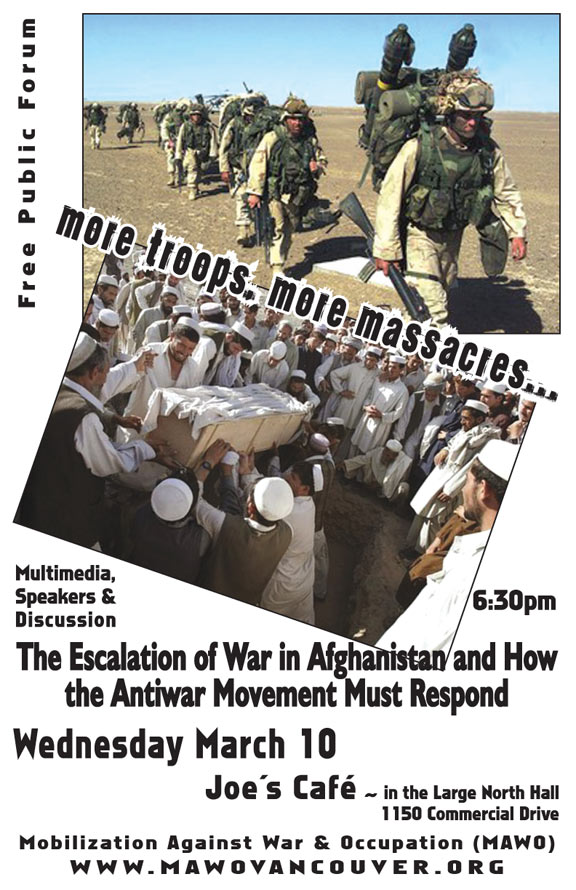 March 10, 2009
Public Forum

More Troops, More Massacres
The Escalation of War in Afghanistan and How the Antiwar Movement Must Respond


Organized by Mobilization Against War & Occupation (MAWO)



---
CLICK ON PHOTO FOR LARGER VERSION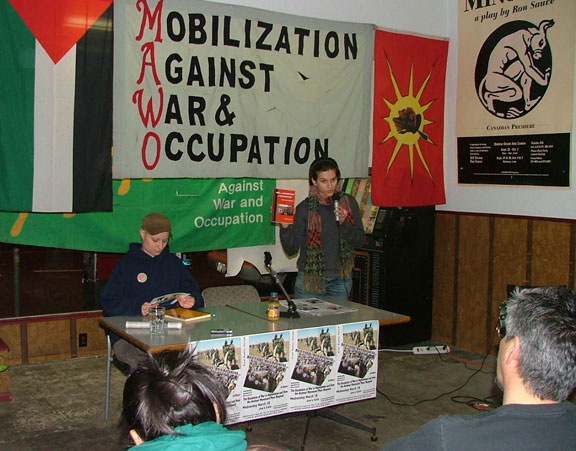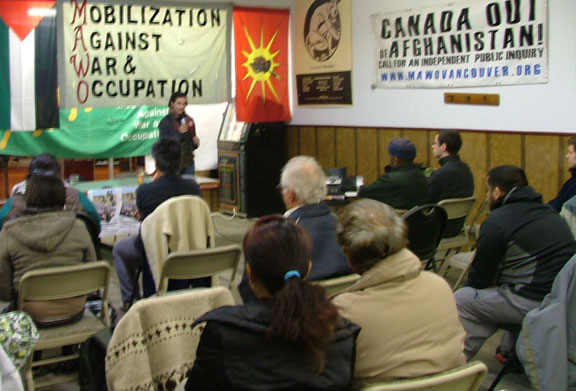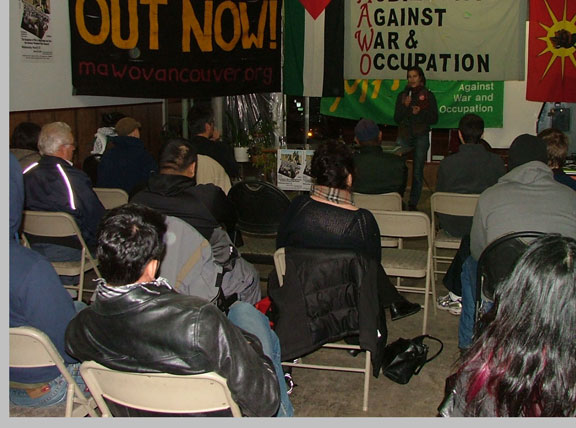 March 10 MAWO forum on Afghanistan

On March 10th, Mobilization Against War & Occupation (MAWO) organized the forum "More Troops, More Massacres: The Escalation of War in Afghanistan and How the Antiwar Movement Must Respond" at Joe's Café. The forum was a great opportunity to discuss the recent escalation of troops in Afghanistan and how the antiwar movement must respond to these attacks on the people of Afghanistan.

Janine Solanki, Executive Committee Member of MAWO and MC opened the forum with a few short film clips that highlighted the death and destruction that the occupation has brought to the people of Afghanistan.

Afterwards, Nita Palmer, Executive Committee Member of MAWO and author of the new book "War and Occupation in Afghanistan: Which Way Forward?" spoke. She painted a grim picture of an eight and half year occupation in which tens of thousands of Afghans have been killed by foreign occupation forces, and explained that since the beginning of Operation Moshtarak in Southern Afghanistan - the largest military offensive since the occupation began - the situation for regular Afghans will only worsen. She emphasized that with these continual attacks on our brothers and sisters in Afghanistan, we as peace-loving people living in Canada need to demand an immediate end to Canada's as well as the US and NATO occupation of Afghanistan.

Nita's speech was followed by lively discussion, which highlighted the necessity to stand with people in Afghanistan and demand US/Canada/NATO Out of Afghanistan Now! .