---
Event Reports
---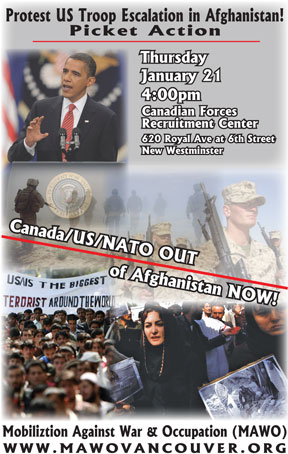 January 21, 2010 - Picket Action


Canada/US/NATO Out of Afghanistan Now!

Organized by Mobilization Against War & Occupation (MAWO)




---
CLICK ON PHOTO FOR LARGER VERSION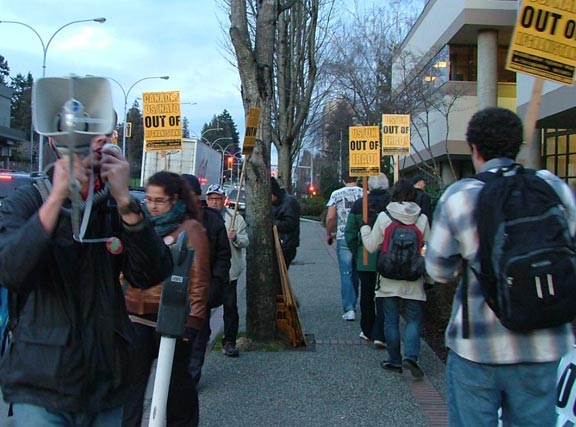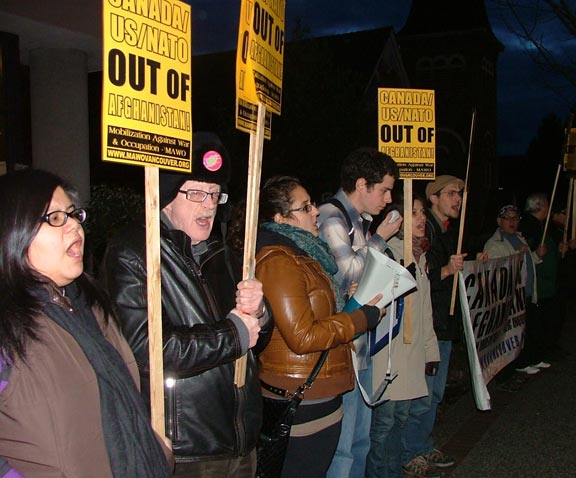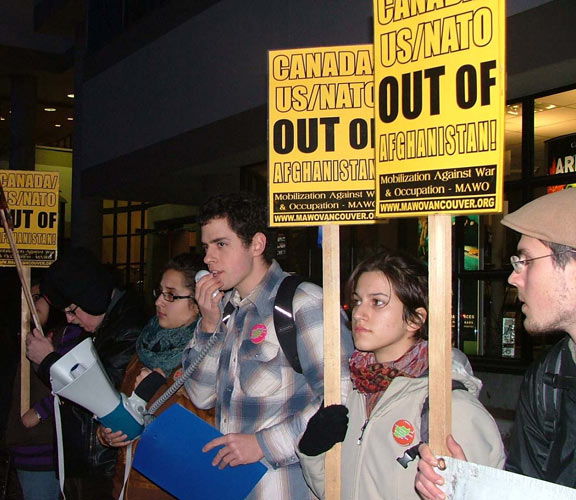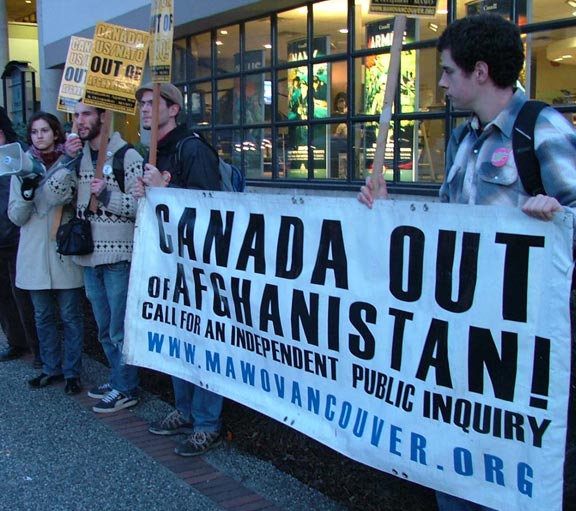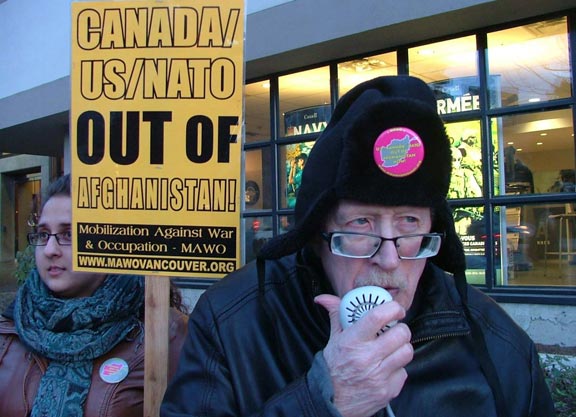 January 21 MAWO Picket Action Report

61th Picket Action Demanding Canada/US/NATO Out of Afghanistan Now!

On January 14th, Mobilization Against War & Occupation (MAWO) organized the first picket in 2010 in the Greater Vancouver area against Canada's occupation of Afghanistan in front of the Canadian Armed Forces Recruitment Center in New Westminster, BC, Canada .

The picket began with MAWO Co-chair and MC, Janine Solanki who emphasized that according to the UN 2009 was the deadliest year for Afghan civilians. That since December 30th, already 5 Canadian soldiers and one journalist have been killed forecasting what will be an even deadlier year for the occupation of Afghanistan.

After Janine, began a loud round of picketing demanding "Canada Out of Afghanistan Now" and "Money for jobs and education not for war and occupation." Picketers were welcomed by passer by cars with frequently honking in response to a big sign asking for honking for Canadian troops out of Afghanistan.

Then David Whittlesey, MAWO organizer and veteran from the antiwar movement against the Vietnam War spoke. He highlighted the atrocities committed by the US and Canadian Government against the people of Iraq and Afghanistan and the necessity to continue to organize against these wars and demand an immediate end to these occupations.

Noah Fine, organizer with the Free the Cuban 5 Committee- Vancouver exposed the lies of this so-called War on Terror through the imprisonment of 5 Cuban Heroes who have been unjustly imprisoned in US jails for over 11 years for investigating terrorist organizations that are operating freely in the US against Cuban people.

Andrew Barry, executive member of MAWO spoke passionately of how the Afghan people are resisting and protesting in the streets all over Afghanistan demanding an end to this brutal occupation of their country. That as the Afghan people everyday are resisting against this occupation, it is important for us here to be in solidarity with our brothers and sisters in Afghanistan and demand self-determination for Afghanistan now. That as this is happening the Canadian government is spending billions of dollars on this war while at home Harper government is cutting social programs.

Janine Solanki closed the picket by stressing the importance of continual monthly picket actions to demand an end to the occupation of Afghanistan.