---
Event Reports
---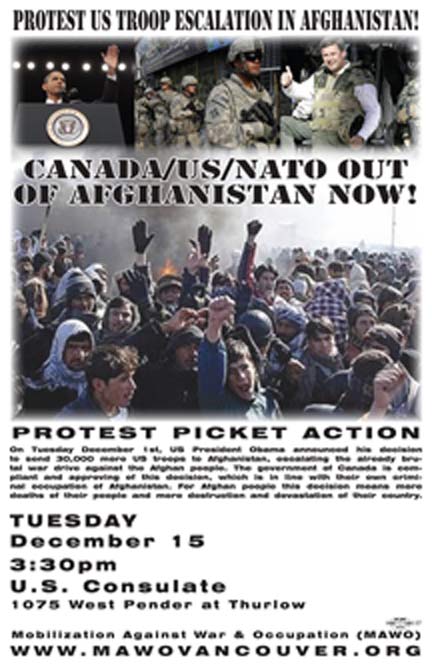 December 15, 2009 - Picket Action


Protest US Troop Escalation in Afghanistan! Canada/US/NATO Out of Afghanistan Now!

Organized by Mobilization Against War & Occupation (MAWO)




---
CLICK ON PHOTO FOR LARGER VERSION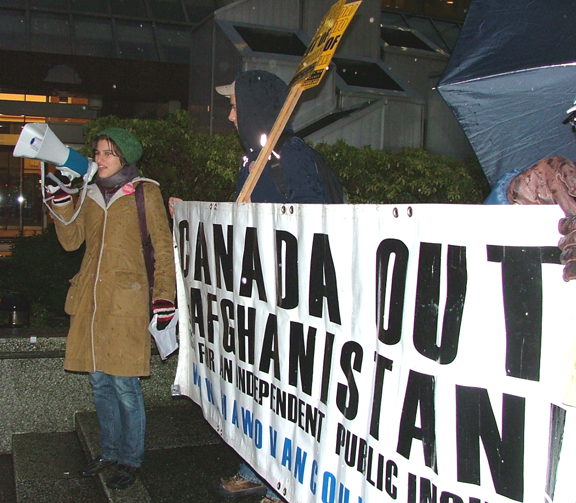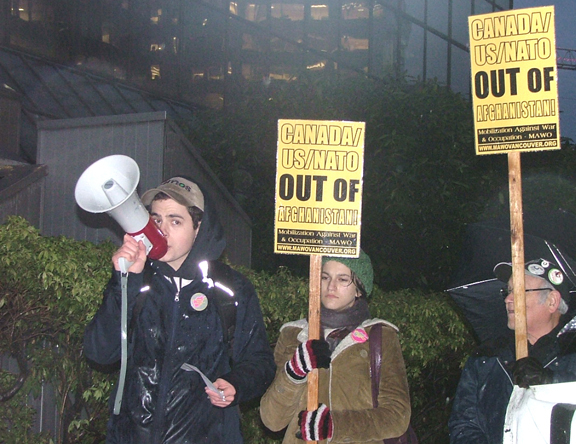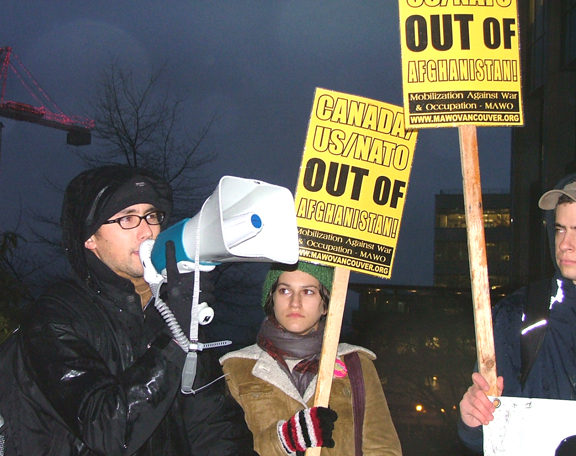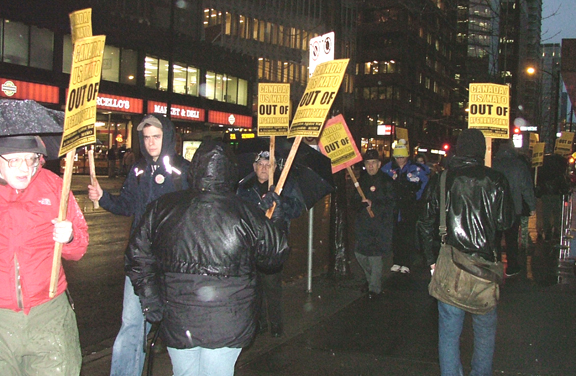 December 15 MAWO Picket Action Report

60th Picket Action Demanding Canada/US/NATO Out of Afghanistan Now!

"CANADA OUT OF AFGHANISTAN…U.S. OUT OF AFGHANISTAN" could be heard throughout the streets of downtown Vancouver at a picket action demanding an end to the Canada/U.S./NATO occupation of Afghanistan. The picket, organized by Mobilization Against War & Occupation (MAWO), was the 60th picket MAWO has done against the war.

The picket was called in response to the recent 30,000 troop surge announced by U.S. President Barack Obama. Picket MC Janine Solanki, the co-chair of MAWO, got the picket started by reading the MAWO statement against the increase of troops to occupy the Afghan people.

After the first round of picketing Aaron Mercredi, an organizer with the Indigenous Rights & Action Project, outlined the brutal 8 year history of the occupation in Afghanistan. Aaron then passed the megaphone to David Whittlesey, a veteran anti-war activist from the Vietnam War era and Civil Rights Movement, to share his experiences and views on the comparisons between the Afghan war today and the Vietnam War of the 1960s and 70s.

This led to a spirited second round of picketing that was loud and clear in its political demand that US and Canada get out of Afghanistan and bring the troops home now. Janine then introduced the third speaker, Alison Bodine, a MAWO-co-chair who spoke via cell phone from New York to the protesters. She informed the picketers about the actions in the US against the troop surge and called on activists on both sides of the border to unite against the war.

The final speaker of the day was Andrew Barry, a MAWO executive member, who emphasized on the need to expand organizing antiwar and anti occupation activities, especially now when all polls indicate the ever growing opposition to the government of Canada's war in Afghanistan by the majority of working and poor people in Canada.

Janine echoed Andrew's comments and encouraged the picketers to come to MAWO's upcoming forum on Afghanistan with the title "US Escalation of War in Afghanistan: Consequences and Our Tasks." She appealed to everyone to help to broadly publicize the MAWO ongoing campaign against the war in Afghanistan.