---
Event Reports
---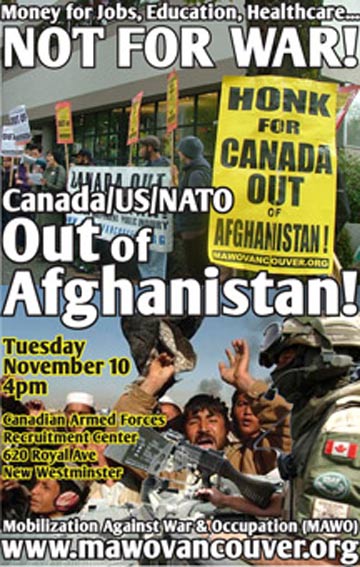 November 10, 2009 - Picket Action

Canada/US/NATO Out of Afghanistan Now!



Organized by Mobilization Against War & Occupation (MAWO)




---
CLICK ON PHOTO FOR LARGER VERSION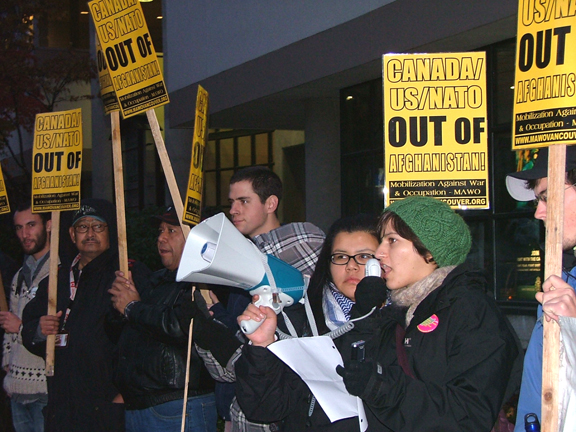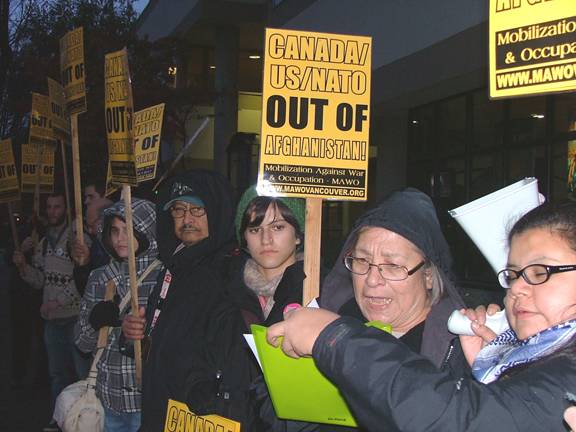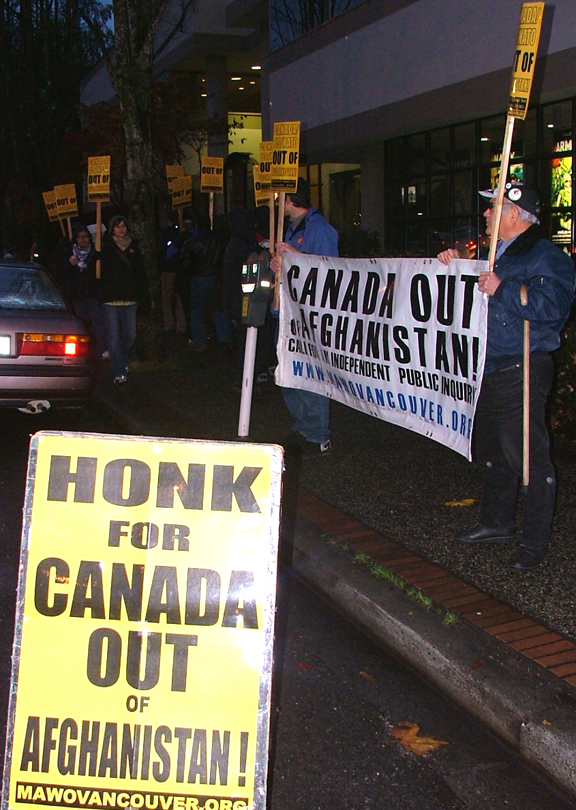 November 10 MAWO Picket Action Report

59th Picket Action Demanding Canada/US/NATO Out of Afghanistan Now!

Under the light November rain, chants of "End the Occupation Now!" and "Troops Home Now!" could be heard echoing through the streets of News Westminster. On November 10th, peace loving people from across Vancouver came together outside the Canadian Armed Forces Recruitment Center to demand an end to the eight year Canada/NATO/US occupation of Afghanistan. MAWO co-chair Janine Solanki began by reading the picket statement, highlighting that fact that after eight years of war and occupation in Afghanistan, the majority of people in Canada are still puzzled by this war and are rightfully against it. What is this massacre in Afghanistan really about? Who is benefiting from the killing of more than 40,000 innocent Afghans and the loss of 134 mainly young Canadian soldiers?

After a round of energetic picketing and chants of "Canada Out Now!" Phillipa Ryan, an elder and activist from the Gitxsan Nation spoke connecting the occupation of Afghanistan to the continuing war against Indigenous people here in Canada and the ongoing occupation of their land.

April Desilets, an organizer with MAWO, spoke about the struggle of Afghan women against the war and occupation of their land, something that is often forgotten and rarely focused on. April emphasized that the occupation forces cannot claim to be liberating or creating a better life for women in Afghanistan when one woman dies in childbirth every 30 minutes and both domestic violence and suicide rates have increased significantly due to the effects of war and occupation.

Andrew Barry, an executive committee member of MAWO, spoke about the realities of war and occupation in Afghanistan. He highlighted that October 28th and 30th saw the deaths of two more Canadian soldiers in Afghanistan and the deaths of 59 US soldiers in October making it the deadliest month so far for US troops. On November 5th Afghans in Helmand province protested another NATO rocket attack on civilians that killed nine people, including three children. Andrew called on all peace-loving people in Vancouver to join together and fight back against this injustice and demand an immediate end to this war and occupation and self-determination for Afghanistan!

The picket came to an energetic close with loud chants of "End the Occupation Now!" "Self-Determination Now!" and "Money for Jobs and Education, Not for War and Occupation!" as protesters vowed to return to the Canadian Armed Forces Recruitment Center every month as long as this occupation continues to rage against the people of Afghanistan.