---
Event Reports
---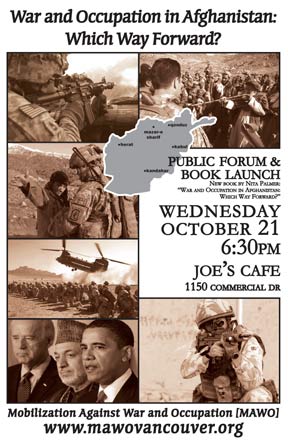 October 21, 2009
Public Forum & Book Launch

War and Occupation in Afghanistan:
Which Way Forward?




Organized by Mobilization Against War & Occupation (MAWO)


---
CLICK ON PHOTO FOR LARGER VERSION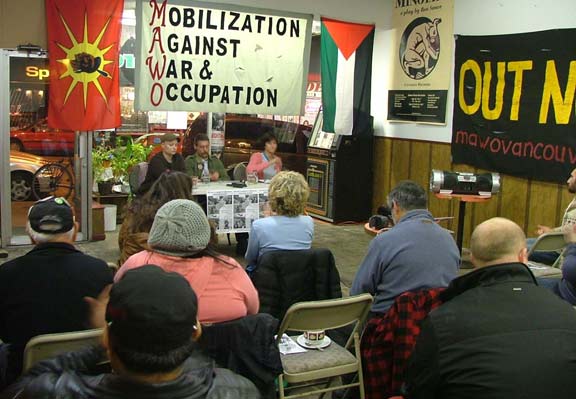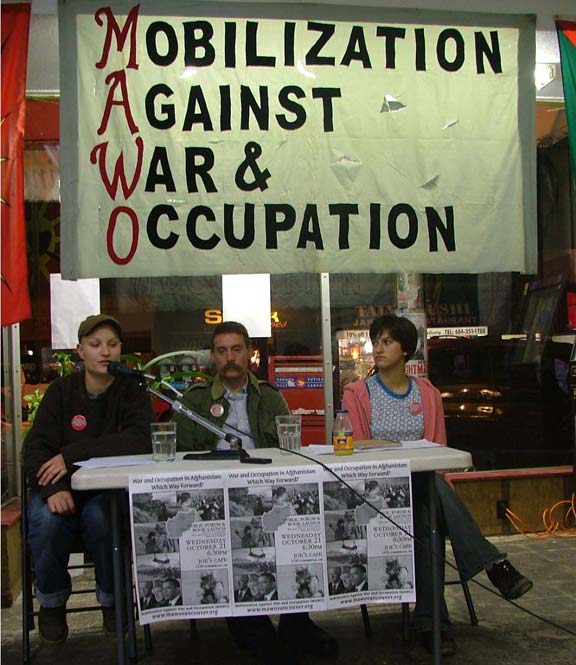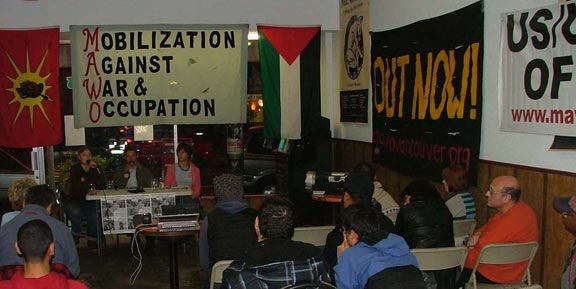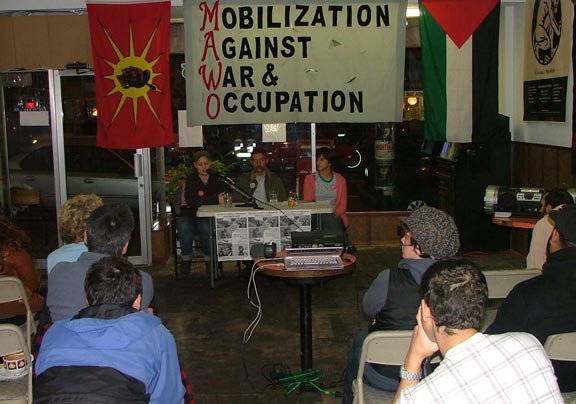 October 21 MAWO Forum Report

On Wednesday October 21, people of different nationalities, both young and old, gathered together at Joe's Café to take part in a forum and discussion titled "War and Occupation in Afghanistan: Which Way Forward?" Vancouverites were much honored to hear from guest speaker Paul Demetrick, a man who served fourteen years in the Canadian Military Reserves. Paul recently left the Reserves because of his opposition to the Canadian war drive in Afghanistan. Also speaking at the forum was Nita Palmer, Secretary of MAWO and a writer on war and occupation in Afghanistan with the editorial board of the Fire This Time Newspaper.

October 7th marked the eighth anniversary of the invasion and subsequent occupation of Afghanistan, which has meant nothing but eight years of death and destruction for the Afghan people. Despite the Canada/US/NATO forces' claims that they are building a better life for Afghan people, Afghan women still face the second highest maternal mortality rate in the world, and many Afghan children cannot go to school because they are just trying to survive.

The speakers addressed these aspects of this eight year war and occupation, including the possibility that the government of Canada will extend their mission in Afghanistan beyond the declared withdrawal date in 2011. The presenters also discussed the decision the US government will make in the coming weeks on whether or not to go ahead with a troop surge that could see at least 40,000 more troops sent to Afghanistan. The forum emphasized the importance of antiwar activists and peace loving people in Vancouver, across Canada and around the world organizing for an end to this brutal war and occupation and demanding self-determination for Afghanistan.

Soon to be released is Nita Palmer's new book by the same title as MAWO's forum: "War and Occupation in Afghanistan: Which Way Forward?" Check the MAWO website for details on the release of the book!

END THE OCCUPATION OF AFGHANISTAN NOW!
TROOPS OUT NOW!
SELF-DETERMINATION FOR AFGHANISTAN NOW!