---
Event Reports
---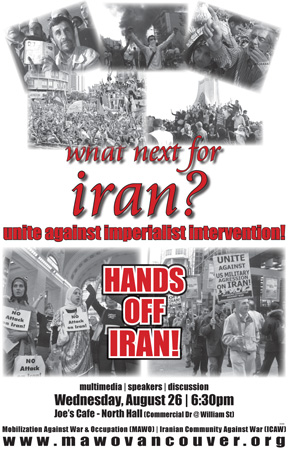 August 26, 2009 - Public Forum

Whats Next for Iran?
Unite Against Imperialist Intervention!
Hands Off Iran!


Co-organized by Mobilization Against War & Occupation (MAWO)
& Iranian Community Against War (ICAW)




---
CLICK ON PHOTO FOR LARGER VERSION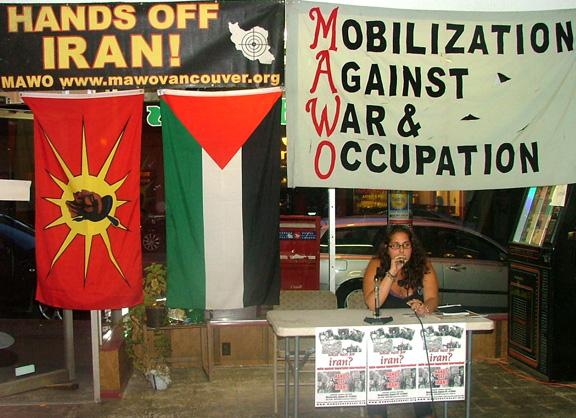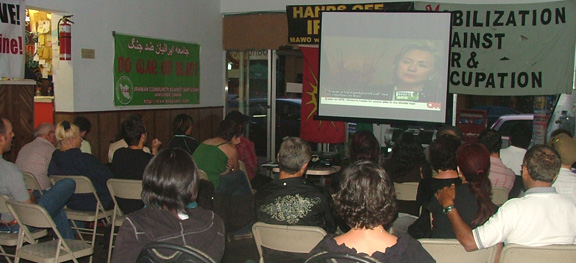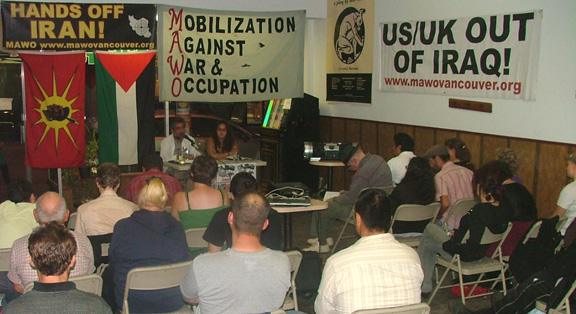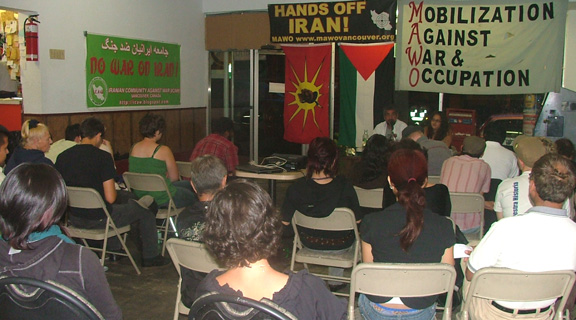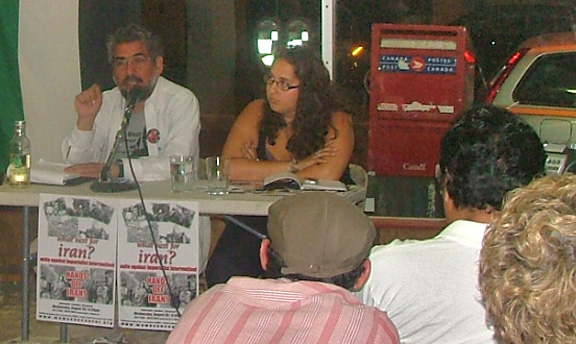 August 26 MAWO/ICAW Public Forum on Iran Report

On August 26th, over 30 people came to Joe's Cafe for the forum entitled "What Next for Iran? Unite Against Imperialist Intervention! Hands Off Iran!" This was the 2nd forum co-organized by Mobilization Against War & Occupation (MAWO) and the Iranian Community Against War (ICAW) around the issue of the "Iranian election crisis" which the US propaganda campaign against Iran has focused on, and how the antiwar movement needs to firmly respond by demanding "US Hands Off Iran!"

The forum began with Payvand Pejvack, the event's MC and an organizer with ICAW. She introduced a series of films clips that highlighted and clearly exposed the history of the US government's interference in the affairs of the Iranian people, including the CIA's coup against the democratically elected Prime Minister of Iran in 1953. From this history, the forum shifted to the current policy of the US government towards Iran since the 1979 Iranian Revolution and the end of US domination in Iran, which is the government of the US vying to regain control of Iran.

After the film clips, Ali Yerevani, Political Editor of the Fire This Time Newspaper and participant of the 1979 Iranian Revolution spoke. He highlighted the strong history of social and mass movements for change in Iran, confirming that the Iranian people are more than capable and have a reputation of determining the course of their country, without outside imperialist interference. He then gave a clear outline of the political situation in Iran leading up to and after the recent June 12 elections, which laid aside some of the common misconceptions that the imperialist media campaign surrounding the elections has caused. Ali emphasized that the US is attempting to use this recent situation in Iran to vilify and to escalate their war drive against the people of Iran, which is why it is important for the anti-war movement to demand "No Sanctions on Iran!" and "No War on Iran!"

The forum ended after a lively discussion which brought up many questions, and focused on the necessity to continue to organize against the imperialist sanctions, propaganda and military threats against the people of Iran.