CLICK ON PHOTO FOR LARGER VERSION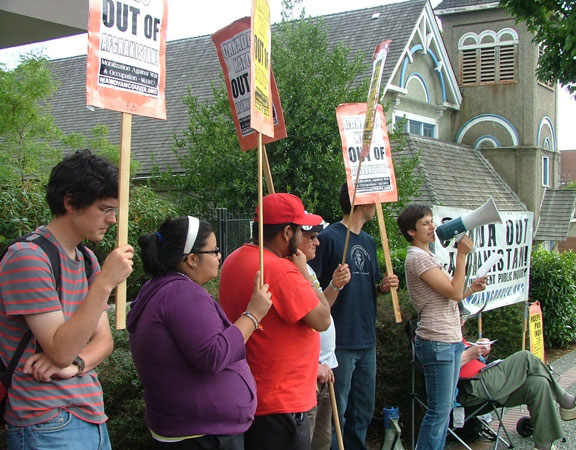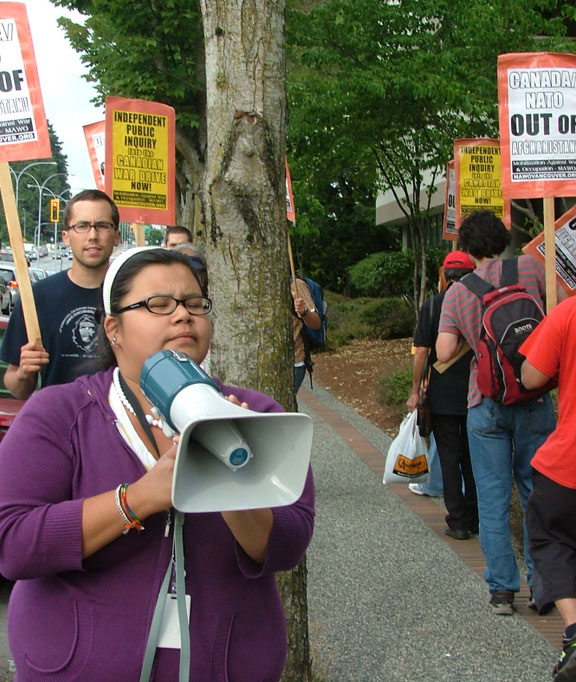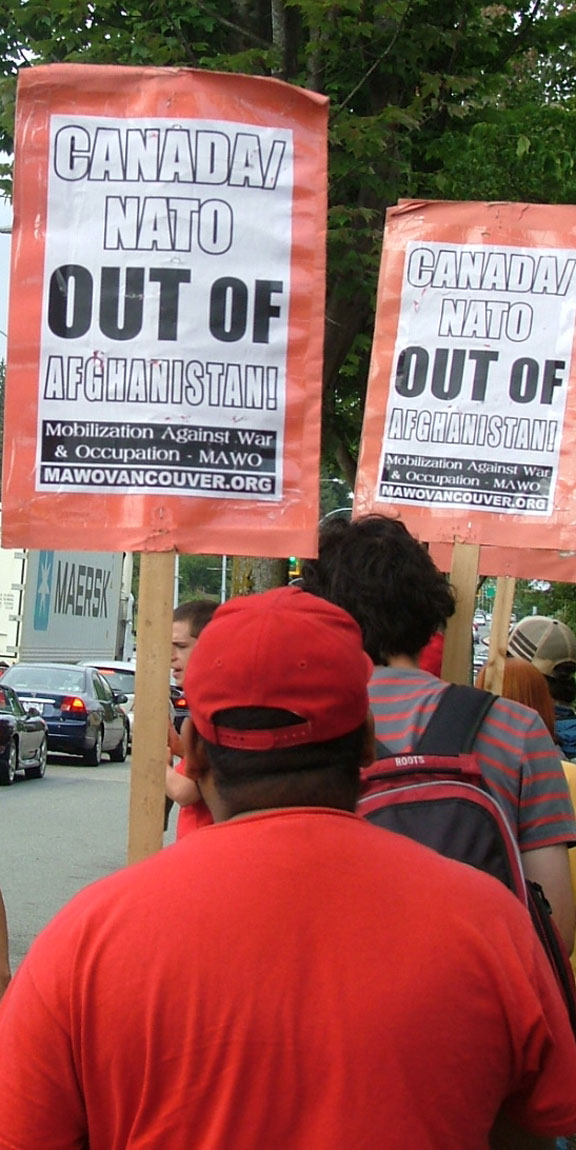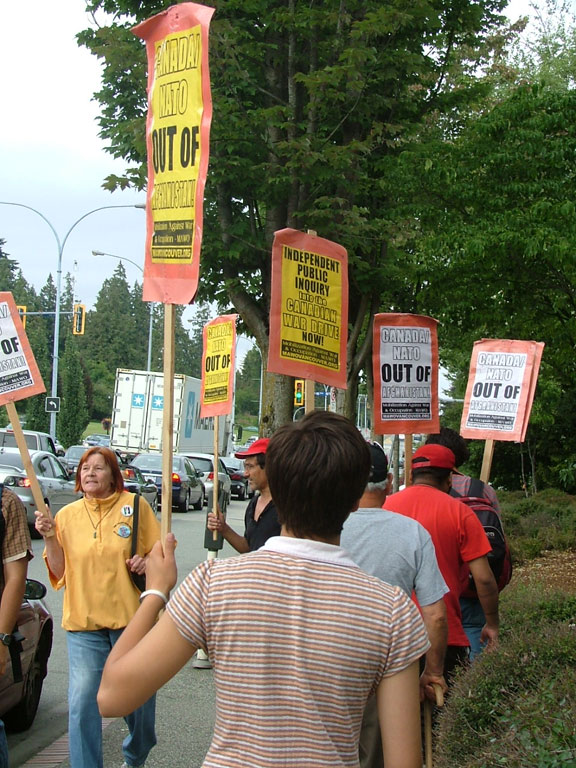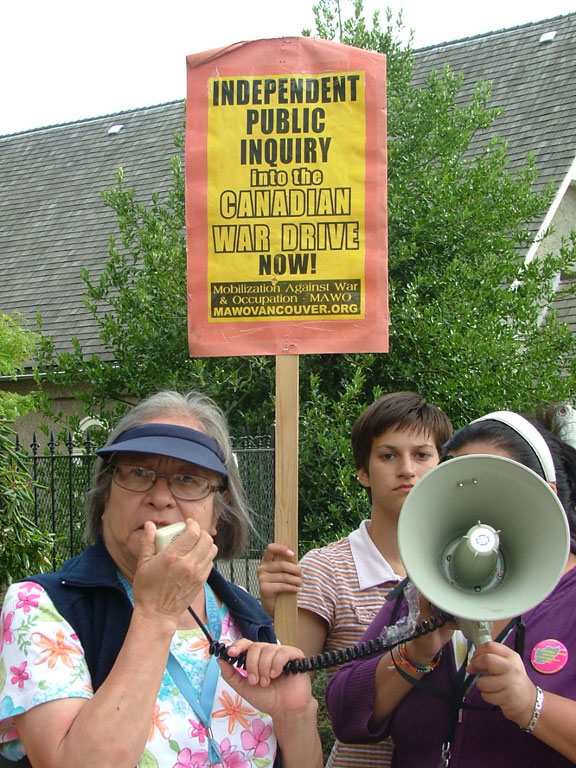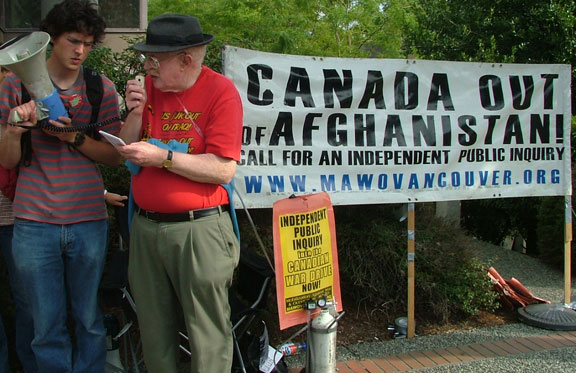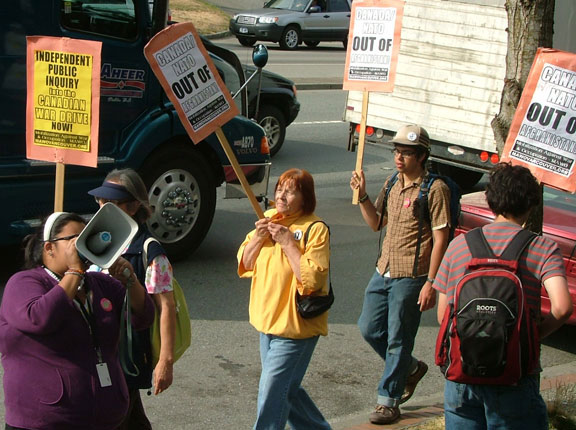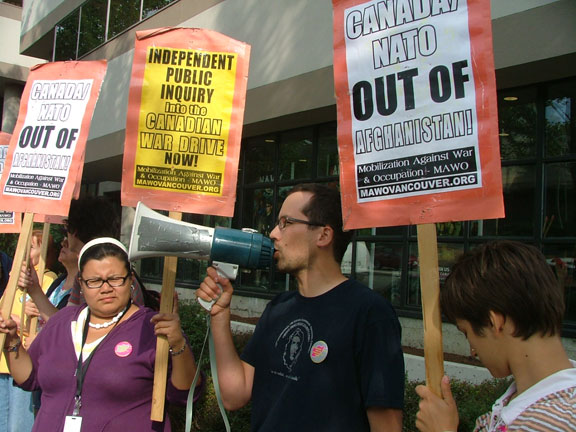 July 23 Picket Action Report:

On Thursday July 23rd, many activists gathered at the Canadian Armed Forces Recruitment Centre in New Westminster to protest against the Canada/US/NATO occupation of Afghanistan. The monthly picket action, organized by Mobilization Against War and Occupation (MAWO) was the 56th picket to demand an immediate end to the brutal occupation and for the self-determination of Afghan people.

The picket began with MAWO co-chair, Janine Solanki, who led chants and read MAWO's picket statement, outlining the recent developments in Afghanistan. The month of July has been one of the bloodiest for Afghans as well as for the foreign occupiers as July's death toll for Canadian soldiers had already reached five, for a total of 125 since the invasion began. In addition to this, July has been the deadliest month for other foreign occupiers with a record 31 US soldiers losing their lives, plus 15 UK soldiers who have been killed. These numbers make July the deadliest month for the foreign invaders of Afghanistan since the war and occupation began nearly 8 years ago. At the same time, attacks have escalated on Afghan civilians, with a recent report from the United Nations Assistance Mission in Afghanistan estimating that from January to May of 2009, at least 800 Afghan civilians have been killed under the occupation, up 24% from the same time period in 2008.

After a round of picketing, Phillipa Ryan, an elder and activist from the Gitxsan Nation spoke. She connected the occupation of Afghanistan to the continuous war that the government of Canada has been waging against Indigenous people in Canada. She emphasized that the denial of Afghan people's self-determination by the occupation forces today is an extension of Canada's continued denial of Native people's sovereignty at home.

David Whittlesey, a long-time civil-rights and anti-war activist, spoke next. He connected the current anti-war movement to the anti-Vietnam war movement, showing the many similarities, and emphasized the need to for consistent actions and events.

Following another round of picketing, Aaron Mercredi, a Metis youth activist and organizer with the Indigenous Rights and Action Project (IRAP), spoke. He spoke about the hypocrisy of the government of Canada in claiming to make any progress in Afghanistan when all the facts and figures prove otherwise, and that people in Canada are believing less and less of the government's lies, with more than 54% of Canadians in a recent EKOS poll opposed the war in Afghanistan.

The picket action ended with high energy, among honks from ongoing traffic who were reacting to the 'Honk for Canada Out of Afghanistan!' sign on the sidewalk, with a determination to continue consistent actions against Canada's war drive in Afghanistan.

CANADA OUT OF AFGHANISTAN NOW!
U.S. OUT OF AFGHANISTAN NOW!
NATO OUT OF AFGHANISTAN NOW!