---
Event Reports
---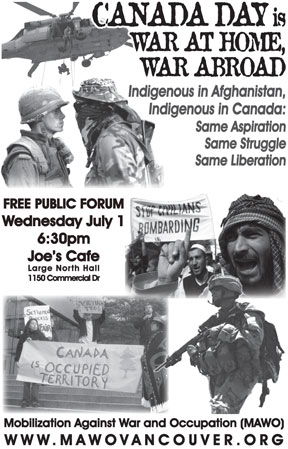 July 1, 2009

Canada Day is War at Home, War Abroad

Indigenous in Afghanistan, Indigenous in Canada:
Same Aspiration, Same Struggle, Same Liberation



Organized by Mobilization Against War & Occupation (MAWO)


---
View International Media Coverage of MAWO forum on Press TV!






CLICK ON PHOTO FOR LARGER VERSION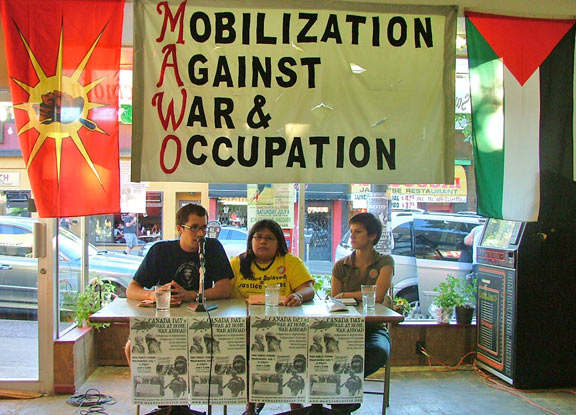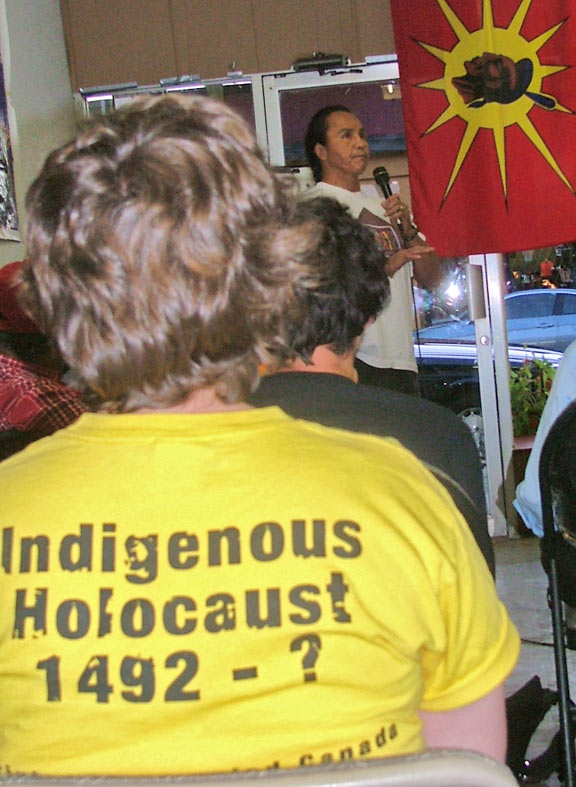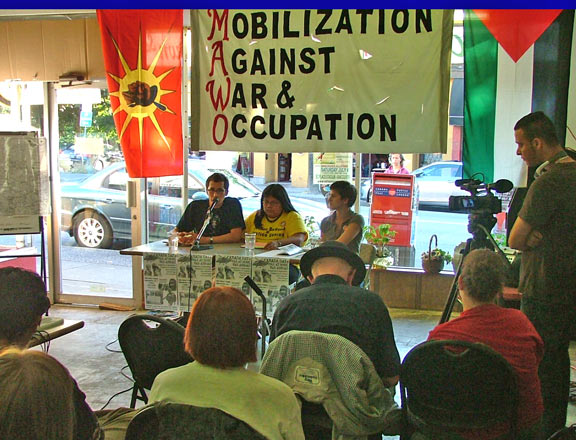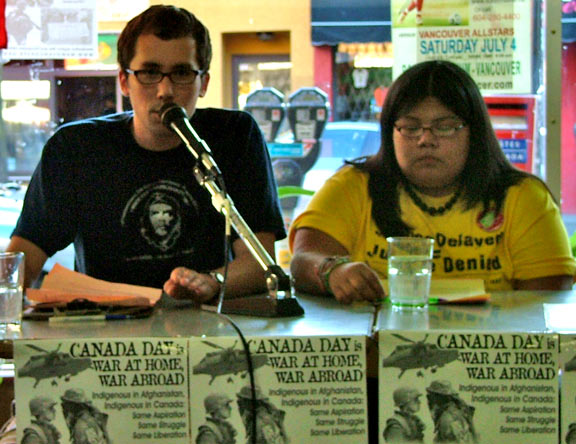 July 1st Public Forum Report:

On July 1st, so-called "Canada Day" over 30 people came together for the forum "Canada Day is War at Home, War Abroad - Indigenous in Afghanistan, Indigenous in Canada: Same Aspiration, Same Struggle, Same Liberation" at Joe's Café in Vancouver. On this day, the government of Canada urged people to celebrate the "birthday" of Canada and to support the troops in Afghanistan. But for Indigenous Nations this day only means the creation of the racist state of Canada on stolen Indigenous land.

The forum began with film clips which depicted the government of Canada's genocidal policy of residential schools that led to at least 50,000 Indigenous people killed or "disappeared," the lose of culture, language and identity, as well as severe physical, sexual, and emotional abuse. There were also film clips that showed how the government of Canada continues its bloody history today in stealing more Indigenous land and resources. From Canada, the films moved to Afghanistan where the Indigenous people there have faced a brutal occupation by Canada, the US and NATO countries for over seven years.

After the films, Janine Solanki, MC of the forum and co-chair of Mobilization Against War & Occupation introduced Kerri Goodwin, an Oji-Cree activist and executive committee member of Mobilization Against War & Occupation and Aaron Mercredi, an Métis activist, organizer with the Indigenous Rights and Action Project and editorial board member of the First This Time newspaper. Both gave vivid historical and personal experiences of what Canada's colonial history has meant for Indigenous people in Canada. The speakers also talked about how Stephen Harper, Prime Minister of Canada recently "apologized" for residential schools over a decade after the last school was closed, yet at the same time as the apology was made the Government imprisoned members of the KI Nation who were defending their land against further exploitation from mining companies. The speakers also spoke about how the fight of self-determination for Indigenous Nations in Canada is clearly connected to the fight of the Indigenous people of Afghanistan for self-determination and an end to the occupation of their land. Finally they highlighted how the question of Indigenous land and the right for self-determination is one of the most important struggles for people living in Canada and that Indigenous people cannot win their fight without solidarity from peace-loving people in Canada.

During question period, people highlighted the necessity to support Indigenous people's right to self-determination in Canada and Afghanistan. Many Indigenous people recounted their own experiences of how the government of Canada has abused them and their people, and continuing to steal more of their land. The forum wrapped up with the affirmation that Indigenous nations right to self-determination is an important issue for the anti-war movement in Canada.