---
Event Reports
---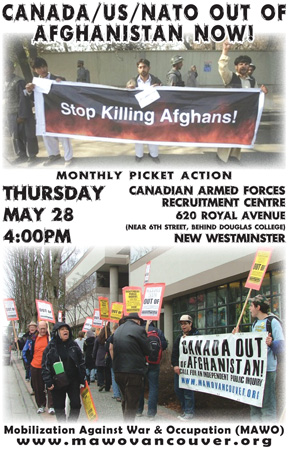 May 28, 2009 - Picket Action
Canada/US/NATO Out of Afghanistan NOW!

Organized by Mobilization Against War & Occupation (MAWO)









---
CLICK ON PHOTO FOR LARGER VERSION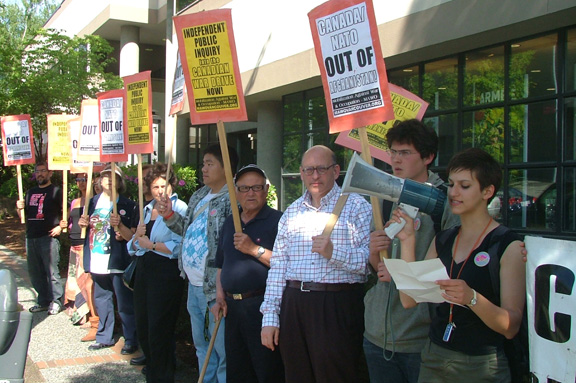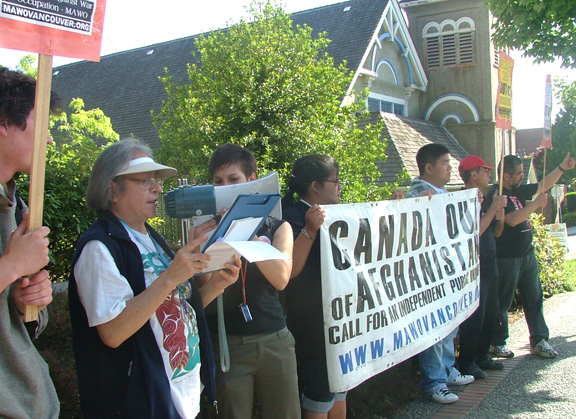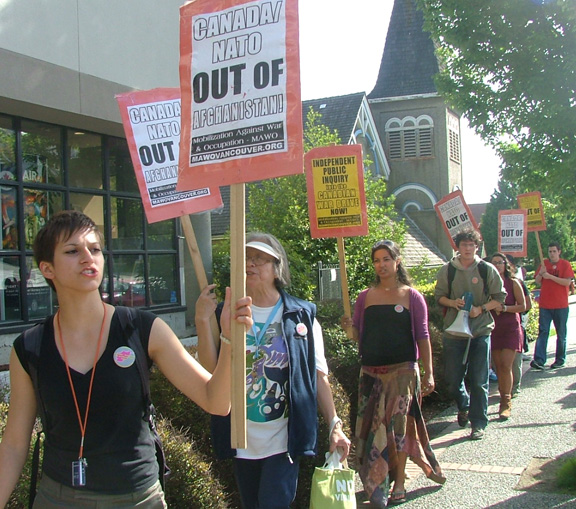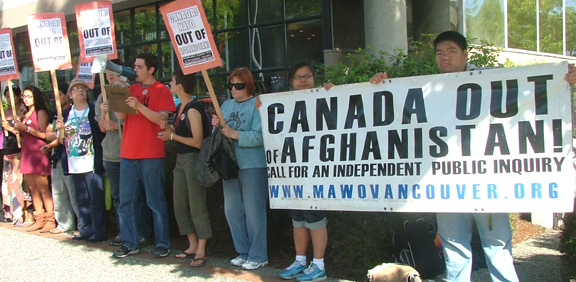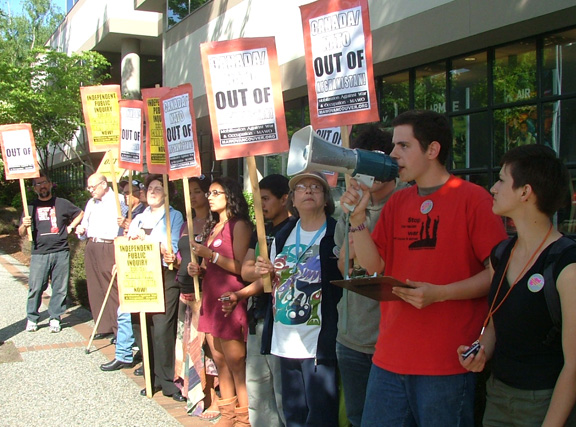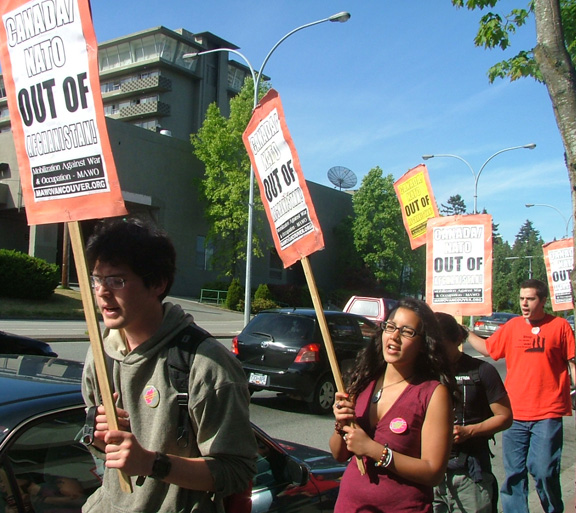 May 28th MAWO Picket Action Report

"CANADA OUT OF AFGHANISTAN NOW!" was heard in the city of New Westminster on Thursday, May 28 as peace activists picketed the Canadian Armed Forces Recruitment Centre. The action, organized by Mobilization Against War & Occupation (MAWO), was the 54th monthly picket calling for an end to the Canada/NATO/US occupation of Afghanistan. This picket came on the heels of a recent surge of bombings on the Afghan population by the occupying forces.

Organizers set up a sandwhich board reading "HONK FOR CANADA OUT OF AFGHANISTAN!" facing the traffic. And before the picket could even get started the flow of honks began.

MAWO Co-chair and MC of the picket, Janine Solanki, opened up the action by reading the MAWO news release on the picket action. This led to the first picket as protesters grabbed signs and chanted away.

Janine welcomed up the first speaker of the day, Phillipa Ryan, an indigenous elder and activist from the Gitxsan Nation. Phillipa condemned Canada's increased military killings in Afghanistan, and compared the slaughtering of Afghan civilians to Canada's historic and ongoing attacks on indigenous nations throughout Canada.

This was followed by a second round of picketing before Janine welcomed up the second speaker of the day, Andrew Barry, an executive member of MAWO. Andrew highlighted the hypocrisy of Canada's stated goals in Afghanistan, and how 7 and a half years later life conditions have gotten worse for Afghans. He noted that Obama's decision to send 21,000 more US troops to Afghanistan will bring nothing but more violence, destruction, chaos, and suffering for the Afghan people.

A final round of picketing ensued with loud chants against the war. Janine wrapped up the picket encouraging people to continue showing their opposition to the war on the streets in direct actions like this. Picketers vowed to be back next month to take part in another of MAWO's monthly actions against the occupation of Afghanistan.

Bring Troops Home Now!
CANADA Out of Afghanistan Now!
U.S. Out of Afghanistan Now!
NATO Out of Afghanistan Now!
Self Determination for Afghanistan Now!
Independent Public Inquiry Now!