---
Event Reports
---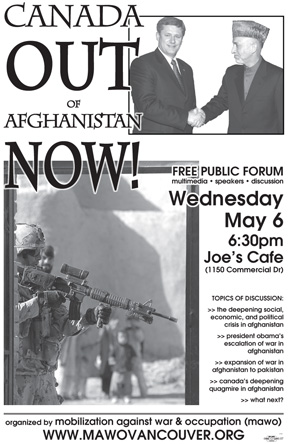 May 6, 2009
Antiwar Public Forum

Canada Out of Afghanistan Now!




Organized by Mobilization Against War & Occupation (MAWO)

---
CLICK ON PHOTO FOR LARGER VERSION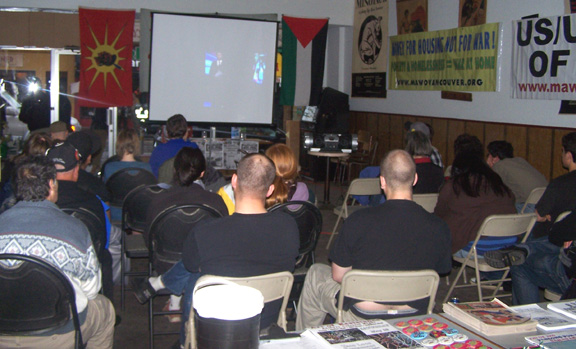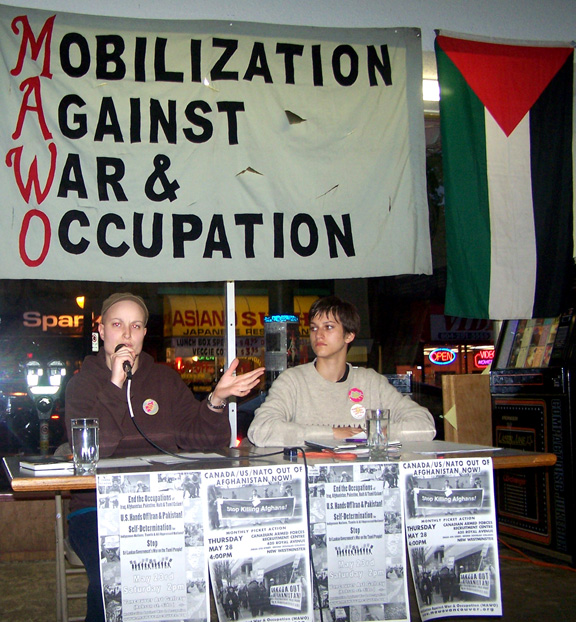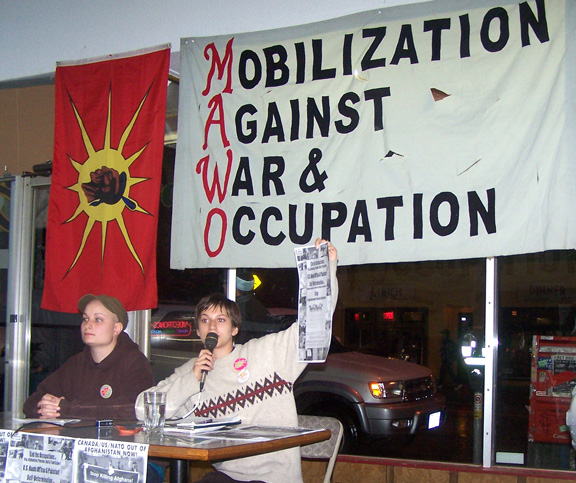 May 6 Public Forum Report:

As Canada/US/NATO airstrikes rocked Afghanistan in a brutish fashion this week, Afghans responded with demonstrations calling for the end to the occupation. On May 6th in Vancouver, Canada, dozens of concerned people gathered for a public forum on Canada's growing quagmire in Afghanistan. The forum was organized by Mobilization Against War & Occupation (MAWO) and came on the heels of these escalating attacks from the occupying forces.

The forum was MC'd by MAWO Co-chair, Janine Solanki, and opened with a series of news clips about recent news in Afghanistan as well as the increasing US bombings in neighbouring Pakistan. The films showed the frustrations from occupying troops who admitted that the local Afghan people do not want them there. Other films also highlighted the recent US bombings on Monday, May 4th that killed upwards of 150 people. US and international media outlets noted that that recent bombing overshadowed the May 6th meeting between the presidents of the United States, Afghanistan, and Pakistan.

After the news clips Janine welcomed up the speaker of the forum, Nita Palmer, the secretary of MAWO and member of the Fire This Time newspaper editorial board. Nita opened her talk by listing the reasons why the current occupiers originally went to Afghanistan: for the promotion of freedom, democracy, and women's rights for Afghans. Point by point Nita expanded on these three reasons and how they were a lie from the beginning and how every one of those so-called goals could never have been met. "You cannot bring progress and a better way of life for people when the killing of civilians is increasing month by month and year by year. This past week's civilian massacre by the foreign forces shows the continuing destruction and direction of the occupying forces," Nita explained.

Nita's talk aroused a lengthy and informative discussion that brought in comparisons to other wars, including the historic and ongoing war against indigenous people here in Canada by the government of Canada. Nita noted that as Canada and the US's quagmire continues to spiral out of their control in Afghanistan it is becoming more necessary for antiwar and human loving people to join together, do more public actions, and continue building a stronger presence against the war and occupation of Afghanistan.