View International Media Coverage of Rally from Press TV!






CLICK ON PHOTO FOR LARGER VERSION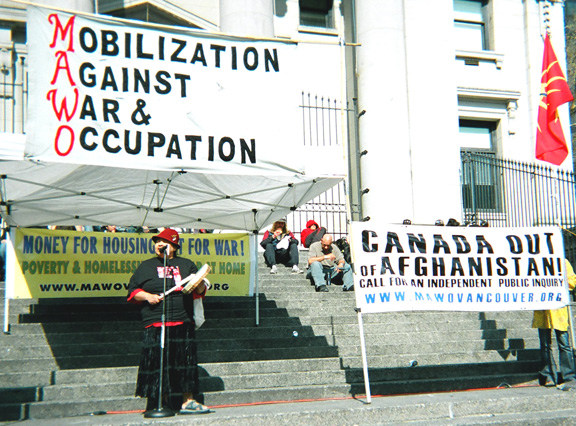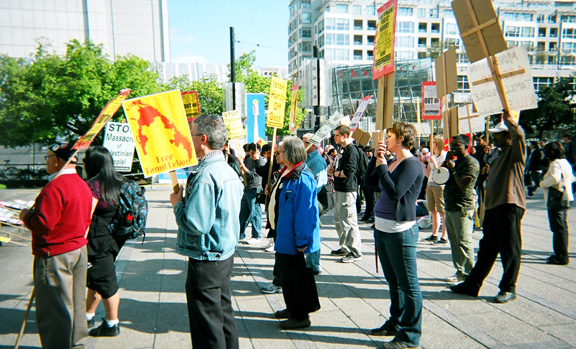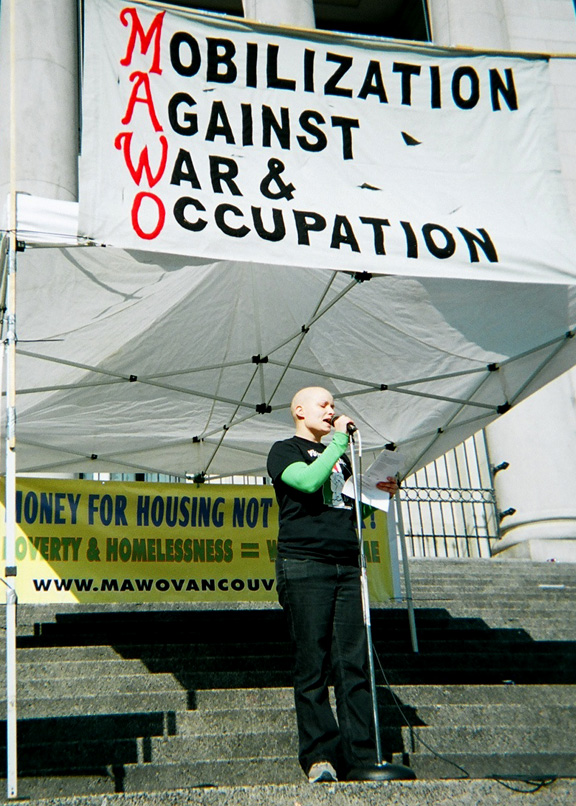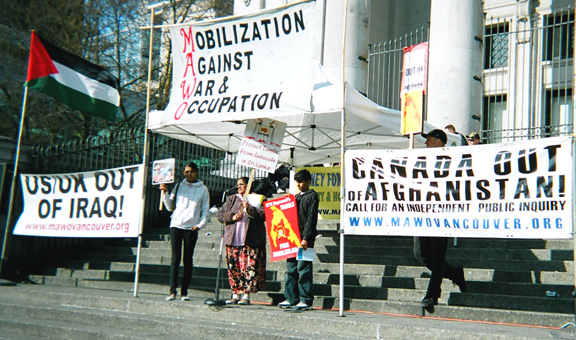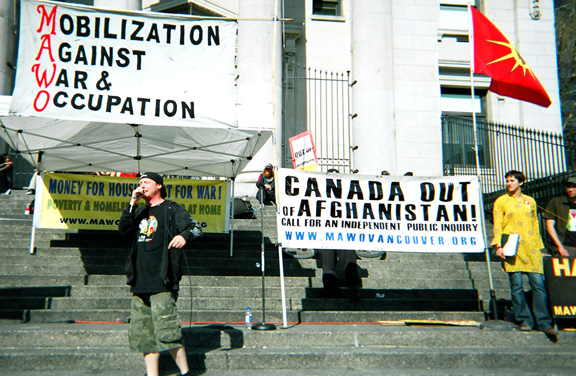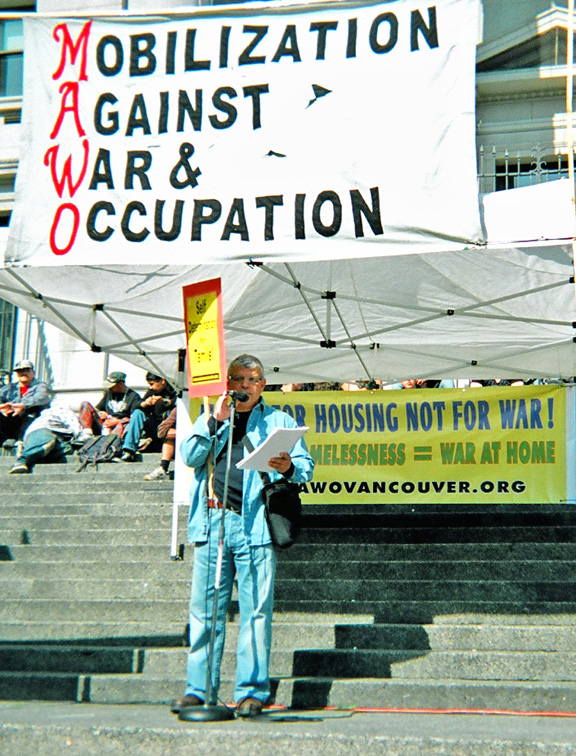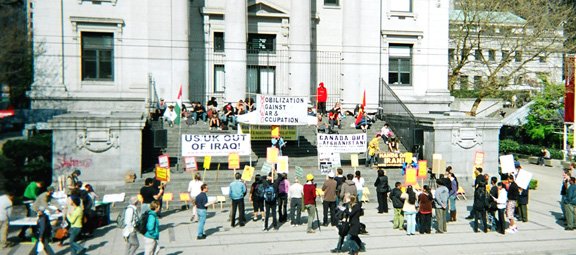 April 25 Antiwar Rally Report:

The Art Gallery in Downtown Vancouver was buzzing with energy and activity as Mobilization Against War and Occupation (MAWO), along with supporters and human loving people of all ages, rallied against war and occupation. An array of vibrant banners, flags and picket signs displayed the demands of the protest for all to see:

"End the Occupations of Iraq, Afghanistan, Palestine & Haiti!"
"U.S. Hands Off Iran & Pakistan!"
"Self-Determination for Indigenous Nations, Tamils & All Oppressed Nations!"
"Stop the Sri Lankan Government's War on the Tamil People!"

Janine Solanki, co-chair of MAWO, welcomed everyone to the protest and expressed that as this new era of war and occupation is devastating humanity, peace loving people must join together to demand an end to all imperialist wars and occupations. With this sentiment Janine invited up the first speaker. Kelly White, an Indigenous elder and social justice fighter welcomed everyone to unceded Coast Salish territory in the spirit of "MAWO for Peace!".

Kelly was followed by Alison Bodine, co-chair of MAWO. Alison addressed the crowd via speaker phone all the way from Brooklyn, New York. Alison could not join protesters in person as she is currently facing a two year ban from Canada after she was politically targeted by the Canada Boarder Services Agency in September of 2007. Despite the distance, Alison brought greetings of solidarity from the US antiwar movement and let everyone know that in the face of her political targeting by the government of Canada, she is still organizing and fighting against this new era of war and occupation. To learn more about Alison's case please visit: www.alisonbodine.blogspot.com

Luciano Sanchez, organizer with the Global Justice and Peace Committee of the Hospital Employees' Union, related the war abroad to the war at home, with increased attacks against students and poor and working people across Canada.

Noah Fine, co-ordinator of the Free the Cuban 5 Committee-Vancouver, spoke about the case of the 5 Cuban Heroes being held in US Jails for defending their people against US sponsored terrorism. Noah stressed the hypocrisy of the US so-called "war on terror" that these 5 men so peacefully and unconditionally exposed.
For more information on the case of the 5 Cuban Heroes please visit:
http://vancubasolidarity.com/freethefivevan.html

Rani Kumar, a member of the Tamil community here in Vancouver, spoke about the ongoing war by the government of Sri Lanka on the Tamil people and their struggle for dignity and human rights. Rani urged everyone to join in demanding an end to this aggression and for the Tamil people's right to self-determination.

Nita Palmer, secretary of MAWO, spoke about the new era of war and occupation we are living in, which is being waged both abroad in Iraq, Afghanistan, Palestine, Iran, Pakistan and Sri Lanka, and here at home against students, and poor, working and oppressed people. Nita conveyed that the only way to put a stop to this attack on humanity was to organize and mobilize against these wars and occupations and to continue to struggle for the dignity of all people.

The rally came to an energetic close with chants of "Canada Out of Afghanistan!" and "Self-Determination for all Oppressed Nations!" MAWO's information table was busy all day long with people wanting to find out more about war and occupation and how they could get involved in organizing against it. Anti-war activists collected more than 350 signatures demanding "Canada out of Afghanistan Now!" through petitioning both at the MAWO table and in teams of two in different spots around the Vancouver Art Gallery. Mobilization Against War and Occupation has already collected more than 14,000 signatures in the Vancouver Lower Mainland against military occupation and war in Afghanistan by the government of Canada.