---
Event Reports
---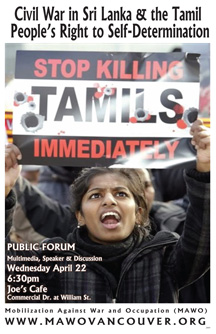 April 22, 2009
Antiwar Public Forum
Civil War in Sri Lanka and the Tamil
People's Right to Self-Determination


Organized by Mobilization Against War & Occupation (MAWO)




---
CLICK ON PHOTO FOR LARGER VERSION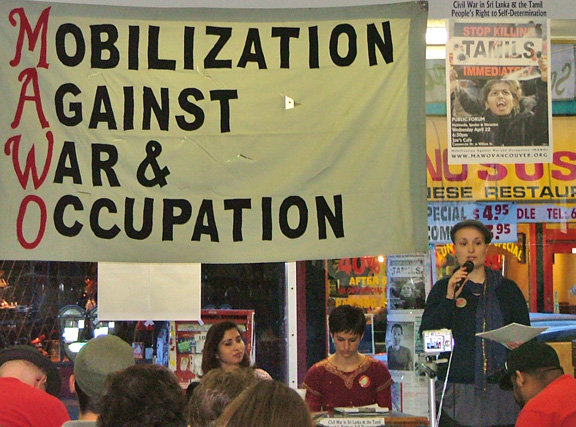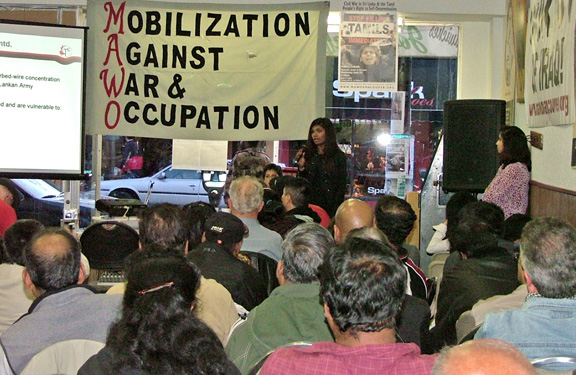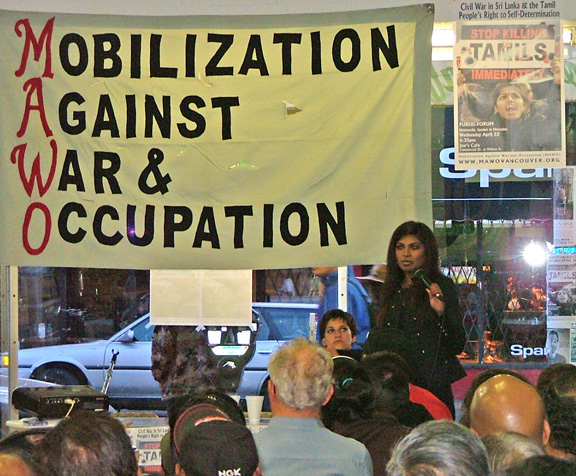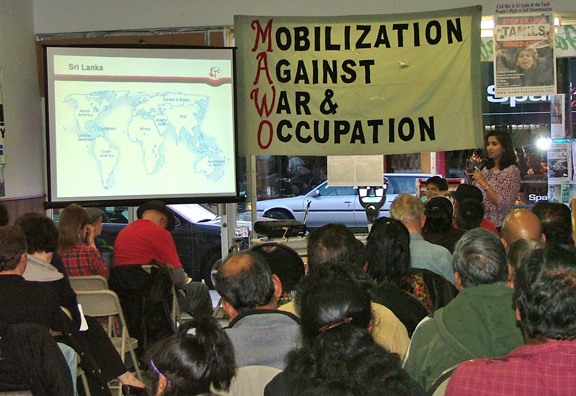 April 22 Public Forum Report:

On April 22nd over 70 people crowded together to participate in the MAWO public forum, "Civil War in Sri Lanka and the Tamil People's Right to Self-Determination." The forum occurred as the Sri Lankan government continued its recent massive escalation of violence and displacement against the Tamil people in Sri Lanka. Activists came together from the Tamil community in Vancouver as well as many other communities to discuss the roots and realities of the current massacres.

Video footage of bombed out villages and civilians forced into makeshift government concentration camps added urgency to the horrifying recent statistics. As the Sri Lankan government continues to ban media and aid from the areas it is attacking, a United Nations document estimates that nearly 6,500 civilians have died and 14,000 have been injured since the end of January.

Sue Nathan, the regional coordinator of the Canadian Tamil Congress (CTC) and Merhala Bala, a Tamil community member, opened their presentation with a history of Sri Lanka – from the poisonous effects of Portugese, Dutch, and British colonialism, to the political exclusion and violence faced by Tamils after Sri Lanka was declared independent in 1948. In response to the current violence, the CTC demanded an immediate ceasefire, and a solution to the conflict based on the right of Tamil people to self-determination.

MAWO Executive Committee member and member of the Fire This Time editorial board Nita Palmer followed by emphasizing that the civil war in Sri Lanka was happening in the context of a new era of war and occupation. She agreed with the CTC call for the self-determination of the Tamil people, and spoke against imperialist intervention in Sri Lanka . The world need only look to the recent examples of Afghanistan , Iraq , Haiti , or Somalia to see the devastating consequences of these so called, "humanitarian interventions" as imperialist countries battle it out for land and resources.

The long discussion which followed the presentations centered on the need to draw links and unity between oppressed people around the world, and to increase education and mobilization for the right of the Tamil people for self-determination through independence. MAWO has pledged to continue to work with all organizations and people who are fighting for this important demand.