---
Event Reports
---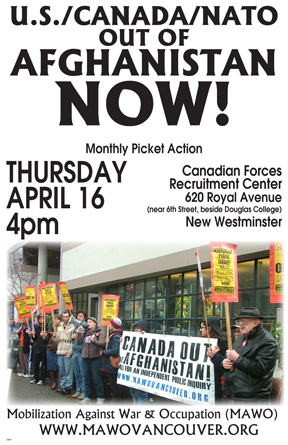 April 16, 2009 - Picket Action
Canada/NATO Out of Afghanistan NOW!

Organized by Mobilization Against War & Occupation (MAWO)









---
CLICK ON PHOTO FOR LARGER VERSION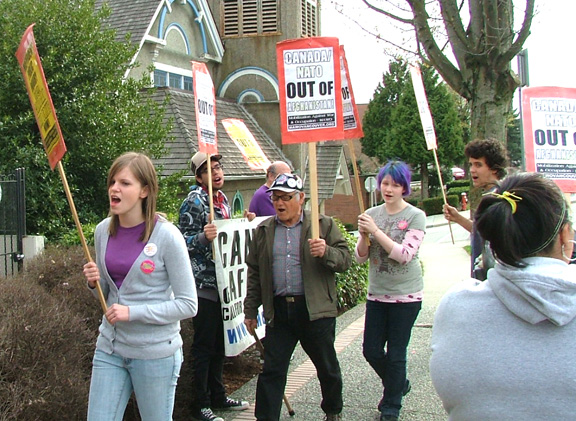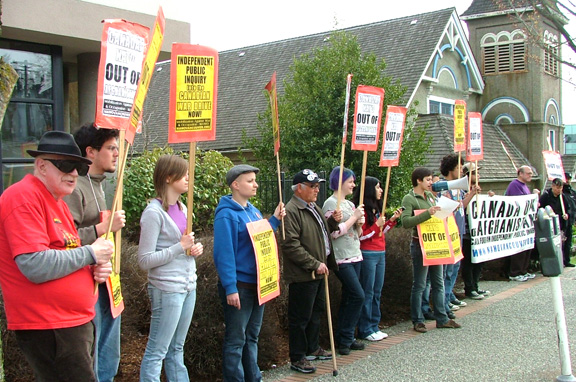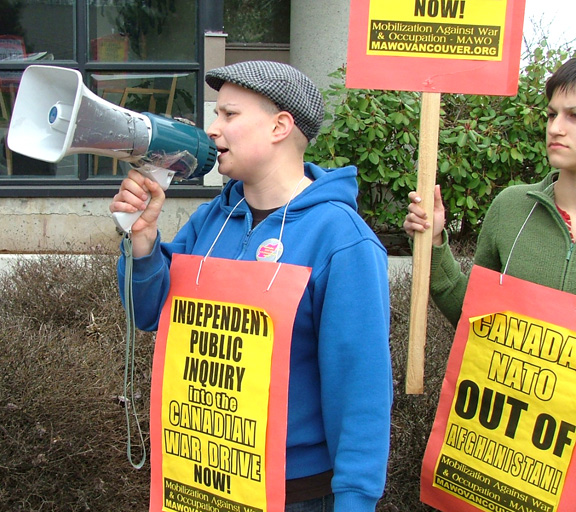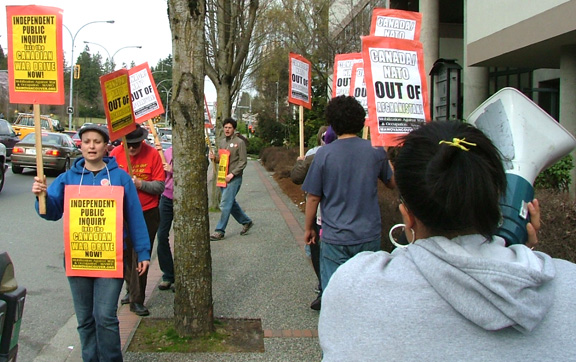 April 16 MAWO Picket Action Report


Thursday April 16th, saw the 53rd picket action in Vancouver, Canada calling for an end to Canada's brutal occupation of Afghanistan in front of the Canadian Armed Forces Recruitment Centre. The picket, organized by Mobilization Against War & Occupation, came three days after the 117th Canadian Soldier, and second female Canadian soldier, was killed in Afghanistan.

Janine Solanki, the co-chair of MAWO MC'd and introduced the picket by quoting the godfather of the recently killed Canadian soldier: "I think she did this for absolutely nothing… The Russians were in Afghanistan for many years and they couldn't push them back. I ask myself what Canada is doing."

A "HONK FOR CANADA OUT OF AFGHANISTAN!" sign kept the energy of the picket very high throughout as there was a continuous stream of car honking by passerbys.

After the first round of loud picketing, Janine introduced David Whittlesey, a civil rights activist and organizer during the anti-Vietnam war era. David spoke passionately against the same murderous strategies used by Western countries against third world countries dating back to the Vietnam War.

After a final round of picketing, Nita Palmer, executive committee member and secretary of MAWO, exposed the hypocrisy of Canada's "peacekeeping" myth by connecting the war in Afghanistan to its war at home. She questioned how the government of Canada can bring homes and women's rights to the people of Afghanistan while its homeless situation in Canada is skyrocketing and they have cut funds and programs for women's rights in Canada. She encouraged everyone to come out to MAWO's next monthly Canada Out of Afghanistan Picket as MAWO will continue to organize pickets in front of the Canadian Armed Forces Recruitment Center until there is an end to this brutal and unjust occupation.

CANADA OUT OF AFGHANISTAN!
NATO OUT OF AFGHANISTAN!
U.S. OUT OF AFGHANISTAN!
INDEPENDENT PUBLIC INQUIRY NOW!