---
Event Reports
---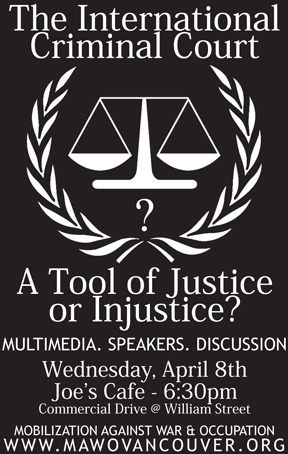 April 8, 2009 - Antiwar Public Forum
International Criminal Court (ICC) as an Imperialist Tool: Justice or Injustice?
a New Frontier for War and Occupation

Organized by Mobilization Against War & Occupation (MAWO)








---
CLICK ON PHOTO FOR LARGER VERSION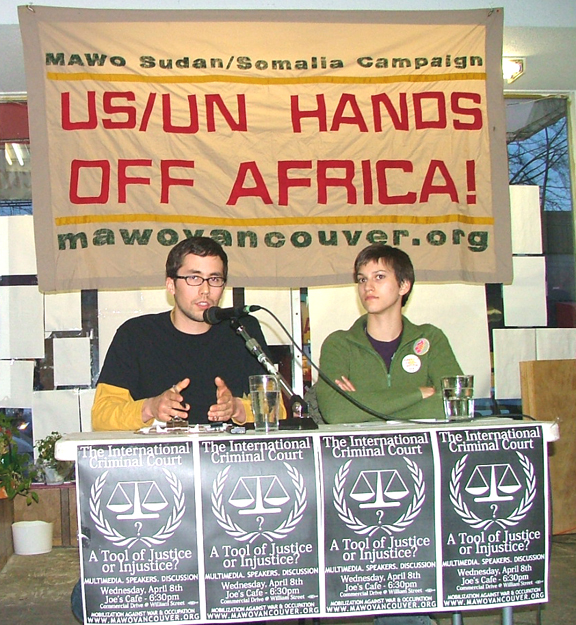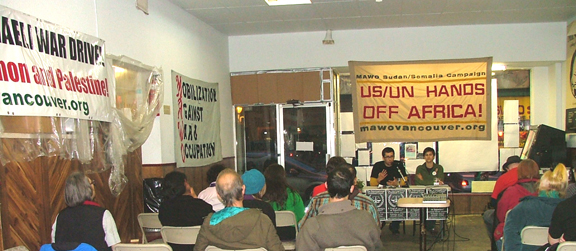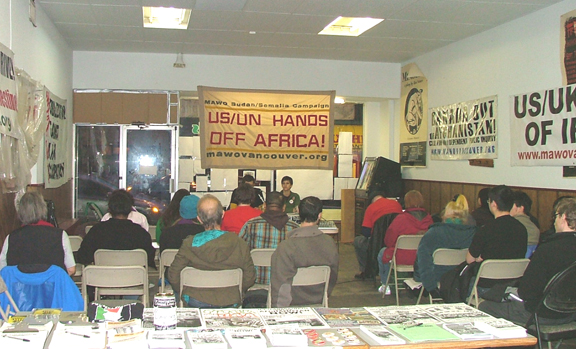 April 8 MAWO Public Forum Report

On Wednesday April 8th, over 30 people crowded into the North Hall of Joe's Cafe for a public forum organized by Mobilization Against War & Occupation (MAWO), titled "International Criminal Court (ICC): A Tool of Justice or Injustice." The forum was organized after the recent March 4th decision by the ICC to issue their first warrant of arrest for a sitting head of state, President Omar al-Bashir of Sudan.

The MC for the evening, Janine Solanki the co-chair of MAWO, welcomed everyone to the forum and introduced a multimedia presentation on the ICC to begin the program. This included news clips about the political targeting of Sudan by the ICC and the hypocrisy of Western nations' governments that claim they are concerned about human rights in Sudan while they have committed treacherous war crimes against such nations as Iraq.

After the film, Aaron Mercredi, an organizer with the Indigenous Rights and Action Project and an editorial board member of the Fire This Time newspaper, outlined the history and background of the ICC. Aaron described how the ICC is a tool used by Western governments to target countries and people that are obstacles to Western domination and imperialism. To begin the discussion Aaron asked the question "how is the ICC considered independent and a moral authority when over 90% of its funding comes from Europe, Japan, and other Western countries?"

This question began a lively discussion period where people discussed and learned about how the Western governments use the ICC as a tool for their aggression and plundering of third world countries. Many people noted the need to include opposition to Western aggression against Sudan as a necessary component of the antiwar struggle today.