---
Event Reports
---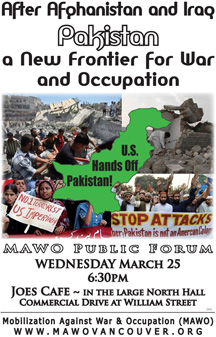 March 25, 2009 - Public Forum
Canada/NATO Out of Afghanistan NOW!

Organized by Mobilization Against War & Occupation (MAWO)









---
CLICK ON PHOTO FOR LARGER VERSION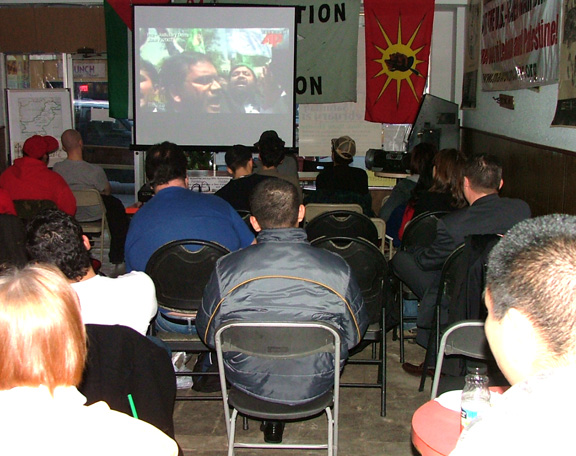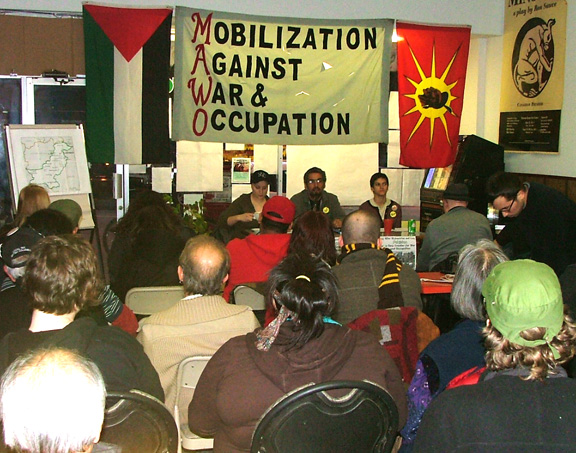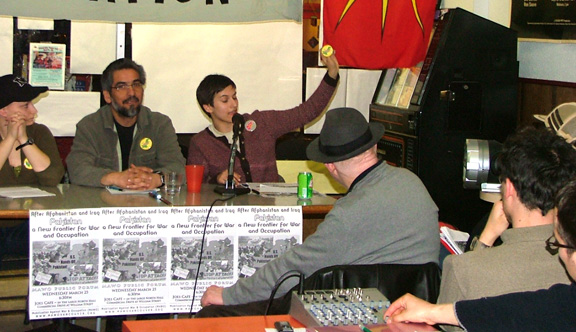 March 25 MAWO Forum Report

On Wednesday, March 25th, over 40 people crowded into the North Hall of Joe's Café for a public forum organized by Mobilization Against War and Occupation, titled "After Afghanistan and Iraq: Pakistan, a New Frontier for War and Occupation." The forum was organized in response to the increasing aggression by the US against the people of Pakistan. Using the excuse that so-called Taliban militants from Afghanistan are on the Pakistani border, the US has been stepping up their propaganda and military campaign against the people of Pakistan, through indiscriminate killing by the bombs of US drone planes. While this campaign began under the administration of George Bush in August 2008, it has continued with the inauguration of Barak Obama, with a total of 35 drone attacks resulting in over 340 people dead.

These attacks have not occurred in isolation. The US has put Pakistan in its crosshairs as another one of its targets in the new era of war and occupation. For this reason, MAWO found it important to bring this issue to the public. The forum's program began with a series of news clips focusing on Afghanistan and the increasing US attacks on Pakistan. This set the tone for the forum by showing directly what the US administration is saying on the issue, and also journalist investigations into the attacks.

The first speaker was Ali Yerevani, who is a long-time social activist and the political editor of the Fire This Time Newspaper for Social Justice. Ali outlined the history of Pakistan and the interest of Western imperialists in the country, and brought his talk into the current situation in Pakistan. He emphasized the importance of demanding an end to US aggression against the people of Pakistan and for the self-determination of the people of Pakistan.

The last speaker was Nita Palmer, who is a MAWO executive committee member and on the editorial board of the Fire This Time Newspaper. Nita began by going through the moves by imperialist countries since September 11th, 2001. What began with the invasion and occupation of Afghanistan continued with an invasion and occupation of Iraq in 2003. In that region of the world, Pakistan is being added to the countries that the US and other imperialist countries have in their crosshairs for war and occupation.

The forum was an important initiative that MAWO took to introduce Pakistan as a critical issue for the anti-war movement and all human-loving people around the world. With an understanding of the true nature of the conflict, we are able to take our demands to the streets with more confidence and defend our brothers and sisters in Pakistan and Afghanistan.