---
Event Reports
---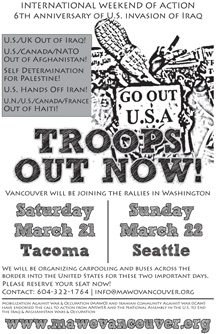 March 21-22, 2009 - Antiwar Rallies in Tacoma & Seattle

INTERNATIONAL WEEKEND OF ACTION
6th anniversary of U.S. invasion of Iraq

Organized by: Seattle ANSWER and the
National Assembly in the U.S. to End the Iraq & Afghanistan Wars & Occupation

Endoursed by: Mobilization Against War & Occupation (MAWO) and Iranian Community Against War (ICAW)


---
CLICK ON PHOTO FOR LARGER VERSION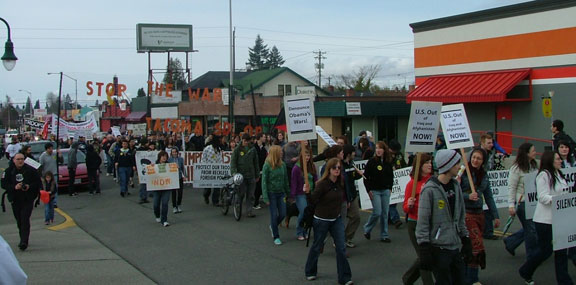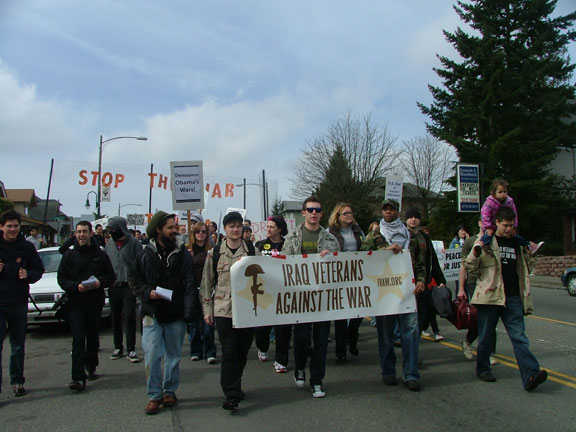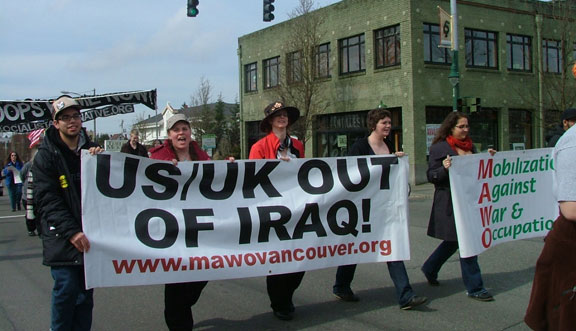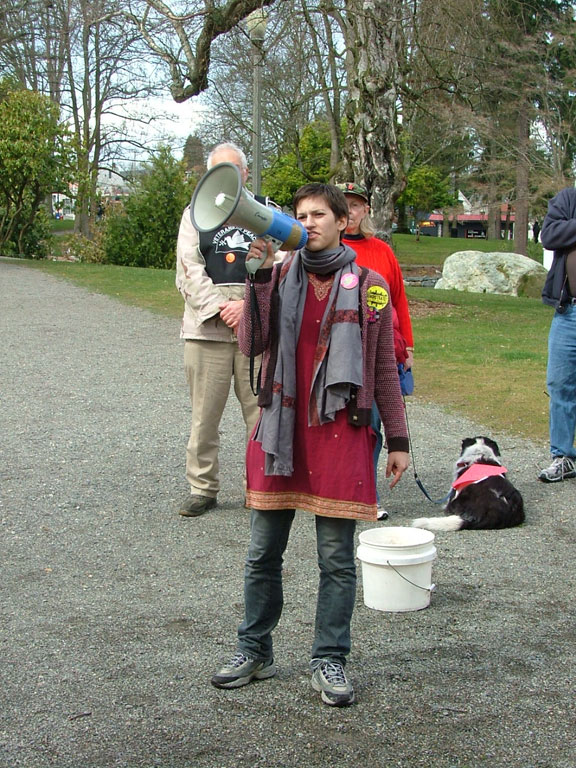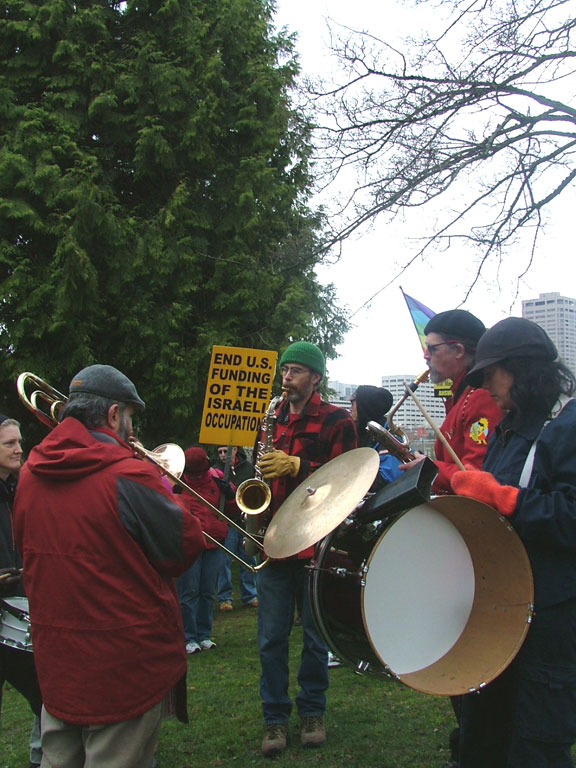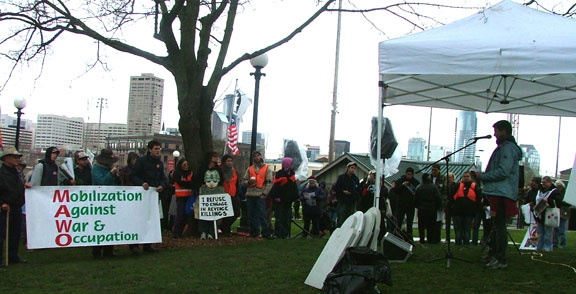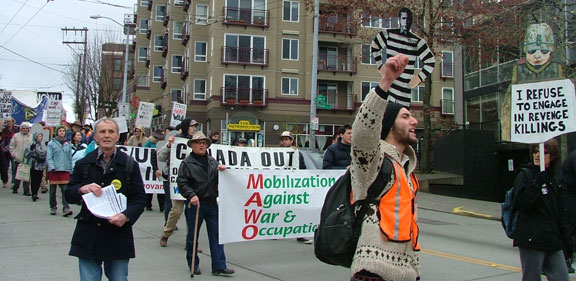 March 21-22 Rally Report


March 19th 2009 marked the 6th anniversary of the US/UK invasion and occupation of Iraq. Worldwide protests erupted against this immoral and unjust war before the invasion, and 6 years later demonstrations once again took place around the world to continue to demand an immediate end to the occupation of Iraq. This year, the protests in Tacoma and Seattle involved an additional element of solidarity in action, as many organizers from Mobilization Against War and Occupation (MAWO) made the trip from Vancouver to support and participate in both of these US rallies.

MAWO joined over 200 people on a lengthy march through Tacoma supported by groups such as Iraq Veterans Against the War, Tacoma SDS, GI Voice, and United for Peace of Pierce County. The spirited demonstration also included the demand to end the occupation of Afghanistan, where new US President Barack Obama has now committed an additional 17,000 US troops. MAWO co-chair Janine Solanki gave greetings on behalf of the coalition emphasizing that the necessity for expanded unity in the coming years of continued imperialist war and occupations, and thanking the Tacoma rally participants for their hard work and warm welcoming.

The next day, MAWO once again took to the streets for another antiwar demonstration organized by Seattle ANSWER (Act Now to Stop War and End Racism). Again, over 200 people took to the streets demanding self-determination for Iraq and highlighting the heightened war drive in Afghanistan. Speakers included Iraq and Vietnam war veterans, high school students, members of the Arab community, and MAWO co-chair Janine Solanki. In emphasizing the similarities between people organizing against war on both sides of the Canada/US border, she also appealed for unity to encompass oppressed people around the world fighting for their dignity and self determination.

The march wove its way through busy downtown Seattle, led by loud chanting from the front to the back of the march. March 19, 2008 marked the 6th anniversary of the occupation, and was also a step forward for increased coordination and solidarity between US and Canadian anti-war organizations. It is this kind of progress which will open new doors in the international movement to end war and occupation.