CLICK ON PHOTO FOR LARGER VERSION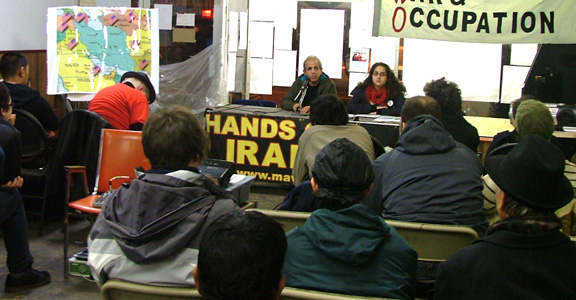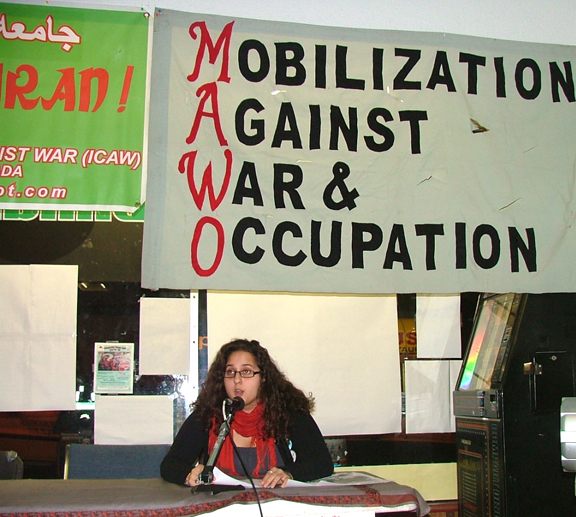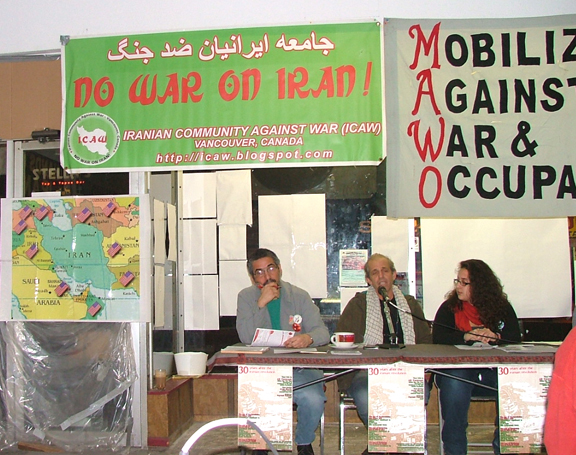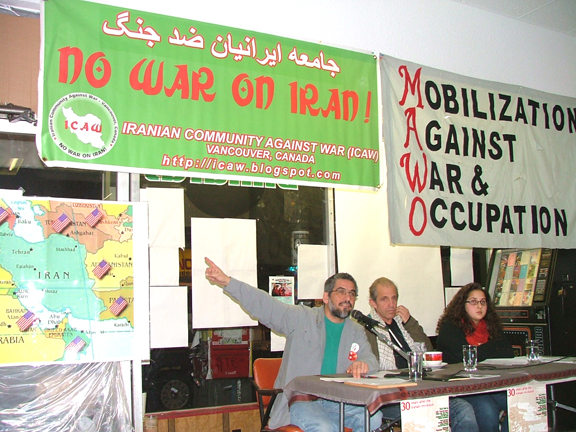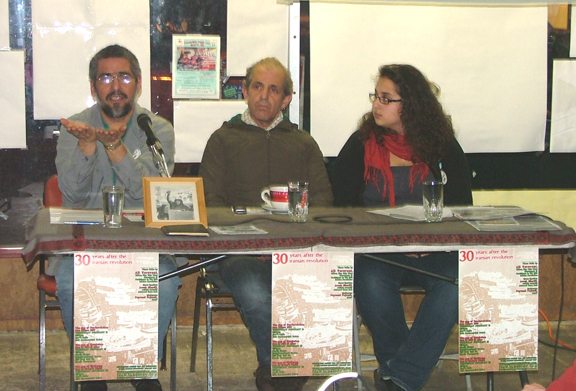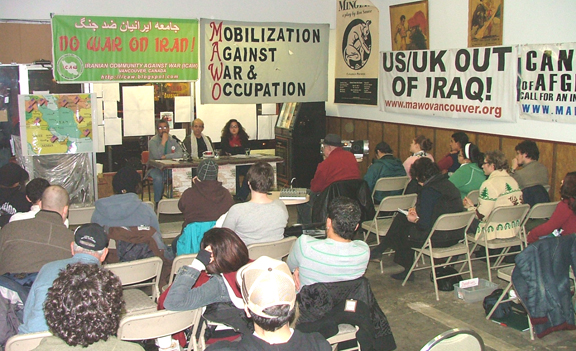 Iran Forum Series Report:

February 2009 marked 30 years since the historic and anti-imperialist Iranian Revolution. In Vancouver, Canada, Mobilization Against War & Occupation (MAWO) and the Iranian Community Against War (ICAW) organized a forum series to mark this important anniversary. Three separate forums over the month of February discussed the history of Iran before the Revolution, the days before and during the Revolution, and finally on the challenges that Iran faces today during this new era of war and occupation.

Payvand Pejvack, an organizer with ICAW, MC'd the three forum series. And the two speakers were Arash Sharifi, an ICAW organizer who recently returned from Iran, and Ali Yerevani, the political editor of the Fire This Time newspaper and a participant in the 1979 Iranian Revolution.

The forum series opened on February 11th with "The Age of Pre~Revolution: Iran Before 1979." Arash and Ali highlighted the difficulties of day to day life in Iran under the US backed dictator, the Shah of Iran. Ali also noted the history of revolutions and social changes in Iran throughout its history, particularly the 20th century.

On February 19th the forum series returned with the second segment entitled "The Age of Revolution: Iran in 1979 and After." The first forum a week earlier gave the historical understanding of the frustrations of Iranians under the US and Shah's control, and how this imperialist policy over Iran exploded in the late 1970s, culminating in the 1979 Revolution. "Our revolution was not an act of offense, it was an act of defense," Ali explained. "We were under attack every day from US colonialism, and it got worse and worse, until people could not take it anymore. And revolution was the response."

These two forums provided the knowledge and history of Iran's unique position in the world today. On February 25th Iranians, antiwar activists and people interested in Iran came together one more time to discuss Iran's current situation as it is sandwiched in between two US occupied countries, Iraq and Afghanistan. In this final forum, "The Age of Challenge: Iran in Today's World," Arash, who recently returned from Iran, spoke of the tough situation facing Iranians today because of the US sanctions and economic war drive on Iran.

Discussion followed each event, and the last forum provided a lengthy amount of time to discuss how antiwar activists need to defend the people of Iran from the escalating threats of war from the US and its allies. In 2002 and 2003 social justice and human loving people throughout the world united to oppose the US's plans for mass destruction in Iraq. Today in 2009, 30 years after the Iranian Revolution kicked out US domination, that unity and struggle for peace must be demanded by social justice and human loving people against the US's escalating aggression against Iran.