---
Event Reports
---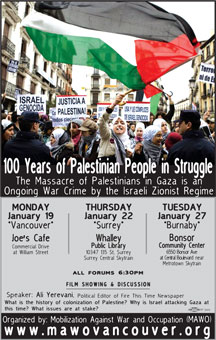 January 14, 19, 22 & 27, 2009
Public Forum Series
Vancouver, Surrey, Burnaby

100 Years of Palestinian People in Struggle: The Massacre of Palestinians in Gaza is an Ongoing War Crime by the Israeli Zionist Regime

Organized by Mobilization Against War & Occupation (MAWO)

---
CLICK ON PHOTO FOR LARGER VERSION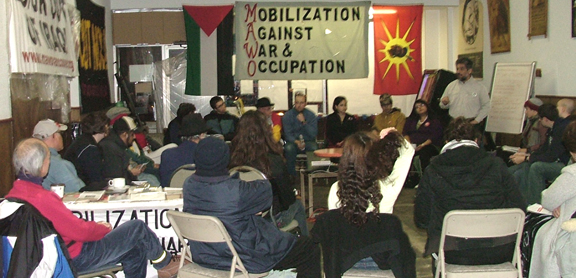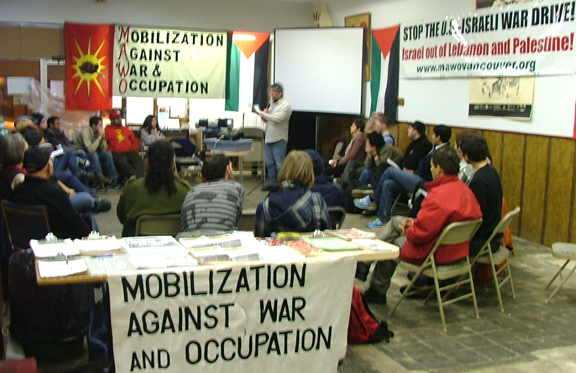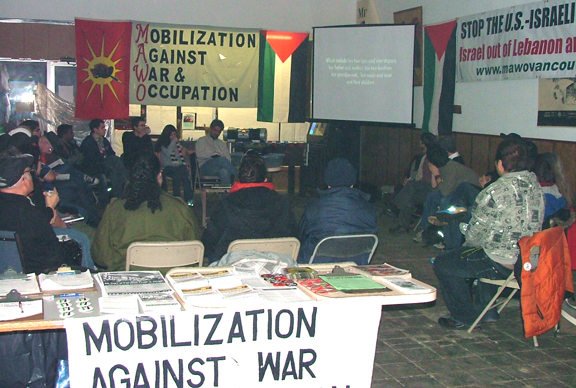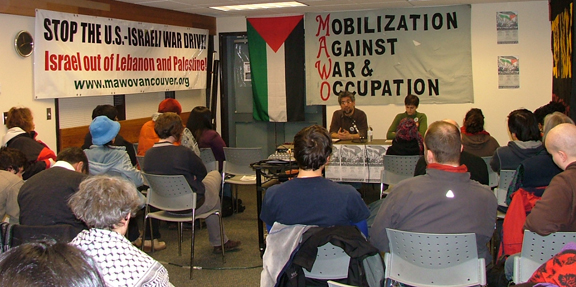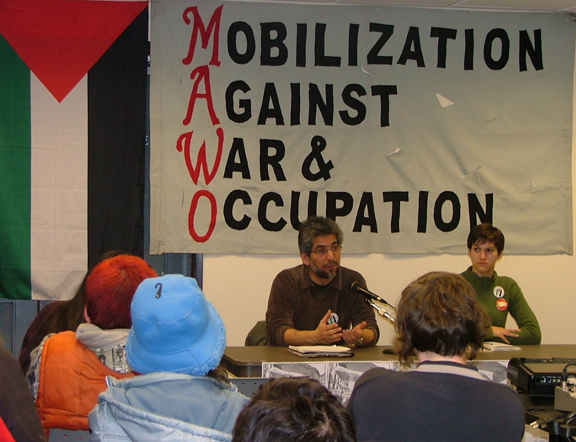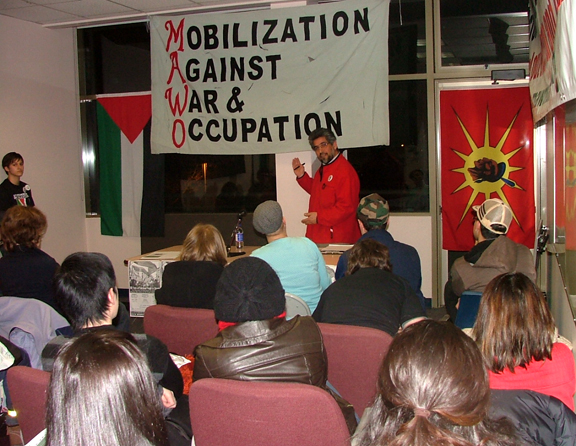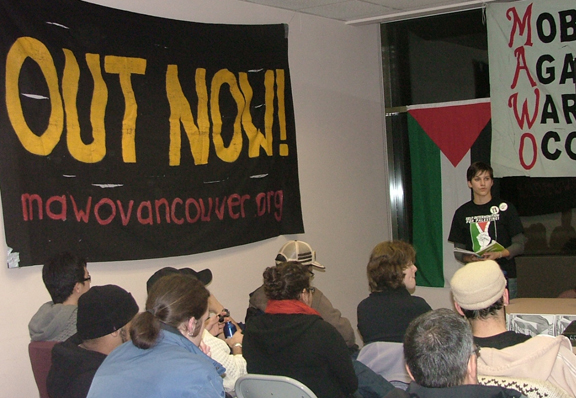 MAWO January Forum Series Report

For two weeks Mobilization Against War & Occupation (MAWO) held many public forums around the Vancouver area to discuss the recent Israeli massacre of Palestinian people in Gaza. Four separate forums were held in Vancouver, Surrey, and Burnaby entitled "100 Years of Palestinian People in Struggle."

These forums were called in order to give people throughout the Vancouver area a chance to discuss and learn more about the recent Israeli attacks on the Gaza Strip. For 22 days the Israeli government led an inhumane war drive against the Palestinian people in Gaza. Over 1300 Palestinians were murdered, and over 5000 were wounded. Tanks, fighter jets, rockets, heavily armed soldiers, and other means were used to kill not only people, but also to destroy Palestinian homes, hospitals, factories, mosques, farms, and everything in the way of the Israeli military.

Janine Solanki, the co-chair of MAWO, MC'd the forums and explained the necessity of holding these public discussions. Each forum began with a series of documentaries and news clips. The films showed people the absolute destruction caused by the recent Israeli war on Palestinians, and how the world protested in huge and historic numbers to defend Palestinians under attack. Millions of people from all corners of the world protested the criminal Israeli genocide of Palestinians.

The main speaker throughout this forum series was Ali Yerevani, the political editor of the Fire This Time Newspaper and a participant in the 1979 Iranian Revolution. Ali outlined the current situation in Palestine, and the last 100 years of the Palestinian struggle. He explained the early plans of a Zionist state in the Middle East, and how the Palestinian people were completely stripped of their right to self determination in their own land. This policy of genocide against Palestinians was continued right up to this most recent war.

The need to continue the momentum of the world wide protests was urged by Ali. "The Israeli government has not given up its war against Gaza, they are still shelling civilians, conducting border raids, and bombing infrastructure," Ali noted. "And the blockade is still denying the most basic of needs from reaching Palestinian children, women, and men civilians."

Having these forums in many different areas throughout the Lower Mainland brought people who do not usually get the chance to attend social justice events like this. The discussions were diverse as people discussed different ways of making the voice and action to defend the Palestinian people much stronger.

As the true nature of Israel's destruction in Palestine is becoming more and more exposed, the call to continue more action was made. Many people signed up to get more involved in antiwar and social justice organizing. People in Vancouver and around the world must continue to mobilize and organize in defence of the basic human rights of Palestinians. Long live Palestine!

SELF DETERMINATION FOR PALESTINE!
RIGHT OF RETURN FOR PALESTINIANS!
STOP THE GENOCIDE IN PALESTINE!
LIFT THE BLOCKADE ON GAZA!