---
Event Reports
---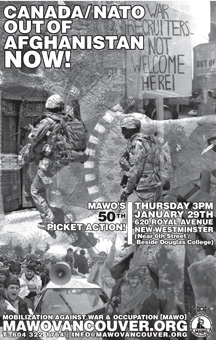 January 29, 2009 - Picket Action
Canada/NATO Out of Afghanistan NOW!

Organized by Mobilization Against War & Occupation (MAWO)









---
CLICK ON PHOTO FOR LARGER VERSION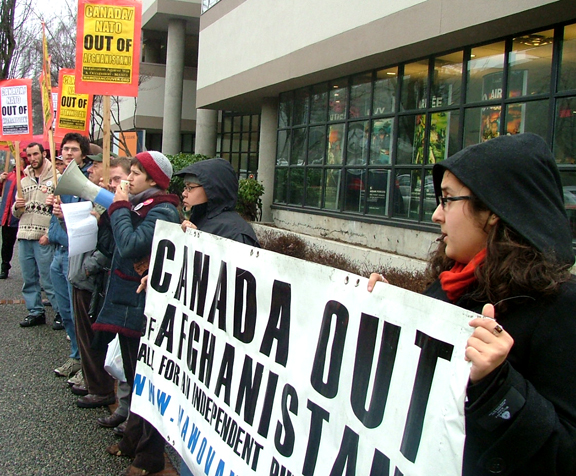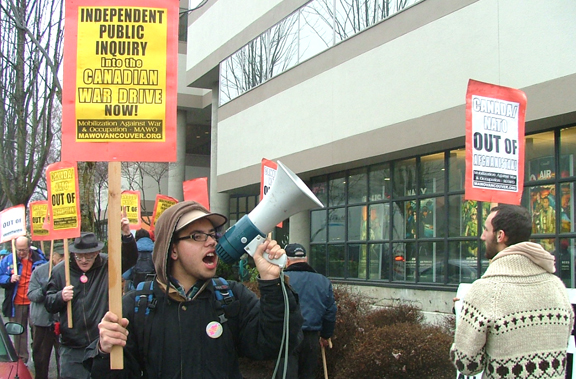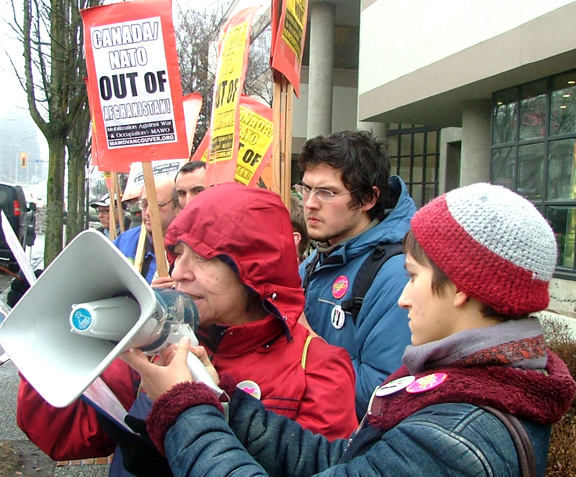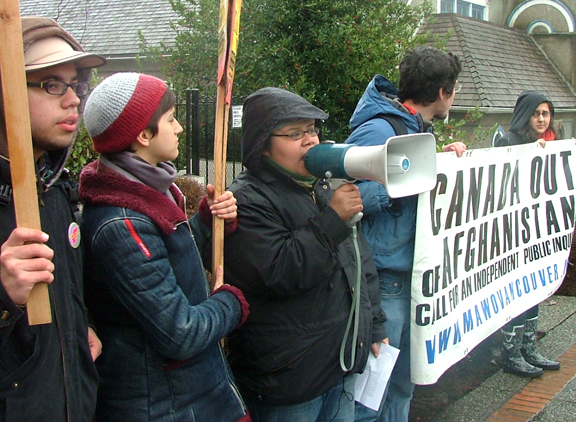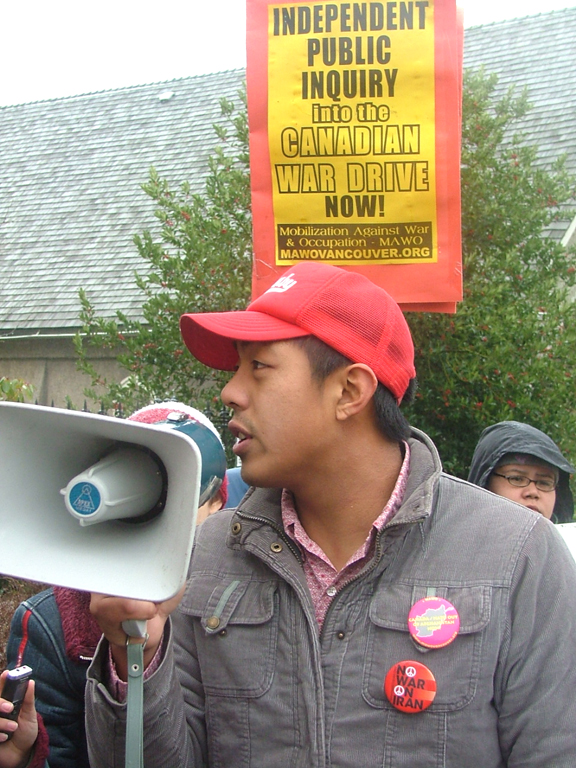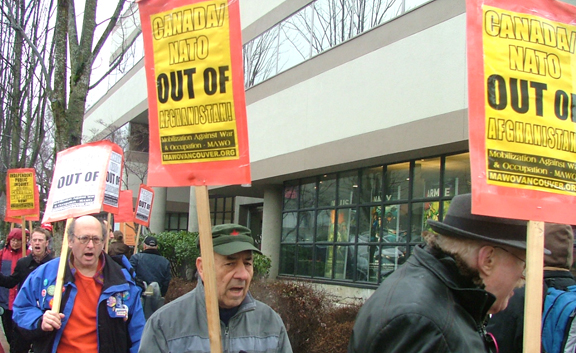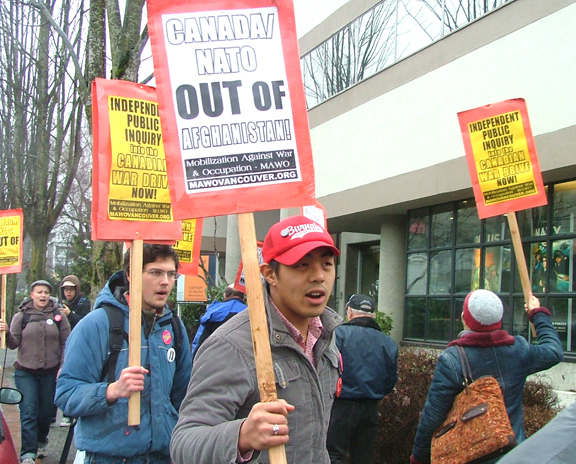 January 29 MAWO Picket Action Report

On Thursday January 29, Mobilization Against War & Occupation (MAWO) organized the 50th picket action in front of the Canadian Armed Forces Recruitment Center demanding an end to Canada's occupation of Afghanistan.

Since the occupation began over 7 years ago, tens of thousands of Afghans have been massacred along with 107 Canadian soldiers killed due to this war.

The picket began with MAWO co-chair Janine Solanki announcing that we have unfortunately reached the milestone of the 50th picket at the Canadian Armed Forces Recruitment Centre. However we will continue picketing and protesting this occupation under it ends.

The crowd began the first round of picketing with "CANADA OUT OF AFGHANISTAN NOW!" and "MONEY FOR JOBS AND EDUCATION, NOT FOR WAR AND OCCUPATION!" Throughout the picket the energy was kept high. There was constant honking in response to the large sign, ""HONK FOR CANADA OUT OF AFGHANISTAN!"

When people came together again, Janine introduced the first speaker Phillipa Ryan, a social justice activist from the Gitxsan nation and an organizer with Grassroots Women. Phillipa spoke of the broken promises and lies given to Indigenous soldiers who fought for Canada in World War II and returned back to receive no benefits from the government of Canada. She concluded noting how these soldiers were stripped of their status as Indigenous People.

Then Janine welcomed Kerri Goodwin, an Oji Cree activist and executive committee member of MAWO. Kerri passionately spoke of the attacks by the government of Canada against Indigenous people and the third world conditions that Indigenous people face on Reservations. This, Kerri said, is the war at home, which is in combination with the government's war abroad in Afghanistan and other areas of the world.

After Kerri, Jules Tindungan, an Afghan war veteran and US war resister highlighted how the people of Afghanistan do not want an occupation and that the military is forcing poor and working people in Canada and US to kill poor and working people in Afghanistan while there is no real significant progressive change in Afghanistan.

After a final round of strong picketing, Nita Palmer, an executive committee member and secretary of MAWO, compared Canada's war at home with its war abroad. She denounced the government of Canada's cuts to social programs while at the same time they are spending billions of dollars on a war in Afghanistan. Nita raised the question of what the government of Canada is really doing if the living standard in Canada is crumbling while its military attacks in Afghanistan are causing nothing but more pain and suffering. The picked concluded with Nita reassuring that as long as Canada is conducting a bloody and criminal war and occupation in Afghanistan, MAWO will continue to do another 50 or more monthly actions until there is an end to the occupation of Afghanistan!

CANADA OUT OF AFGHANISTAN NOW!
END THE OCCUPATION NOW!
INDEPENDENT PUBLIC INQUIRY NOW!