---
Event Reports
---
January 17, 2009 - Protest Rally
Protest Israeli Massacre of Palestinians in Gaza!
Israeli Troops Out of Gaza Now!

Organized by:
Pakistani Canadian Cultural Association, Pakistan Canada Association, Gateway Islamic Centre, Fijiyan Community Center, and BC Muslims Association

Endorsed by:
Pakistan Canada Association, World Islamic Mission, Fiji Islamic Center, Gateway Islamic center, BC Muslim Association, Professor Mohan Singh Foundation, Ayesha Islamic Center, Gosia Foundation, International Muslim Academy of Canada, Islamic Supreme Council of BC, Canadian Muslim Alliance, Al-Hadaya International AICP

This rally is also endorsed by Mobilization Against War and Occupation


---
CLICK ON PHOTO FOR LARGER VERSION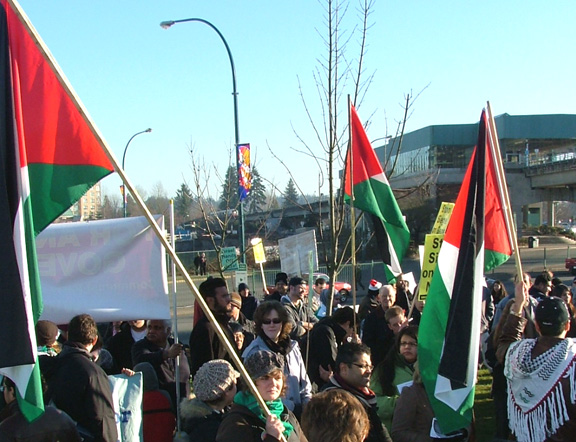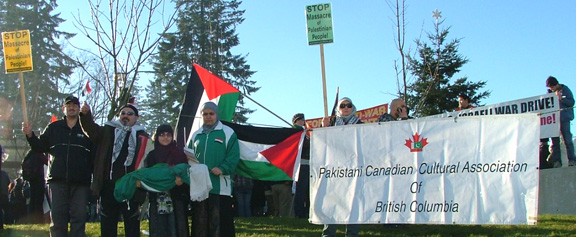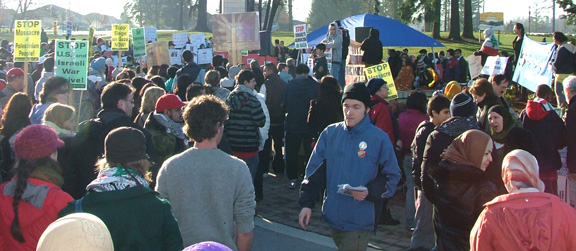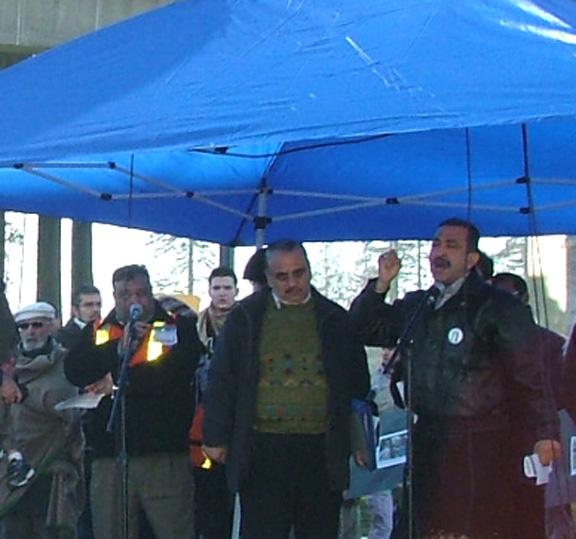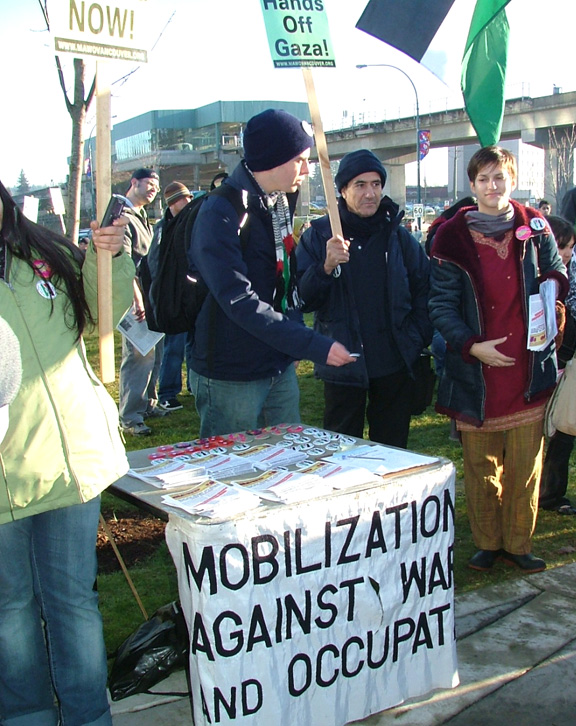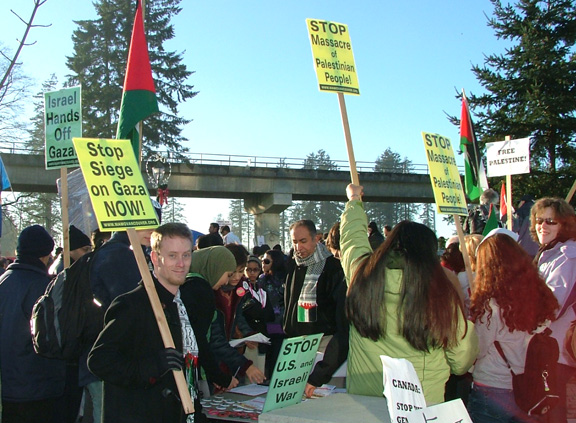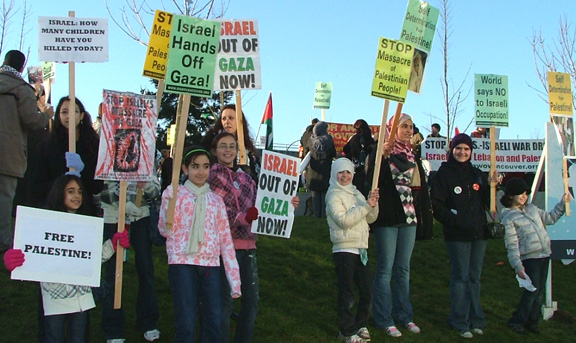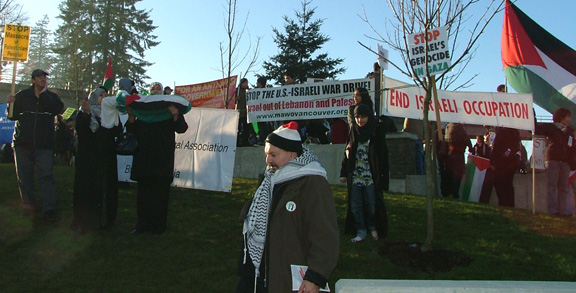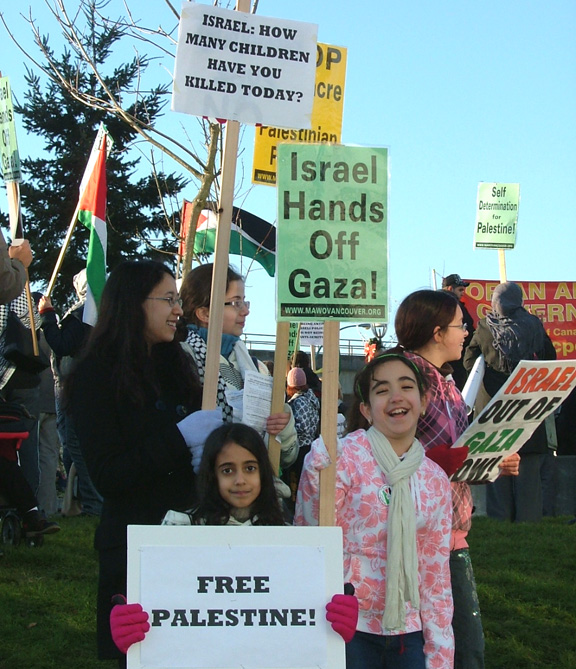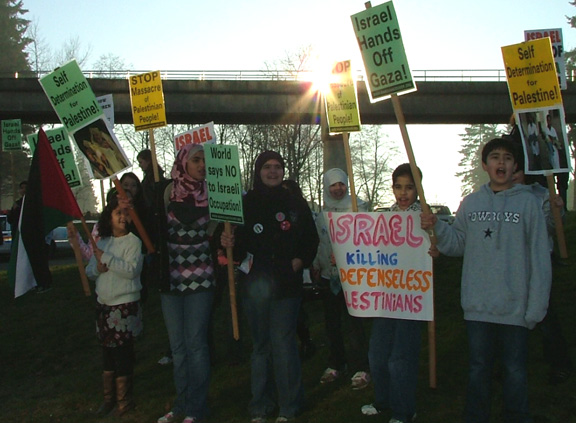 January 17 Rally Report

For over three weeks the Israeli government has been destroying everything in sight in Gaza resulting in the deaths of more than 1300 Palestinians. Millions of people around the world have mobilized on the streets to protest this unjust massacre and genocide of the Palestinian people in the Gaza Strip. In Surrey, BC, a suburb of Vancouver, over 700 men, women, and children of many different nationalities took to the streets on January 17 to protest the Israeli bombings. Since the bombings began this was the fourth protest in the Vancouver area against the Zionist attacks on the people of Gaza.

In addition to the 1300 Palestinians that have been murdered by the Israeli war drive, over 6000 more have been injured. This human catastrophe began on December 27, 2008 when Israel began a bombing and terror campaign on civilian targets in the Gaza Strip. The Gaza Strip, known as the world's largest open air prison, was already suffering as Israel had been surrounding and blockading Gaza for two years prior to this escalation of violence.

The latest Vancouver area protest in Surrey was organized by the Pakistani Canadian Cultural Association, Pakistan Canada Association, Gateway Islamic Centre, Fijiyan Community Center, and BC Muslims Association, with the support of the network of Vancouver-based Palestine solidarity groups that have organized the past three rallies.

The MC's for this important rally, Br. Tanvir Chaudry – General Secretary of the Pakistani Canadian Cultural Association (PCCA), and also from the PCCA Br. Tarik Kyani. The MCs introduced themselves, as well gave an update on the current situation in Gaza. They emphasized the suffering of the Gazan people from this heightened violence campaign from the Israeli state.

This important day of action brought activists from many different backgrounds to unite to demand an end to the Israeli occupation of Gaza. Some of the speakers included: Br. Mohammad Afzal Malik, Capt. Suleman Mahtab, Br. Saleem Khan of the World Islamic Mission, Naveed Waraich the President of the PCCA, Raza Mirani the General Secretary of the Pakistan Canada Association, Omar Shaban the Vice-President of the Canadian Arab Federation, and Charles Boylan of the Communist Party of Canada (Marxist-Leninist).

People left the rally energized by the momentum that has been building in defence of Palestinian rights in the Vancouver area since the attacks began.

FREE FREE PALESTINE!
END THE SIEGE NOW!
END THE OCCUPATION NOW!
RIGHT OF RETURN, RIGHT NOW!



---