CLICK ON PHOTO FOR LARGER VERSION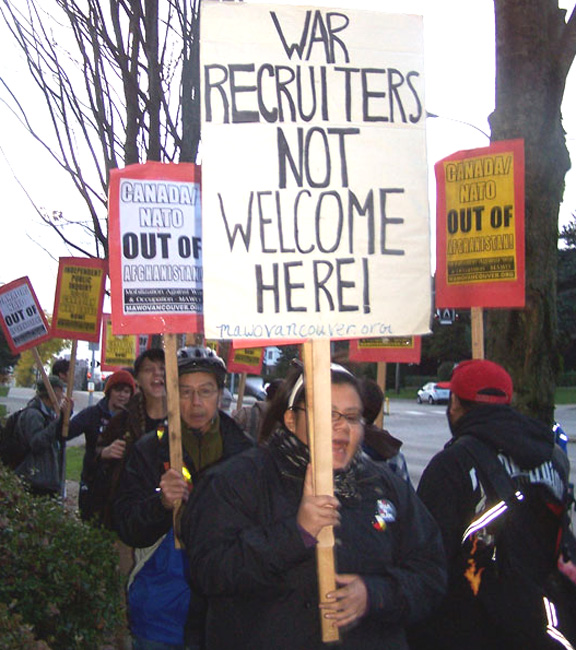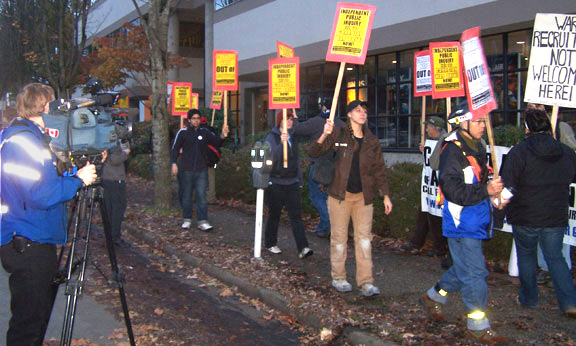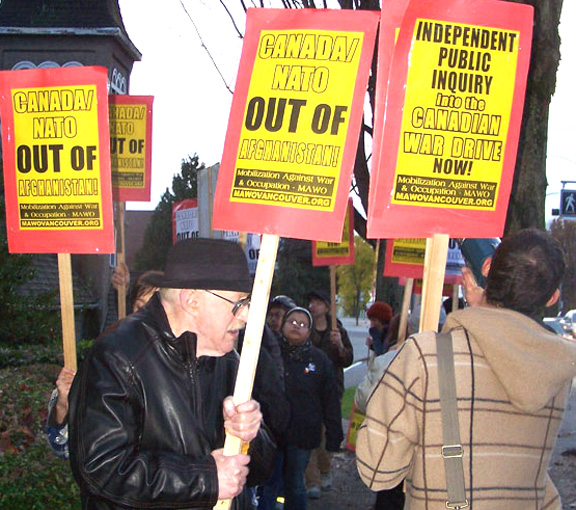 November 10 MAWO Picket Action Report

On Monday November 10, a day before Remembrance Day, Mobilization Against War and Occupation (MAWO) picketed for the first time in front of the newly relocated Canadian Armed Forces Recruitment Center in New Westminster. The importance of this day of action was to remind people in the Lower Mainland that Afghan civilians and Canadian soldiers are dying in this brutal, destructive and illegal war. Reporters from CTV and CBC Radio were there to cover this important picket action.

Protesters picketed for the 48th time overall to protest the occupation and demand that Canada, the US, and NATO leave Afghanistan and to call for an Independent Public Inquiry into the government of Canada's unjust and inhuman war in Afghanistan.

MC Janine Solanki, Co-chair of MAWO read from the press statement. "In the last week, two air strikes from the occupation forces in Afghanistan killed 44 Afghan civilians and 38 so-called 'insurgents'. On Monday November 3, the first tragedy struck a wedding party in Kandahar province, where most of the deaths were women and children," stated Janine.

A loud energizing round of picketing with chants of "CANADA OUT AFGHANISTAN NOW!", "BRING TROOPS HOME NOW!" filled the streets of New Westminster as cars and trucks honked in support of the picket action. The first speaker, Kerri Goodwin, an Oji Cree activist and organizer with Indigenous Rights and Action Project talked about how the attacks and air raids have increased the number of civilian causalities and how the lack of progress has brought more violence and misery to Afghan people. She continued with saying how we see more war not only in Afghanistan but here at home, with the ongoing attack on Indigenous Nations in Canada. David Whittlesey, an organizer with MAWO who was active in the US Civil Rights Movement highlighted that the newly elected US President Barak Obama will not end the war and occupation in Afghanistan. Rather he will focus more on the expansion of war to Pakistan and potentially Iran.

After another round of strong picketing, Sarah Alwell, an executive member of Capilano University Students' Union, spoke about the women's situation in Afghanistan which has been worsening since Canada has been occupying their country. The last speaker, Nita Palmer, an executive committee member of MAWO, gave an overall picture of Canada's role in Afghanistan. She said to the crowd that the people of Afghanistan are fighting back against the occupation of their country. The reconstruction that the government of Canada is claiming they are doing is not helping the Afghan people at all. The suicide rates of women are increasing drastically and the living conditions of people are deteriorating every day. She said that MAWO will continue the daily and monthly actions until Canada pulls out of Afghanistan.

CANADA OUT OF AFGHANISTAN NOW!
BRING TROOPS HOME NOW!
INDEPENDENT PUBLIC INQUIRY NOW!


---
November 10 MAWO Statement

Mobilization Against War & Occupation (MAWO)
Canada/NATO out of Afghanistan Picket Statement
November 10, 2008



Today we have come out to picket the Canadian Armed Forces Recruitment Centre as students and workers, youth and elders, Indigenous, immigrants and refugees who are against the government of Canada's war drive in Afghanistan! This is the 48th time we have picketed outside the recruitment center, but until today all of these pickets have been at the downtown Vancouver location. Now that the Vancouver location is closed down, they have opened up right here, where we are today holding our first picket action against Canada in Afghanistan in New Westminster. Whether in Vancouver or New West, we will continue to picket the recruitment center, as they are a base from which the government of Canada recruits young people to sacrifice their lives for this illegal, brutal and unjust war.

In the last week, two air strikes from the occupation forces in Afghanistan killed 44 Afghan civilians and 38 so called "insurgents." On Monday November 3, the first tragedy struck a wedding party in Kandahar province, where most of the deaths were women and children. On Wednesday November 5, two women and two children were among the 7 civilians killed in Badghis province. These deaths add to the 39% rise in civilian deaths in 2008, according to a United Nations report. In a war that was justified by the excuse of bringing "democracy, human rights and reconstruction" to Afghanistan, the occupation forces not only undermined the self-determination of Afghans, but are also denying them their most basic right – the right to life.

These atrocities are even having an effect on the Canadian soldiers who directly or indirectly committed them. Since the mission in Afghanistan began in 2002, the number of Veterans Affairs members with a Post Traumatic Stress Disorder (PTSD) condition has more than tripled. In 2007, the number of suicides among regular and reserve members of the Canadian Forces rose to 36, the highest in more than a decade, according to military police records. This number is not included in the 98 soldiers that have died in Afghanistan.

A long time ago, people in Canada started to ask, why all this suffering and destruction? Who is this war really helping? It is definitely not helping soldiers, not helping poor and working people in Canada, and is absolutely not helping the people of Afghanistan.
We, peace loving people here in Canada, out of our human responsibility, must join our Afghan sisters and brothers who are calling for an end to the occupation of their beloved country. We are here today, representing not only ourselves, but also the over 14,000 people in the lower mainland who have signed the Canada Out of Afghanistan petition, and the 56% of people in Canada who disapprove of Canada's war in Afghanistan. We will picket here today and continue to picket and organize against this war drive until it is over!

CANADA/NATO OUT OF AFGHANISTAN NOW!
INDEPENDENT PUBLIC INQUIRY NOW!