---
Event Reports
---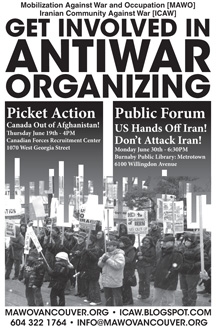 June 30, 2008 - Forum
US Hands Off Iran! Don't Attack Iran!








Co-organized by
Mobilization Against War & Occupation (MAWO)
& Iranian Community Agaist War (ICAW)


---
CLICK ON PHOTO FOR LARGER VERSION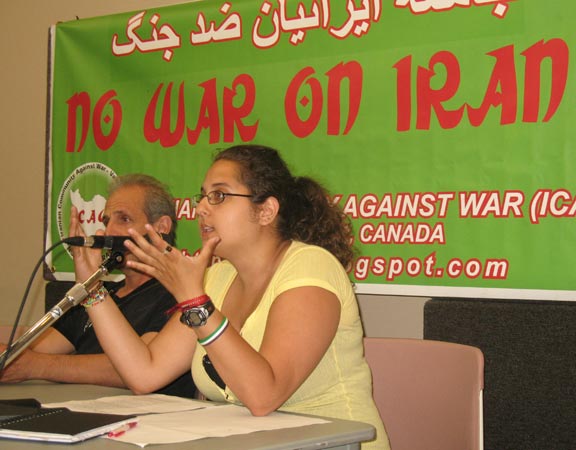 ICAW organizer Payvand Pejvack introduces the forum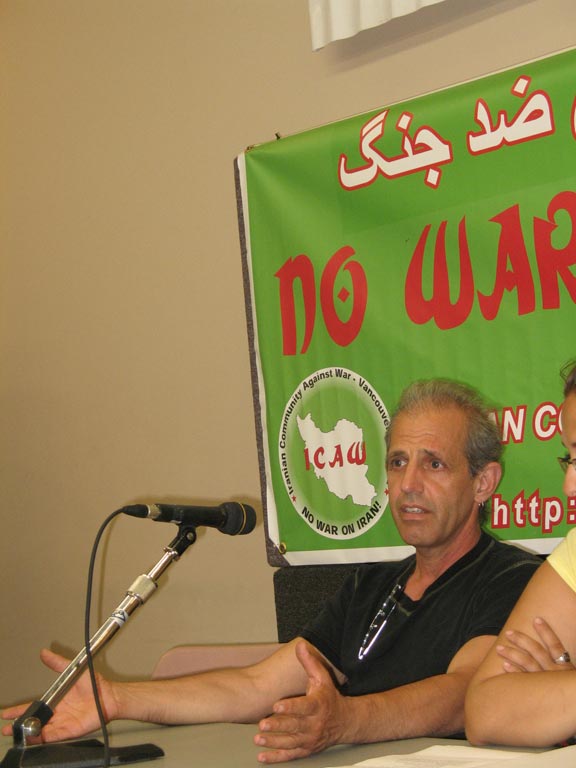 Arash Yousef, ICAW organizer speaking at the forum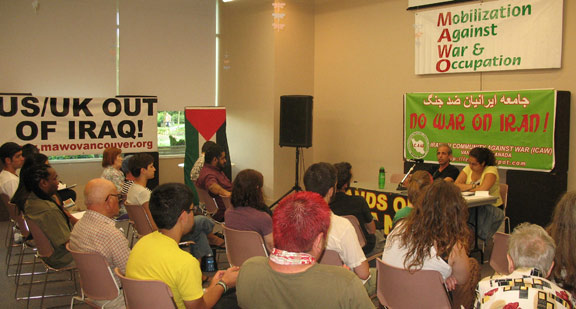 Burnaby Public Library Room filled up quickly!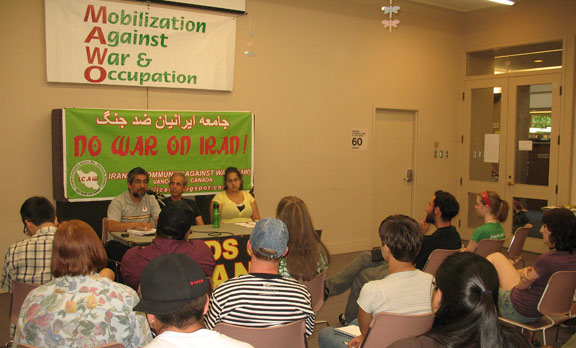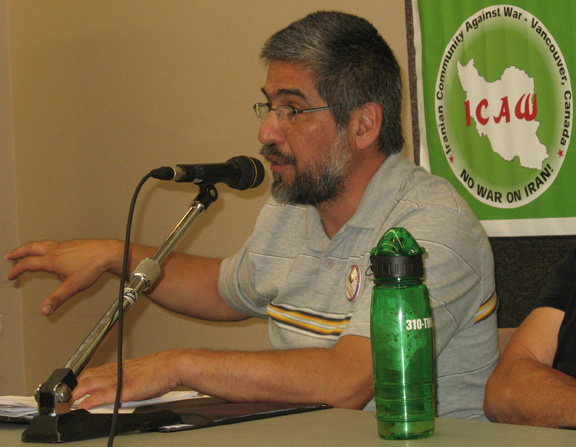 Ali Yerevani, ICAW organizer and Political Editor of Fire This Time Newspaper


June 30 Forum Report


On Monday June 30th over 25 people gathered at the Burnaby Public Library Metrotown Branch to participate in lively forum organized by Mobilization Against War & Occupation (MAWO) and Iranian Committee Against War (ICAW). The focus of the forum was the very important and pressing demand of "US Hands off Iran".

Payvand Pejvack, an organizer with ICAW introduced the forum and the current aggression the U.S. government against Iran and Iranian people within the framework of the new era of war & occupation.

The first speaker was Arash Yousef of ICAW, who recently returned from Iran and spoke about the culture in Iran and the current propaganda campaign by the U.S. government to demonize Iranian people. Arash also gave a historical context of the U.S. intervention in Iran to derail the development of Iranian society and life to serve their imperialist aims.

The second speaker was Ali Yerevani another organizer with ICAW and political editor of Fire This Time Newspaper. Ali discussed the timeline of the escalation of attack against Iran by the U.S. through round after round of sanctions, US military buildup with warships in the Persian Gulf and campaign to isolate Iran and people in Iran from the rest of the world, economically and diplomatically. He also discussed the newest and highest level of threat, the motion before US congress to impose a naval blockade against Iran in order to strangle Iranian people into submission.

Discussion was lively with a lot of questions and ideas brought forward about why the US is targeting Iran and what people in Vancouver, Burnaby and Canada can do about it. Participants and organizers gathered outside of the library afterwards to continue the discussion. The high number of interested and new participants in the forum emphasized the necessity for more forums, discussions and public meetings to discuss and analyze the escalating preparations for a war against Iran and MAWO will continue with these discussions several times a month.

For information on the dates and locations of the next public forum visit the MAWO homepage.