---
Event Reports
---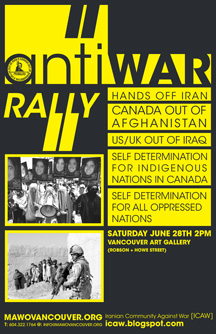 June 28, 2008 - Antiwar Rally
US Hands off Iran!
Canada/NATO Out of Afghanistan!
US/UK Out of Iraq!
Self-Determination for Indigenous Nations in Canada!
Self-Determination for all Oppressed Nations!



Co-organized by
Mobilization Against War & Occupation (MAWO)
& Iranian Community Against War (ICAW)



---
June 28 Rally Report


On Saturday June 28th, under sweltering Vancouver heat, youth, elders, immigrants, and people from the Indigenous community rallied together outside the Vancouver Art Gallery to demand an immediate end to war and occupation at home and abroad. A powerful display of banners and brightly colored picket signs held high above the crowd, highlighted the main demands of the demonstration: "Canada Out of Afghanistan!" – "US/UK Out of Iraq!" – "US Hands Off Iran!" and "Self-Determination for All Oppressed Nations!"

Protesters excitedly listened to the voice of MAWO Co-chair and spokesperson Alison Bodine who addressed the crowd by telephone all the way from McAllen, Texas in the US. Alison was arrested and politically targeted by the Canada Boarder Services Agency after they found political materials in her car. There is now a 2-year ban from Canada enforced against her. She is currently participating in the Pastors for Peace Caravan to Cuba and was able to share a few warm words with the cheering crowd before they depart for Cuba, challenging the unjust US Blockade and undeclared war against Cuba. The crowd cheered loudly and felt confident in the fact that they will continue to fight for the 2-year ban against Alison to be lifted. To find out more about Alison's case please visit: www.alisonbodine.blogspot.com

Luciano Sanchez, a member of the Global Justice and Peace Committee of the Hospital Employees Union of BC, related Canada's war abroad to the war at home being waged against poor and working people. Noah Fine, coordinator of the Free the Cuban 5 Committee-Vancouver spoke about the hypocrisy of the US so called "war on terror" as 5 Cuban heroes sit in prisons across the United States for peacefully protecting their people against a campaign of US-sponsored terrorism against Cuba. This US-sponsored campaign has been carried out for almost 50 years now and claimed the lives of over 3,500 Cubans.

Kerri Goodwin, a MAWO organizer and Oji-Cree activist from Ontario, passionately spoke about the struggle of Indigenous people here in Canada. Kerri related the continued occupation of Indigenous lands and their struggle for self determination to the struggle of people in Afghanistan who everyday are fighting against the foreign occupying forces. MAWO executive member Kira Koshelanyk spoke about the expanding era of war and occupation and US threats against Iran. She called on all poor, working and oppressed people to get involved and oppose any attack on Iran and to demand an end to the wars and occupations in Afghanistan and Iraq.

The demonstration came to an energetic end with the passing of a resolution read by MAWO organizer and high school student, Meaghan Griffith. She stated that we will continue to rally in the streets andt the response of loud chants of "Canada Out of Afghanistan Now", "US Hands of Iran!" and "Self Determination Now!" rang throughout the streets of Vancouver. The chants shook the downtown core reaffirming the crowds commitment to fight against war and occupation and to match this new era of war and occupation with a constant opposition to this injustice.