CLICK ON PHOTO FOR LARGER VERSION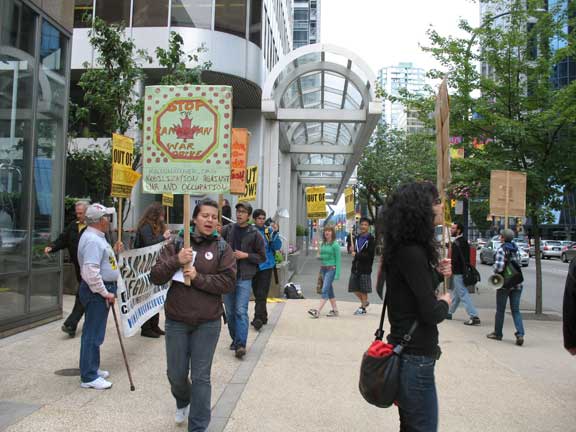 Picketing the Canadian Armed Forces Recruitment Center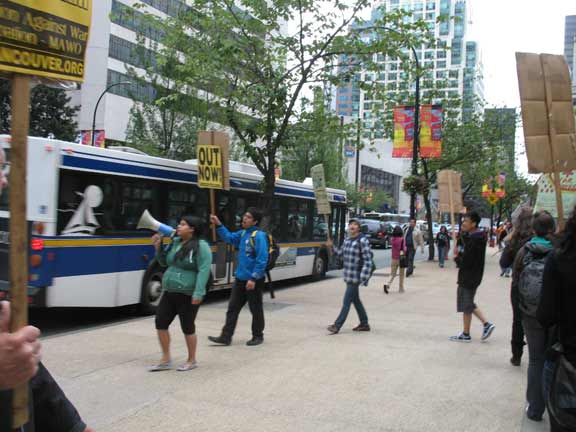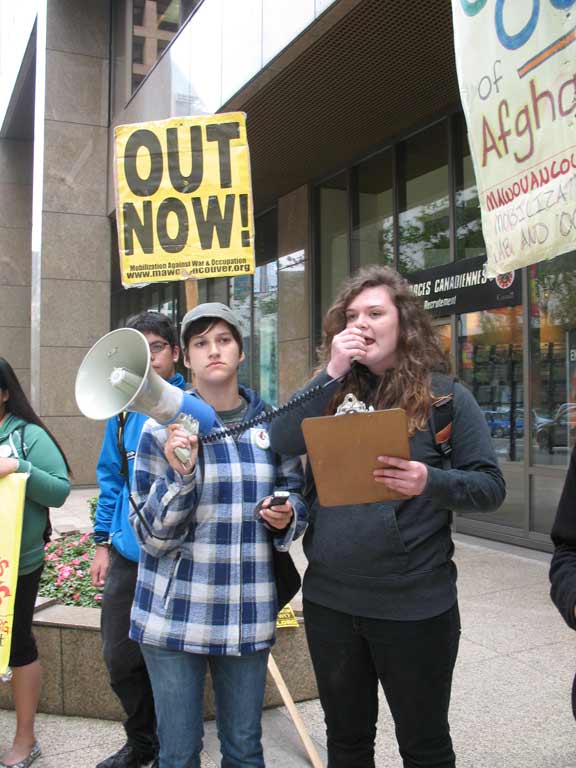 Sarah Alwell, Capilano Students Union Social Justice Coordinator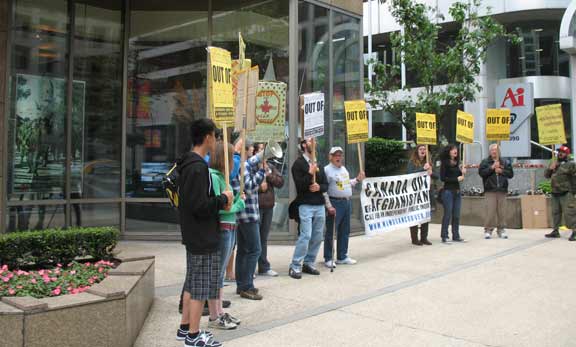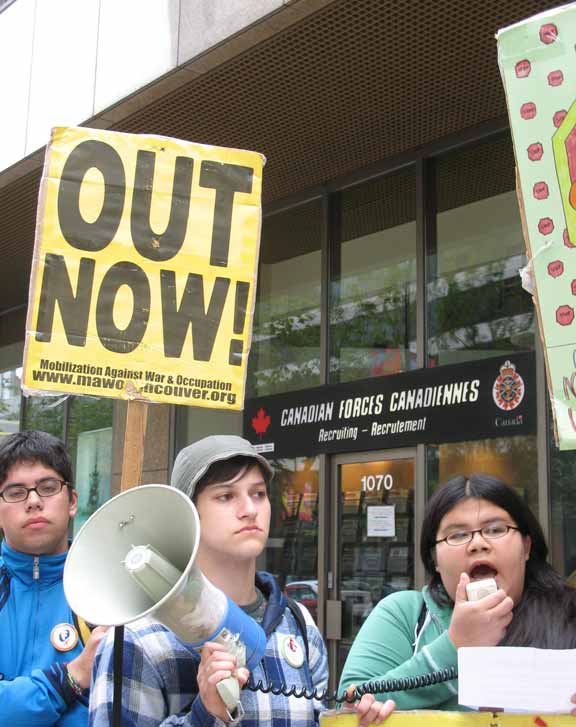 Kerri Goodwin, Oji-cree activist speaking against war & occupation at home and abroad.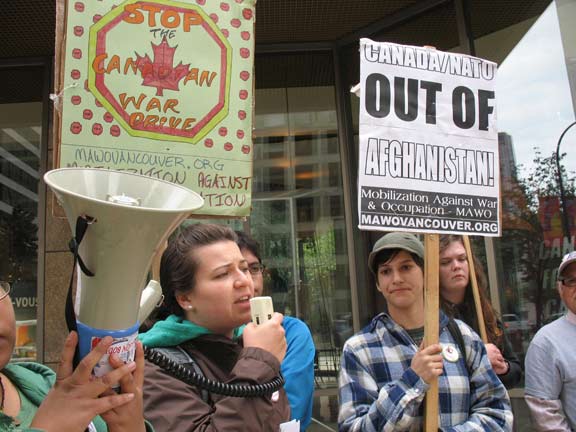 Kira Koshelanyk, MAWO Executive Committee Member

June 19 Picket Report


On Thursday June 19 Mobilization Against War and Occupation (MAWO) organized Vancouver's 43rd picket action in front of the Canadian Armed Forces Recruitment Center. This picket protested against the Canadian forces new offensive, that was launched alongside US, Nato and occupation-backed Afghan military near Kandahar city. The Afghan Defense Ministry stated that 56 so called 'Taliban' fighters were killed, along with two Afghan soldiers and one civilian. This is the latest in the occupation forces brutality after over 6 1/2 years of war, which has led to thousands of Afghan residents fleeing the area.

MAWO Co-chair, Janine Solanki, welcomed people to the picket and started by reading MAWO's statement against the occupation of Afghanistan and Canada's role in this brutal military offensive, highlighting that Canada still hasn't been able to provide for the Afghan people's safety and security as promised with the beginning of the occupation. Several rounds of dynamic and strong chanting followed as the first speaker Kerri Goodwin an Oji-cree activist and MAWO organizer, spoke about the recent apology statement by Prime minister Stephen Harper for Canada's residential school program forced on Indigenous people, and how the colonialist agenda of the Canadian government is being used against the Afghan people under occupation.

The next speaker was Sarah Alwell, Social Justice coordinator at Capilano College Students Union, spoke on the issue of women's rights in Afghanistan and how women are in a far worst situation while under the Canada/NATO occupation. This is even to the point that suicide rates among Afghan women have sharply increased, contrary to what the Canadian government claims of progress for women's rights in Afghanistan.

This was followed with a final round of strong chanting as many cars showed their support by honking with people joining the chants as they were passing by.

The final speaker for the picket was Kira Koshelanyk, a MAWO executive member, who gave an outline of the "Canada First Defence Strategy" and how this effects both people living in Canada and Afghanistan, as taxpayer's money is allocated towards furthering the military aggression against the Afghan people.

Janine Solanki than closed the picket by explaining that we can't stop here, we need to continue to organize against these occupations and that MAWO will have two upcoming events in Vancouver with a monthly demonstration and forum just before the month of June ends and that MAWO will continue to picket monthly in front of the Canadian Armed Forces Recruitment Center until these brutal and unjust wars and occupations are ended.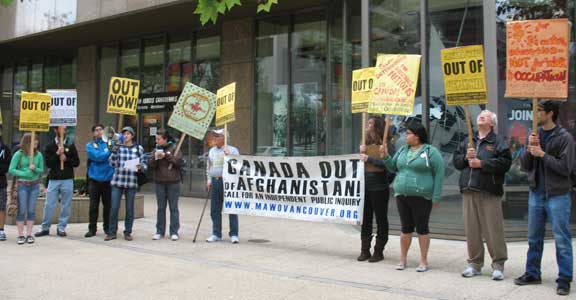 CANADA OUT OF AFGHANISTAN NOW!
END THE OCCUPATION NOW!
INDEPENDENT PUBLIC INQUIRY NOW!