CLICK ON PHOTO FOR LARGER VERSION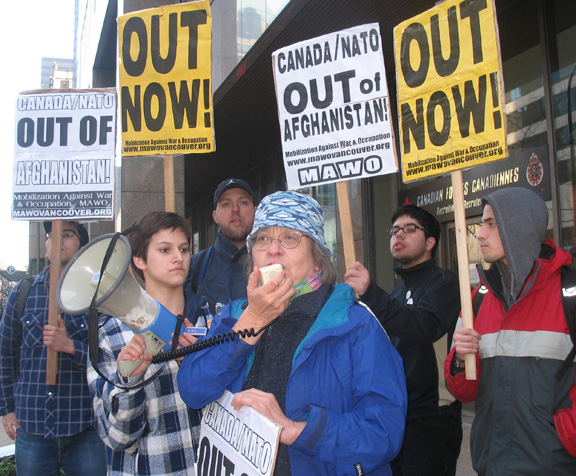 Indigenous Elder and activist Phillipa Ryan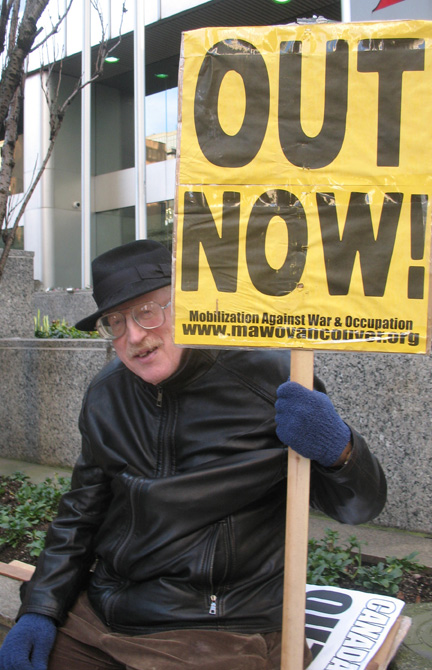 David Whittlesey, a vetran antiwar activist and MAWO organizer, participates in the picket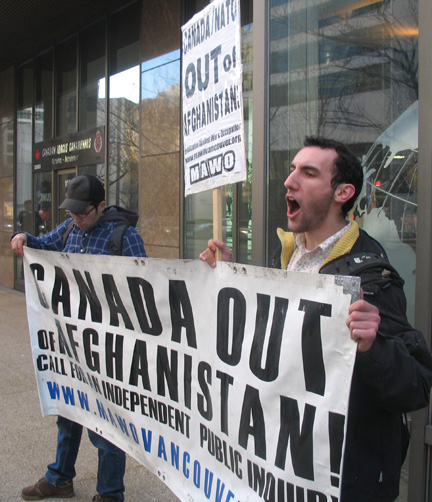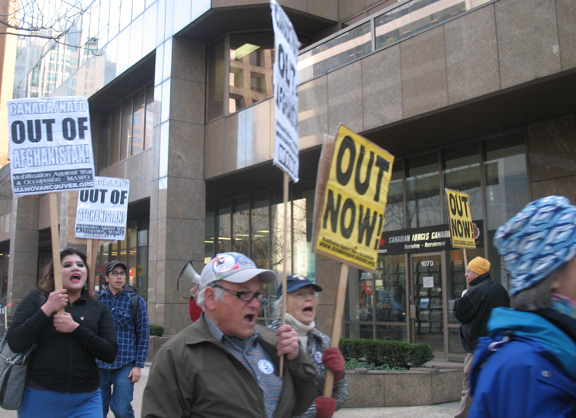 February 21 Picket Report


Vancouver's 39th anti-war picket outside the Canadian Armed Forces Recruitment Centre was heard through the streets of Vancouver today with loud, unified chants of CANADA OUT OF AFGHANISTAN! and END THE OCCUPATION NOW! The picket brought out many organizers and activists in the anti-war struggle as well as many others who participated in their first anti-war action! This protest, organized by Mobilization Against War & Occupation (MAWO), marks the second picket of 2008 outside the Recruitment Centre. MAWO's monthly pickets are part of a campaign aimed in bringing more awareness to the issue of Canada's brutal occupation of Afghanistan and demanding an Independent Public Inquiry into the Canadian war drive.

Janine Solanki, MAWO Co-Chair and Spokesperson, opened the picket by energizing the protesters with loud anti-war chants and slogans. Janine then read MAWO's statement denouncing and condemning the government of Canada's destructive and deadly attacks against the people of Afghanistan. After the statement was read, the protesters began picketing in front of the Recruitment Centre.

The next part of the program saw Phillipa Ryan, an Indigenous activist and organiser with Grassroots Women, describe the contradictions in Canada's claims of being a peace keeper in Afghanistan when at the same time Canada has such bloody hands in the treatment of Indigenous people in Canada. Phillipa's powerful words inspired the protesters as they again went for another round of picketing.

As the picketers gathered again, Janine introduced Aaron Mercredi to speak. Aaron is a Metis activist and an organizer with the Indigenous Rights and Action Project (IRAP). Describing Canada's own track record in both Afghanistan and against Indigenous people here in Canada, Aaron highlighted the absolutely oppressive "peacekeeping" history of Canada throughout the world.

After Aaron's words of resistance Janine led the picketers to the streets for one last round of picketing before returning to the entrance of the Recruitment Centre for one last speaker. Thomas Davies, an organizer with MAWO and an editorial board member of the Fire This Time newspaper, wrapped up the anti-war picket by calling on people to further expand MAWO's campaign against Canada's war in Afghanistan through consistent pickets, protests, discussion forums, and other means of bringing more awareness to the people of Vancouver and Canada to bring an end to this inhumane war against the people of Afghanistan!

CANADA OUT OF AFGHANISTAN NOW!
END THE OCCUPATION NOW!
INEPENDENT PUBLIC INQUIRY NOW!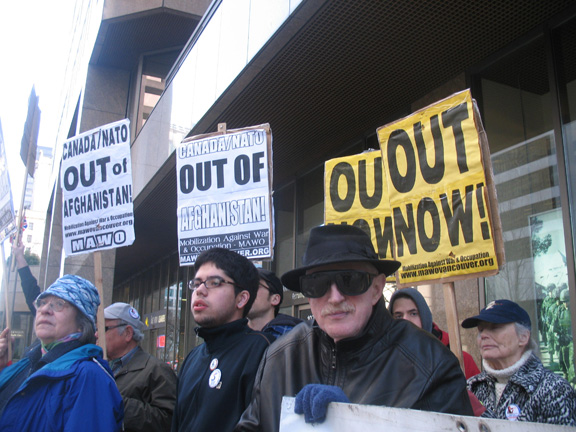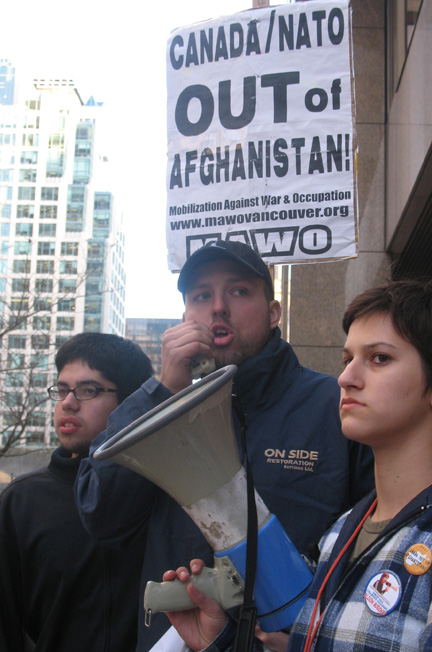 Thomas Davies, member of the
Fire This Time newspaper editorial board
wraps up the picket