CLICK ON PHOTO FOR LARGER VERSION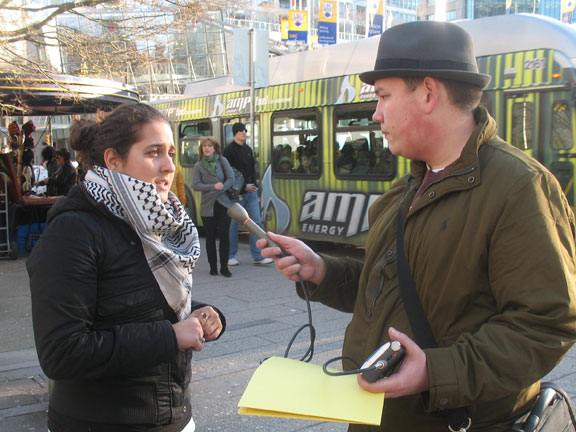 Media spokesperson Payvand Pejvack speaks to a reporter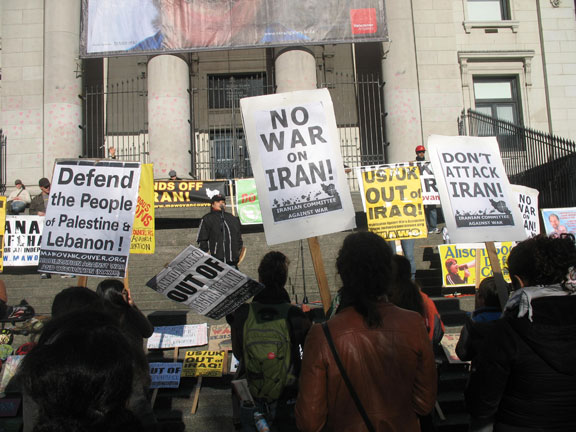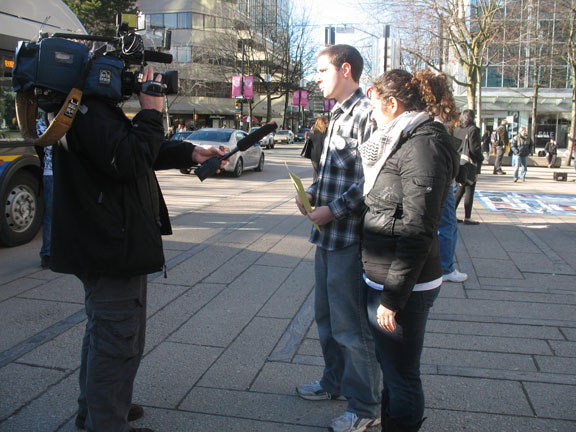 Media spokespersons Payvand Pejvack and Andrew Barry are interviewed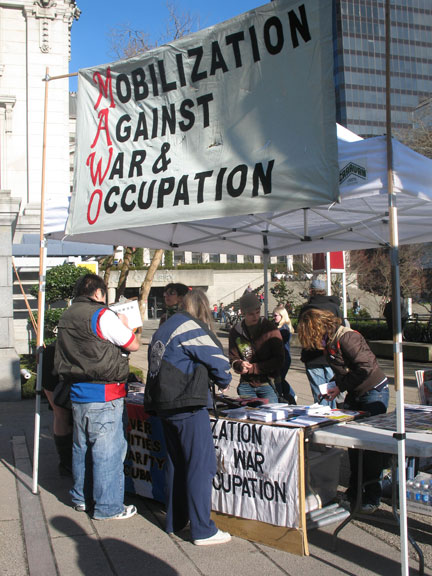 MAWO information table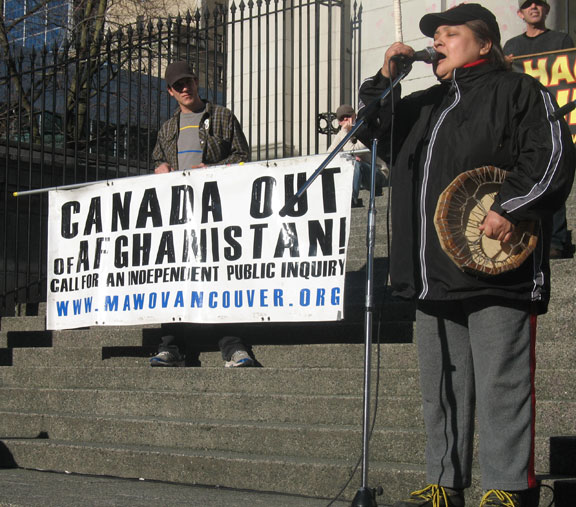 Coast Salish Elder, Kelly White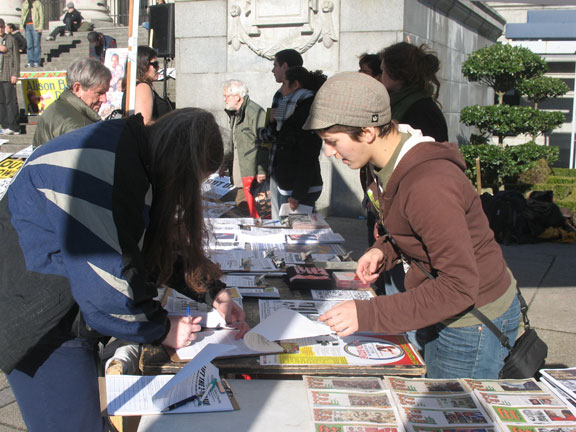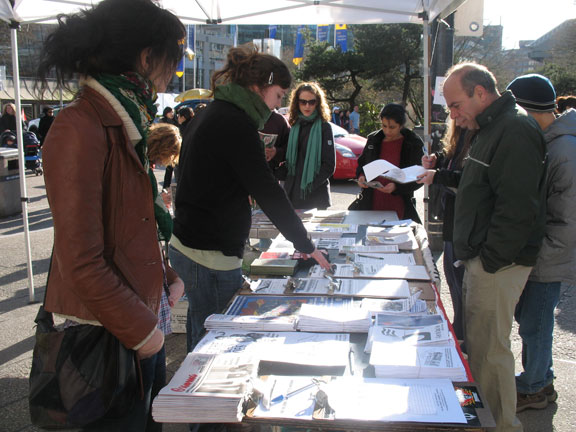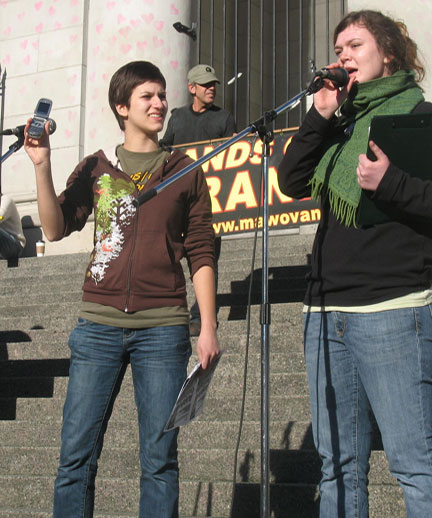 Rally MC's Janine Solanki and Sarah Alwell


February 17 Rally Report


On Sunday, February 17th, over 150 people came out to the steps of the Vancouver Art Gallery to join MAWO's anti-war demonstration demanding a lifting of the sanctions on Iran and ending the threats of war on the country. The rally also demanded an end to the US/UK-led occupation of Iraq and the Canada/NATO occupation of Afghanistan, and self-determination for all oppressed nations.

The sunny afternoon's rally was opened up by MCs Janine Solanki and Sarah Alwell who warmed the crowd up with anti-war chants and explained why we were demonstrating that day.

The first speaker was an address by Alison Bodine, MAWO co-chair and spokesperson, who was recently banned from Canada for two years after being harassed, arrested and charged with 'misrepresentation' after Canadian border officials found anti-war and Cuba-solidarity materials in her car. Calling from the United States, her voice coming out of an amplified cellular phone, brought words of solidarity for the rally from south of the border. Her words encouraged the many people who have been supporting her case for democratic rights to continue the campaign to have the two-year ban lifted. For more information on Alison's case, please visit http://alisonbodine.blogspot.com

Following Alison, Kelly White, a Coast Salish elder and Indigenous radio activist, welcomed the rally to Coast Salish territory and brought energy to the rally, getting the crowd to chant back at her "MAWO for Peace!" Brad McCall, a recent US war resister who is seeking refuge in Canada, explained why he refuses to participate in the war in Iraq. He spoke about why he is in Canada, along with a growing number of other US soldiers who are building opposition to war and occupation north of the 49th parallel.

Arash, an organizer with the Iranian Community Against War (ICAW), condemned the growing threat against the people of Iran with the current US media buildup. Payvand Pejvack, another organizer with ICAW and MAWO-SFU explained the importance for people in Iran to have self-determination.

The rally MCs led chants that resonated down Robson Street, stopped passersby and brought more people in to the day's anti-war rally. The program was brought to an energetic end by Megan Griffiths, a highschool anti-war activist, who read out the final resolution to a supportive and cheering crowd.

Sunday's rally left an impact on Vancouver's sunny downtown core. Hundreds of people were engaged with the anti-war politics from the stage, and the leaflets and newsletters handed out by MAWO activists. Major media, such as City TV, CKNW and the 24hr newspaper even covered the action. This rally, combined with the previous week's Student Week Against War and Occupation, which itself engaged hundreds of students on over 7 university, college and highschool campuses, made our message loud and clear: that as long as there are wars and occupations, we will do our part in Vancouver to organize, educate and mobilize against them.


CLICK ON PHOTO FOR LARGER VERSION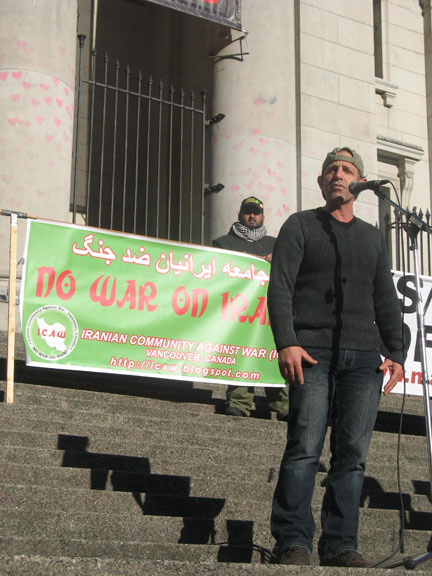 Arash of the Iranian Community Against War (ICAW)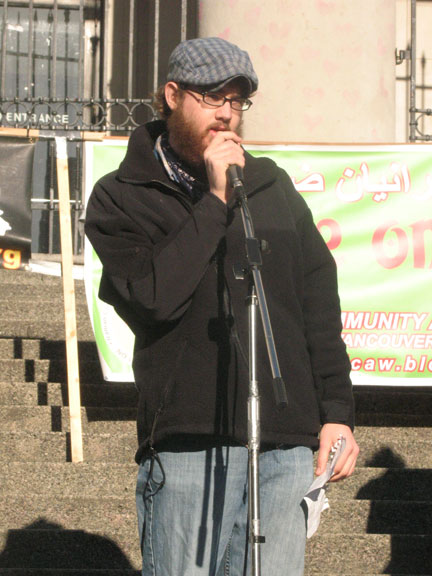 Brad McCall, former US Solider and current War Resister speaks to the crowd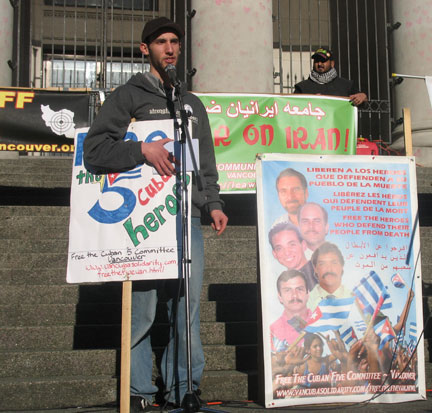 Noah Fine, Coordinator of the Free the Cuban 5 Committee Vancouver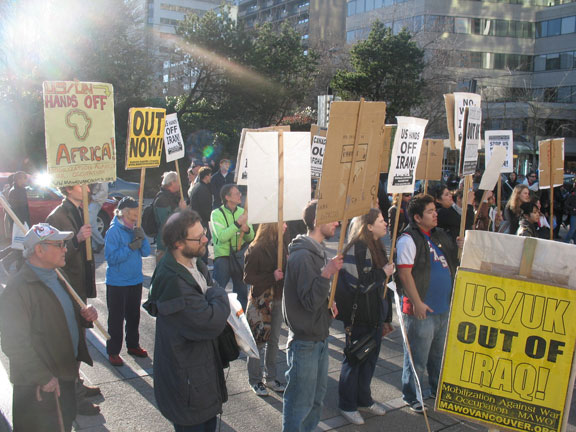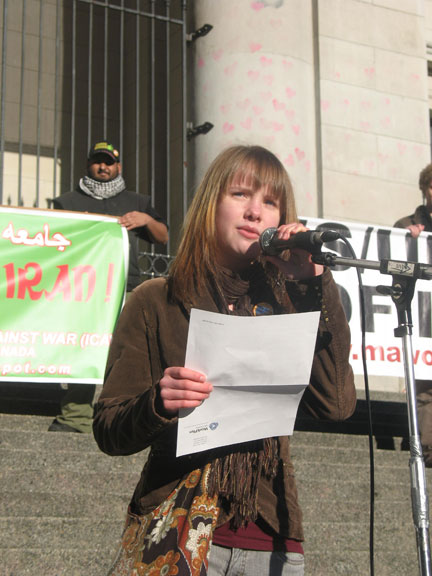 Megan Griffiths delivers the rally resolution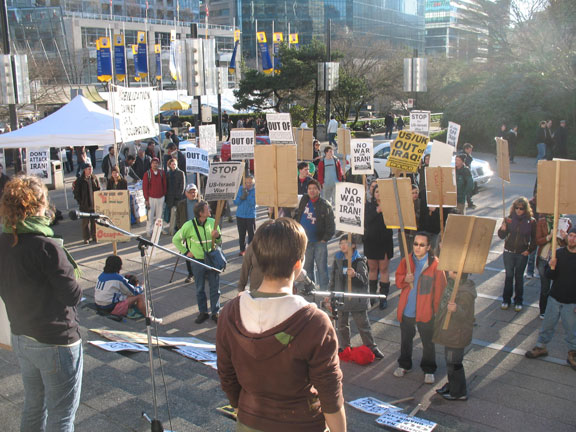 The rally MCs wrap up the program