July 21-23, 2006

3 Days... 6 Events...
More than 50 Local and International Performers...
MAWO holds Vancouver's Second Annual...
HIP HOP FESTIVAL AGAINST
WAR & OCCUPATION

Report on the Events | Media Coverage
Photo Report | About the Performers...

---
Report >>

From July 21– 23, the Lower Mainland played host to the second annual Hip-Hop Festival Against War and Occupation, organized by Vancouver anti-war coalition Mobilization Against War and Occupation (MAWO). These three days turned up the beats, rhymes, and lyrics of anti-war hip-hop from around the world, with more than 50 local and international artists who performed to 2000 people at six different events over the summer weekend.

"Hip-hop has become the protest music of the 21st century," said Ivan Drury, an organizer with MAWO and this year's anti-war hip-hop festival. "As war and occupation works to destroy lives in Iraq, Afghanistan, Palestine, Lebanon, and the lives of the poor and working in North America, more and more people –particularly youth—are using hip-hop as a weapon to express their opposition."

The Festival began on Friday afternoon at Ambleside Park, for an all-ages show co-sponsored by the Ambleside Youth Centre and the City of West Vancouver. This was followed by a show that night in Downtown Vancouver at the Picadilly Pub. On Saturday, an indoor show packed people into the Jabez Café in Surrey, with an energetic concert later that night at the Richmond Community Centre, co-sponsored by the City of Richmond. To end this year's Festival, the weekend pulled to a close with an all-day hip-hop extravaganza on the Britannia Community Centre track field in East Vancouver, and a smooth night of anti-war "free-styling" at El Cocal Restaurant on Commercial Drive.

Slotted by local media as one of the top musical events to attend in BC this summer, the Hip-hop Festival Against War and Occupation drew crowds from Seattle to Vancouver Island. Headlining artists that drew large numbers included Columbia-based female duo, Sepia, L.A.-based performers from the Philistines and the N.O.M.A.D.S., both Palestinian and Arab hip-hop crews, as well as SPIN, a Guatamalan refugee and high profile SLAM poet from Toronto. In addition there were local favorites like Sunday Skool Dropouts, JB the First Lady, Influentz, Platino Latin Productions, and many more.

Performers reflected the struggles of oppressed people around the world with their songs, taking audiences from Latin America to the Middle East, Africa to Southeast Asia, and on to the stolen land of Indigenous nations in Canada.

Through the medium of art and music, thousands of people joined in this year's Festival to use hip-hop as a weapon against war. Politically charged lyrics, public speakers, petitions and informational materials all made the Festival a space for people to use art as a political tool of resistance—a tool to educate and mobilize, and a tool of expression. But, as many performers said while onstage that weekend, resistance does not begin or end with a microphone. To truly confront this era of war and occupation that we are living it, it means getting further involved in the anti-war movement, and joining oppressed people in their fight against attacks, at home and abroad!



---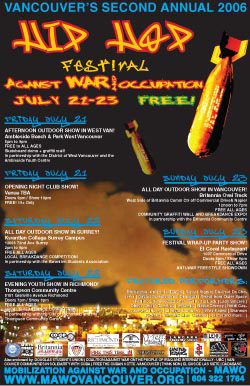 ---
Media Coverage >>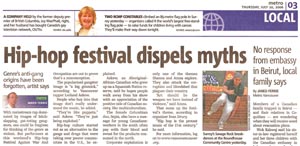 July 20th in Vancouver's daily Metro!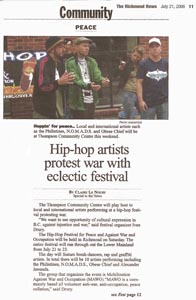 July 21st in the Richmond Now!





July 20th in Vancouver's daily 24 Hours!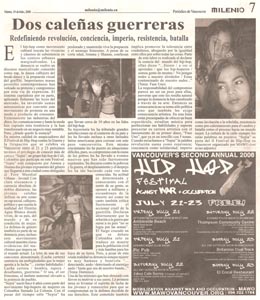 July 18th in Milenio, a Spanish/English Latino community newspaper!