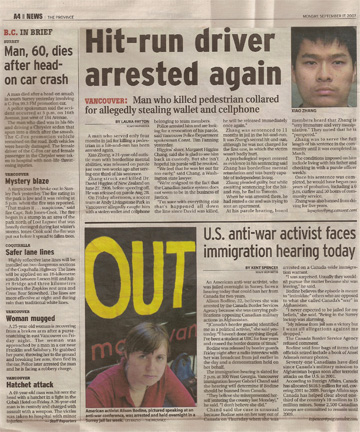 News Update #4 -- SUNDAY SEPT 16

MAJOR NEWS COVERAGE OF ANTI-WAR ACTIVIST ARRESTED BY BORDER AGENCY

"American anti-war activist faces immigration hearing today"
Read the Story on CANADA.COM (The Province Newspaper)

"B.C. detention was bid to silence anti-war activists, American says"
Read the Story from CBC NEWS

(See below for text of articles)

In the evening of Friday Sept 14th, anti-war activist Alison Bodine did a CBC radio interview from the immigration detention cells at Vancouver International Airport. Since then, her case of harrassment and arrest by Canada Border Services Agency has exploded across media in BC and Canada.

She was released from detention Friday night, only hours after that CBC story aired. Today, Canada.com and the Province Newspaper published a story on her case. CBC radio did another interview at 10am and followed up with a online news story.

Alison has recieved hundreds of messages of support from activists and groups from Canada and internationally - including the huge outpouring on Friday Sept 14th, with over 80 people demanding her freedom in front of the Citizenship and Immigration Canada office within hours of her arrest.

This case is clearly an attack that goes beyond Alison herself. To stand behind Alison is to defend the democratic rights of all immigrants, refugees, "non-status" people and non-residents.

---

Read the Story on CANADA.COM (The Province Newspaper)
American anti-war activist faces immigration hearing today

By Kent Spencer
The Province

Sunday, September 16, 2007

An American anti-war activist, who was jailed overnight in Surrey, faces a hearing today that could ban her from Canada for two years.

Alison Bodine, 22, believes she was arrested by the Canada Border Services Agency because she was carrying publications opposing Canadian military actions in Afghanistan.

"[Canada's border guards] identified me as a political activist," she said yesterday. "I haven't done anything illegal. I've been a student at UBC for four years and crossed the border dozens of times."

Bodine was released by border guards Friday night after a radio interview with her was broadcast from jail earlier in the day and a demonstration held on her behalf.

The immigration hearing is slated for 2 p.m. at 300 West Georgia. Vancouver immigration lawyer Gabriel Chand said the hearing will determine if Bodine should be banned from Canada.

"They believe she misrepresented herself [entering the country last Monday]," he said. "I don't believe she did."

Chand said the case is unusual because Bodine was on her way out of Canada on Thursday when she was arrested on a Canada-wide immigration warrant.

"I was surprised. Usually they wouldn't pursue the matter because she was leaving," he said.

Bodine believes the episode is meant to "intimidate" others who are opposed to what she called Canada's "war" in Afghanistan.

"I never expected to be jailed for my beliefs," she said. "Being in the Surrey lockup was alarming.

"My release from jail was a victory but I want all allegations against me dropped."

The Canada Border Service Agency refused comment.

Bodine said four bags of items that officials seized include a book of Ansel Adams's nature photos.

Seventy-one Canadians have died since Canada's military mission to Afghanistan began soon after terrorist attacks on the U.S. in 2001.

According to Foreign Affairs, Canada has allocated $616.5 million for aid, covering 2001 to 2009. Foreign Affairs says Canada has helped clear about one-third of the country's 10 million to 15 million mines. Some 2,500 Canadian troops are committed to remain until 2009.

kspencer@png.canwest.com

---

Read the Story from CBC NEWS
B.C. detention was bid to silence anti-war activists, American says

An American peace activist, who was detained by immigration officials in B.C. for two days, is accusing Ottawa of engineering her confinement to silence critics of the wars in Afghanistan and Iraq.

Alison Bodine, 22, of Broomfield, Colo., was carrying anti-war pamphlets in her car when she was arrested Thursday at the Peace Arch border crossing in Surrey, B.C., which is the main crossing between Vancouver and Seattle.

Bodine, who studied physics at the University of British Columbia, said she works with an anti-war group based in B.C. called Mobilization Against War and Occupation.

When she approached the Peace Arch crossing, Bodine said Canadian border officials told her there was a Canada-wide warrant for her arrest.

She spent Thursday night in a jail in Surrey and then was transferred to a holding cell at Vancouver International Airport before being released Friday night. She told CBC News she still hasn't been told what crime she is accused of committing.

"All I've been told is that I have an admissibility hearing coming up on Monday at two p.m. at the immigration offices," Bodine said on Saturday. "I do not get to hear my full case until that hearing."

Bodine said other activists should worry she was arrested.

"This was a bit of a test, to see what happens when they arrest someone who isn't agreeing with their current foreign policy."

The Canada Border Services Agency said it could not comment on specific cases.

Canada has about 2,500 soldiers deployed in Afghanistan as part of the NATO-led International Security Assistance Force (ISAF). Canada started the mission in early 2002, in the wake of the U.S. invasion that overthrew the Taliban government.

The United States has thousands of troops in Afghanistan and about 160,000 in Iraq.


---

News Update #3 -- SATURDAY SEPT 15

(Click Photos for Larger Version)

On Friday September 14, 2007, at approximately 8:30pm, Alison Bodine was released from an immigration detention centre in Vancouver, following a massive outpouring of support demanding her release, and Canada-wide media coverage of her case.

Alison, a political organizer, social justice activist and US citizen, was arrested by the Canadian Border Agency at the Peace Arch border crossing when leaving Canada for the US Thursday September 13th.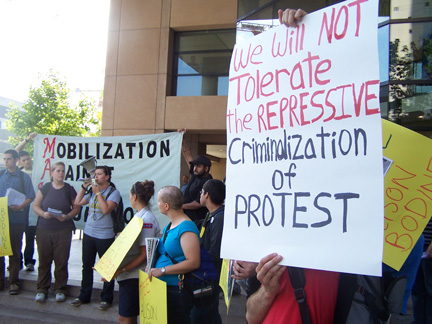 The arrest of Alison is a further attack on immigrants, refugees and all non-residents. Even according to their own laws, the RCMP and Immigration Canada have no legal basis for preventing her entry into Canada. They only began the harassment and legal process once they had identified her as a political organizer.

This unjust imprisonment was met with a huge protest and organizing drive by the newly-formed Committee to Free Alison Bodine. Friday afternoon on only 5 hours notice, 80 people came together at the Citizenship and Immigrations Offices, in Vancouver demanding the immediate release of Alison Bodine. Media was also quick to pick up this important case, throughout the afternoon the committee did interviews with CKNW radio, CBC radio, CBC TV, Coop Radio, the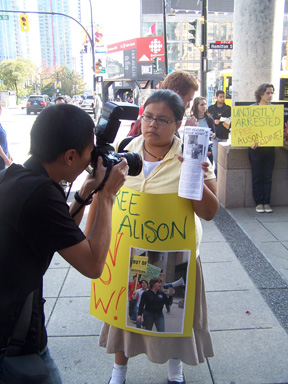 Ubyssey newspaper, the Capilano Courier and Indymedia. CBC aired nation-wide coverage of the case on Friday.

Following all of this, Alison's status took a major turn. Alison was told all day that there was no way to release her from detention until at least Monday. However, at 8:00pm Friday evening Alison was given notice by Immigration officials that she would be released from custody immediately until her Admissibility Hearing on Monday Sept 17th at 2:00pm.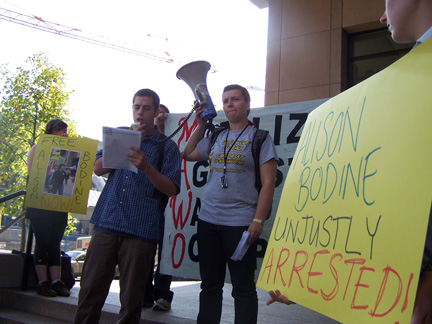 At 6:30pm more than 65 activists came together in Vancouver for an emergency meeting, called by the Committee to Free Alison Bodine, to organize for Alison's release and further defense. It is no coincidence that this major retreat by the Immigration authorities came at the end of a whirlwind day of action, mobilization and media attention.

Alison's release from detention is a major victory for the progressive movement. This is not only a victory for Alison, but for the democratic rights of all political activists and organizers. Important to note is that this is not a final victory, Alison is still facing her Admissibility Hearing on Monday. Because of this we must continue to defend her right to stay in Canada. Our fight is not over!

Canada Border Agency, Drop All Charges Against Alison Bodine!

WE WILL WIN!

SEND SUPPORT LETTERS TO: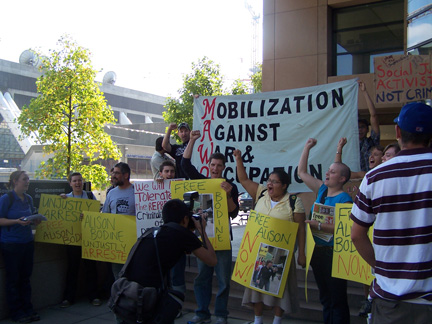 COMMITTEE TO FREE ALISON BODINE
free_alison_bodine@yahoo.ca

Sample Support Letter:


__(Date)__
Canada Border Services Agency,

I am writing to express my outrage at the unjust arrest and detention of Alison Bodine. Alison has done nothing wrong, and is clearly being framed up and targeted. Alison is known throughout Vancouver BC and Canada for her antiwar organizing and social justice activities. Prior to the search of Alison's vehicle, which contained many political leaflets, posters, newspaper and pamphlets, Alison had never been denied entry into Canada.

I am calling on Canada Border Services Agency to DROP ANY AND ALL CHARGES AGAINST ALISON, and to restore her full rights to travel between the US and Canada. We will not accept this harassment of activists. We demand our full, democratic rights to be respected.

Sincerely,

___(Your or Your Organization's Name)___
___(contact information)________________
---
News Update #2 -- FRIDAY EVENING SEPT 14

Outpouring of Support at Rally Demanding the Immediate Release of Alison Bodine

This afternoon on only 5 hours notice, 80 people came together at the Citizenship and Immigrations Offices demanding the immediate release of Alison Bodine. Alison a political organizer, social justice activist and US citizen, was arrested by the Canadian Border Agency at the Peace Arch border crossing when leaving Canada for the US last night, Thursday September 13th. People who attended the rally came from many different social justice groups, political parties, colleges and universities to voice their opposition to Alison's unjust imprisonment.

Media has also been quick to pick up this important case, today the committee did interviews with CKNW radio, CBC radio, CBC TV, Coop Radio, the Ubyssey newspaper, the Capilano Courier and Indymedia.

The arrest of Alison Bodine is a further attack on immigrants, refugees and all non-residents. Even according to their own laws, the RCMP and Immigration Canada have no legal basis for preventing her entry into Canada. They only began the harassment and legal process once they had identified her as a political organizer.

Today Alison was moved out of the Surrey RCMP jail where she was held last night, however they are refusing to release Alison claiming that she is a flight risk'.

The Committee to Free Alison Bodine that organized the rally is now inviting any individuals of organizations interested in organizing this crucial campaign to come together this evening at Joe's Café to get a full update on the case and plan how to move forward to achieve our goal to release Alison Bodine! This is a clear example of Canada's "War at Home" and their escalation of attacks against immigrants, refugees and "undocumented" people, in particular those who are progressive activists.

For Alison's freedom to be won, it is crucial that we continue to organize and show the government of Canada, their police and repressive institutions, that we will not be frozen by fear, intimidation and attacks.

DEMAND: FREE ALISON BODINE NOW!

OPEN ORGANIZING MEETING (all activists and groups are welcomed)
6:30 P.M.
Friday September 14
Joes Café (the large north hall)
1150 Commercial Dr. (@William St)

For further information please contact: free_alison_bodine@yahoo.ca

Shannon Bundock 778-891-1470
Tamara Hansen 778-882-5223
Aaron Mercredi 604-339-7103
---
News Update #1 -- FRIDAY EARLY MORNING SEPT 14

FREE ALISON BODINE NOW! ALISON BODINE Political Organizer & Social Justice Activist ARRESTED BY RCMP & CANADA BORDER SERVICES AGENCY

Near midnight on Thursday September 13, 2007 Alison Bodine, political organizer and social justice activist was arrested by RCMP and Citizenship & Immigration Canada. Alison, a US-citizen, was arrested when she attempted to cross the border at Peace-Arch border crossing, traveling from Canada into the United States. She was handcuffed, detained, and her passport taken away from her, with no information given about the basis for her arrest, or the charges that she was facing.

Alison Bodine is a central organizer with Vancouver antiwar coalition Mobilization Against War & Occupation (MAWO), the president of University of British Columbia's Coalition Against War on the People of Iraq and Internationally (CAWOPI), a long-time executive committee member of the UBC Social Justice Center, prominent activist in solidarity with Cuba and the Pastors for Peace Caravan to Cuba, and a supporter of immigrant and refugee rights in Canada and the US.

Three days prior, on Monday Sept 10th, Alison was harassed by Canadian Border Guards while traveling from the US into Canada. The harassment and questioning that she faced on September 10th began after border officials searched her vehicle, which contained various political materials and progressive newspapers. At that time however she was granted legal entry into Canada.

Alison has traveled between the US and Canada on dozens of occasions, as she studied at UBC for four years as in international student, graduating in June 2007. She has never been denied entry into Canada.

After her political materials and belongings were seized at the border on Monday Sept 10th, she returned to claim them on Thursday Sept 13th as she was returning to the US. Upon presenting her receipt to claim her materials, she was handcuffed and told she was under arrest, and that a warrant had been issued for her arrest in Canada. RCMP and Canadian Border Guards are continuing to refuse to answer any questions about what the warrant was issued for. She has also been labeled a "flight risk" in order to justify keeping her in jail for an undetermined amount of time. She is currently being held in jail by the Surrey RCMP.

Since her arrest Alison has been informed that she will face an Immigration Admissibility Hearing, likely Friday Sept 14th, which is expected to take place at Citizenship & Immigration Canada Offices (300 W. Georgia St) in downtown Vancouver, no specific time has been given.

The arrest of Alison Bodine is a further attack on immigrants, refugees and all non-residents. Even according to their own laws, the RCMP and Immigration Canada have no legal basis for preventing her entry into Canada. They only began the harassment and legal process once they had identified her as a political organizer. Alison is a prominent activist in Vancouver, having written numerous articles, spoken at dozens of anti-war and social justice demonstrations and forums. She is a US-citizen who has spoken out publicly against the US occupation of Iraq, and even more so against Canada's occupation of Afghanistan.

The Committee to Free Alison Bodine is appealing to all people, groups and organizations in struggle, to unite in defense of Alison Bodine and against this unjust attack. This is a clear example of Canada's "War at Home" and their escalation of attacks against immigrants, refugees and "undocumented" people, in particular those who are progressive activists.

For Alison's freedom to be won, it is crucial that we mobilize immediately, and show the government of Canada, their police and repressive institutions, that we will not be frozen by fear, intimidation and attacks.

DEMAND: FREE ALISON BODINE NOW!

EMERGENCY RALLY
2:00 P.M.
Friday September 14
Citizenship & Immigration Canada Offices
300 W Georgia St (@ Hamilton St)
Downtown Vancouver