July 19, 2008
Antiwar Rally
CLICK ON PHOTO FOR LARGER VERSION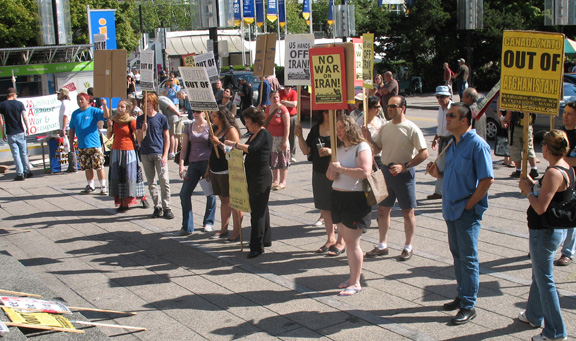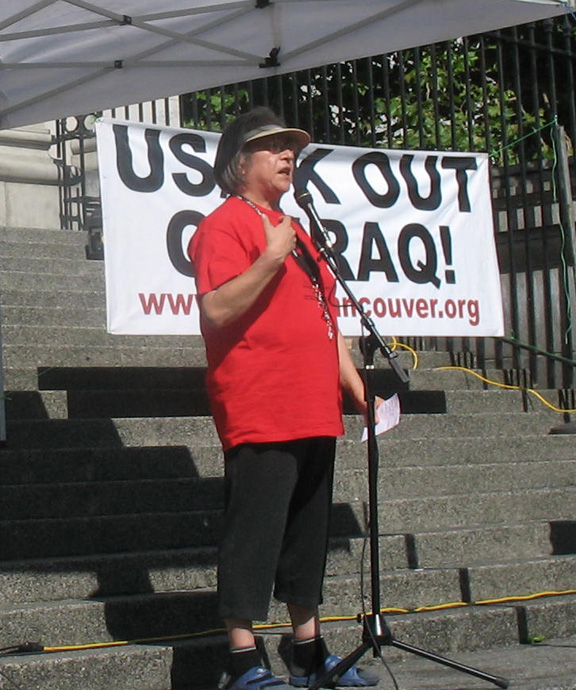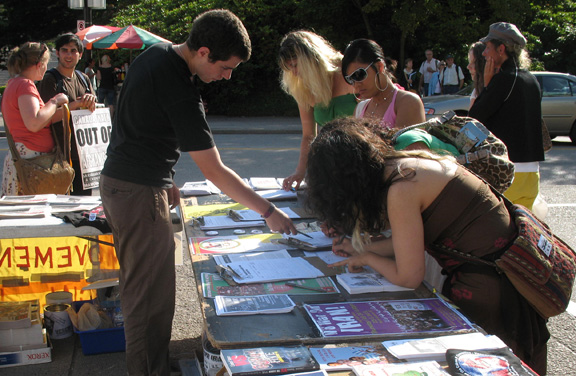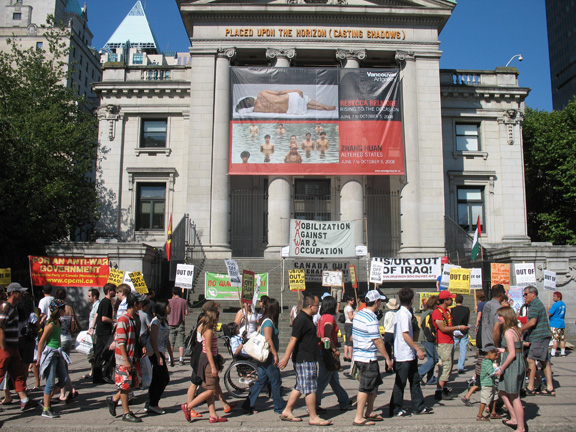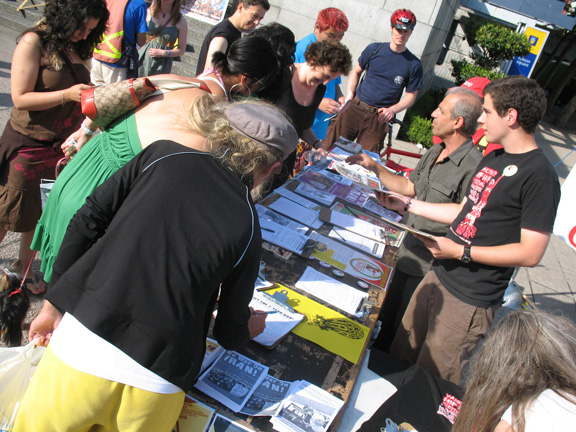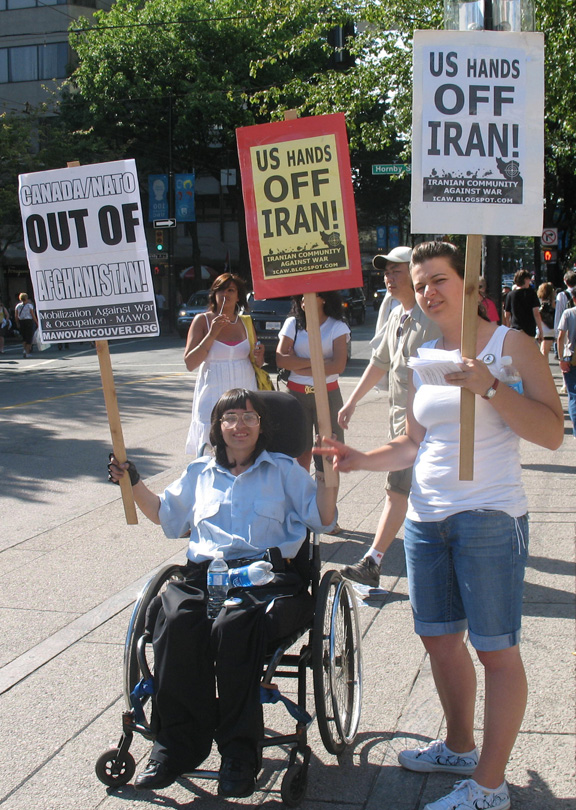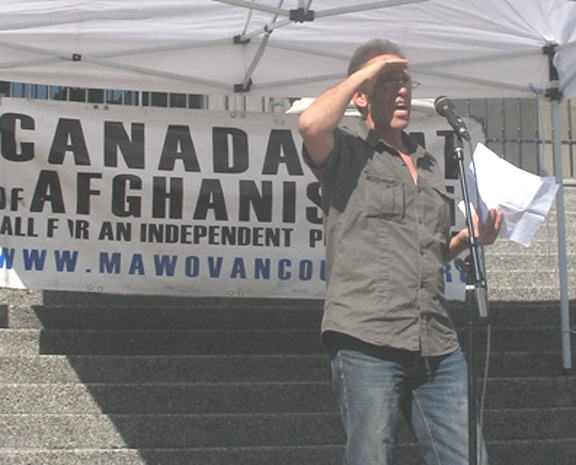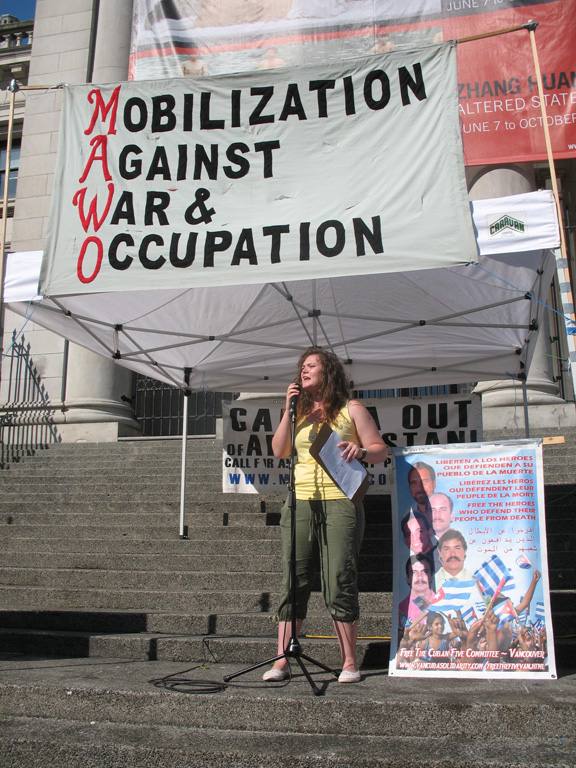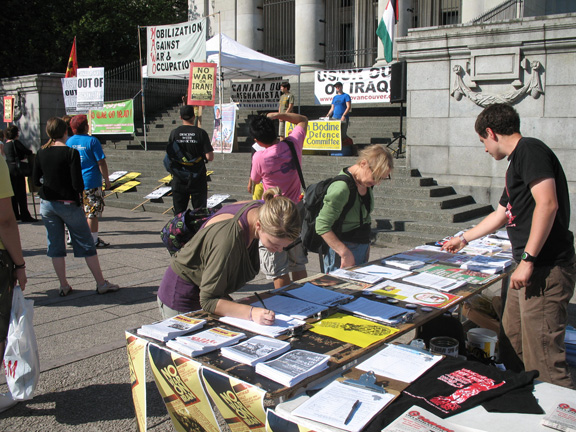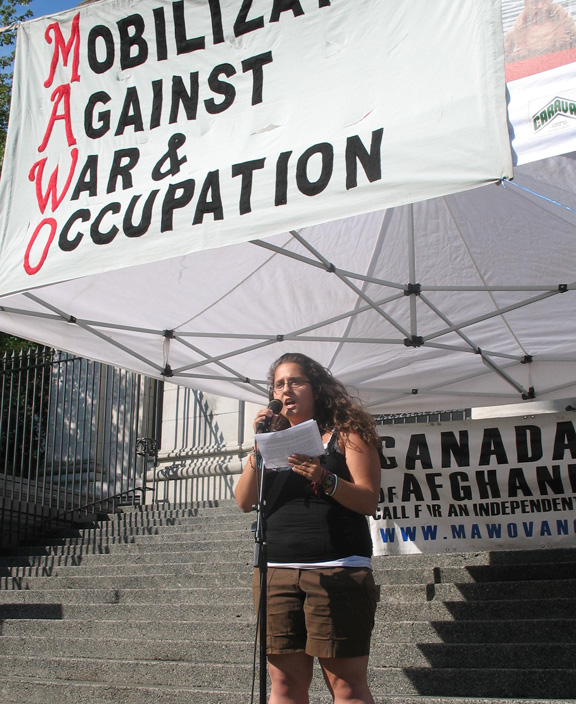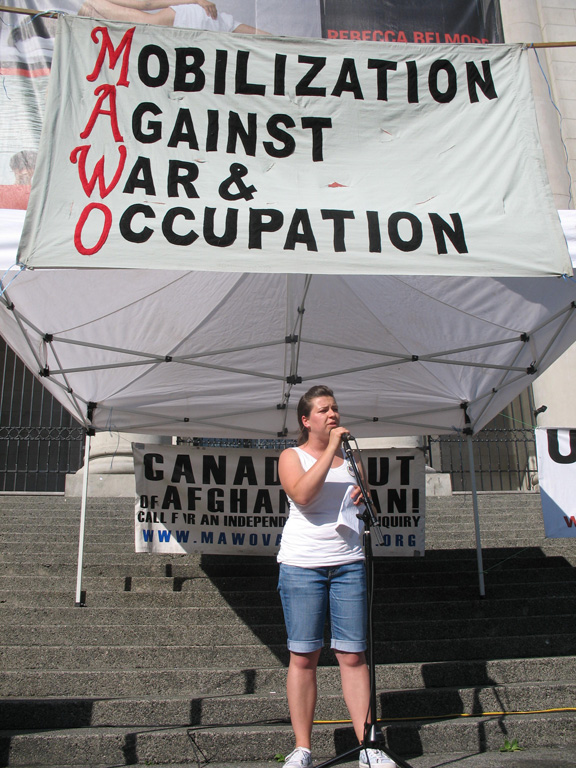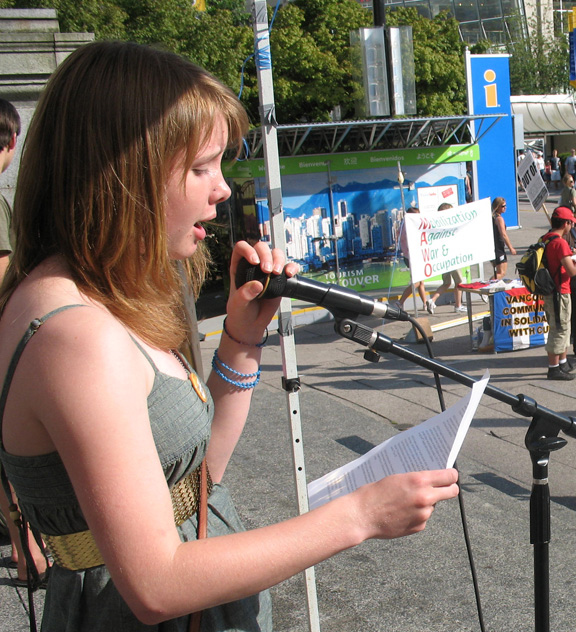 "No War on Iran!" Rally


On July 19th, 2008 MAWO organizers, anti-war activists and regular peace-loving people in Vancouver joined with people in different cities across the United States to demand "No War on Iran". While MAWO organized this rally against war on Iran in Vancouver, the United for Peace and Justice (UFPJ) Coalition in the US called for a nation-wide day of action with rallies in 27 cities across the US.

In Vancouver hundreds of people, including many Iranians and people from all different backgrounds, rallied together throughout the demonstration to show their opposition to an impending war on the people of Iran.

The rally began with Phillipa Ryan, an Indigenous elder and activist who welcomed the protest to unceded Coast Salish territory, and who spoke about the struggle of Indigenous people in Canada.

Following Phillipa was a message of solidarity from MAWO co-chair and spokesperson Alison Bodine. Alison was banned from Canada for two years after she was politically harassed and targeted by Canada Border Services Agency when she attempted to cross the border from the U.S. into Canada while carrying antiwar and political materials. She addressed the crowd through telephone from a "No War on Iran" protest in sunny California outside the home of Nancy Pelosi, Speaker of the US House of Representatives. Alison brought words of solidarity from one demonstration to another and warmed and inspired the hearts of her supporters to continue the fight for the two year ban against her to be lifted. (For more information, check out alisonbodine.blogspot.com )

Arash Yousef, organizer with the Iranian Community Against War (ICAW) also addressed the crowd and spoke passionately against the U.S threats and propaganda against Iran used in their preparation for attack.

Sarah Alwell, organizer with the Free the Cuban 5 Committee- Vancouver (FC5C) spoke about the hypocrisy of the US so-called "war on terror" when 5 Cubans have been unjustly imprisoned in the US for nearly 10 years for protecting their people against US sponsored terrorism towards Cuba. (Click Here for more info on their case.)

Payvand Pejvack, organizer with ICAW spoke strongly about the human destruction caused to our brothers and sisters in Iraq and Afghanistan and the need to get involved in the anti-war movement to prevent the devastation of Iran becoming another Iraq or Afghanistan.

Kira Koshelanyk, executive member of MAWO, powerfully spoke about the new era of war and occupation in Iraq and Afghanistan, where just the day prior, the 88th Canadian Soldier was killed in Afghanistan. She connected these wars with the increasing US aggression and sanctions towards Iran.

The Rally came to a lively and energetic close as MAWO's monthly resolution was delivered by anti-war organizer and high school student Meaghan Griffith and ratified by the loud chants ands cheers of all those who attended the rally.


"Combat Social" Fundraiser


Following the rally, participants and organizers of the anti-war demonstration traveled to El Rancho Restaurant to listen to conscious poetry and music at the "Combat Social" fundraiser. The evening was opened with a section devoted to poetry readings. The first to read was MAWO organizer and poet Max Tennant, who read creative poetry about the example that Cuba represents for the rest of humanity. Max was followed by another MAWO organizer Shakeel Lochan who read original thought-provoking poetry about the attacks and struggles that we face at home. After Shakeel, well-known local poet Dilia Ochoa read powerful poems about women fighters and anti-colonial fighters in Latin America. Nita Palmer, organizer with MAWO read the insightful and emotional poem entitled "Vietnam" by Chilean poet Pablo Neruda. To close this section, Mike Larson, a MAWO organizer, read poetry about Burkina Faso, the home of the African anti-colonial leader Thomas Sankara. Mike Larson was followed by the short film "Sankara" which explained the hope and impact that Sankara's life gives to people struggling in Africa against colonialism.

Payvand Pejvack, organizer with Iranian Community Against War played her classical Spanish Guitar to an excited crowd. Payvand was followed by Sergio Astorga, who soothed the audience with his own original music. After Sergio, two unexpected new performers at El Rancho, Hugo and Francisco played traditional Romance songs from Mexico. The evening rounded out well with the talented Joaquin Ernesto who played revolutionary music from Latin America and the crowd favorite "Imagine" by John Lennon.

The finale of the evening was poetry read by MAWO Co-Chair Janine Solanki who read poetry by Iranian woman poet, Farokh Zad.

People from the event were excited to be involved in the anti-war movement in Vancouver and its solidarity with all oppressed peoples struggle for dignity and self-determination.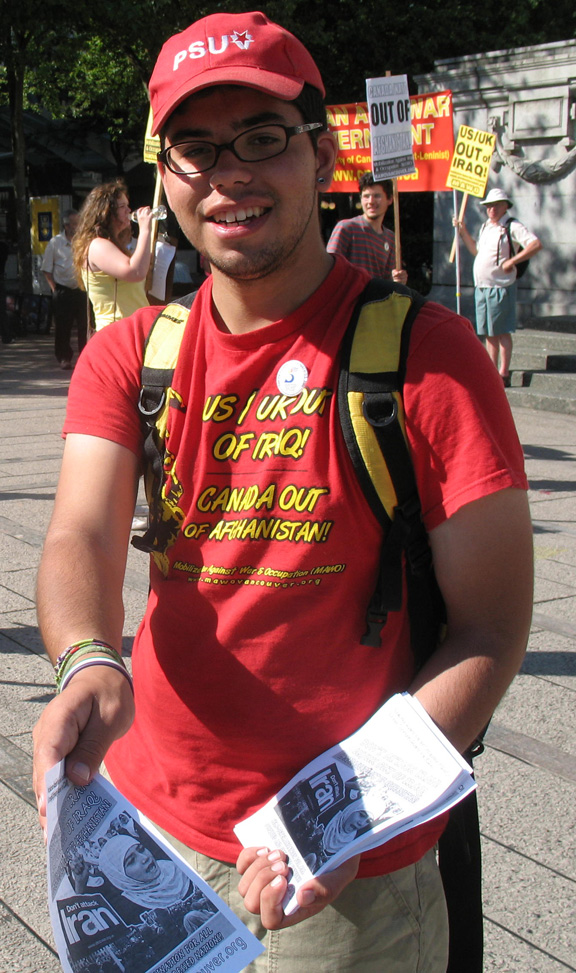 July 19, 2008
Antiwar Fundraiser
CLICK ON PHOTO FOR LARGER VERSION