Canadian Armed Forces Recruitment Center
CLICK ON PHOTO FOR LARGER VERSION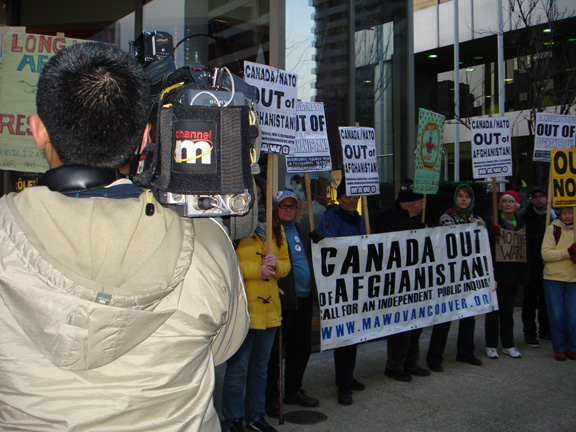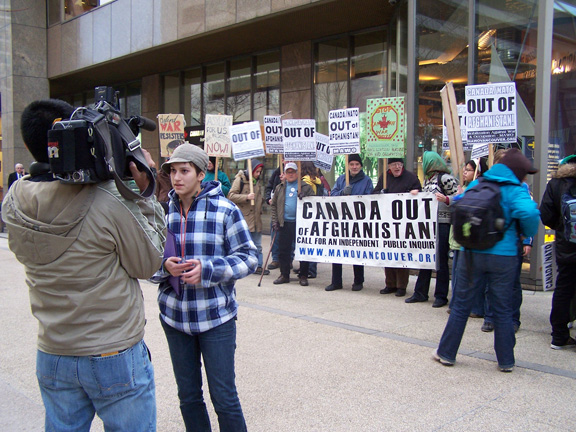 Channel M reports on the picket action, Interview with MAWO Co-Chair Janine Solanki (R)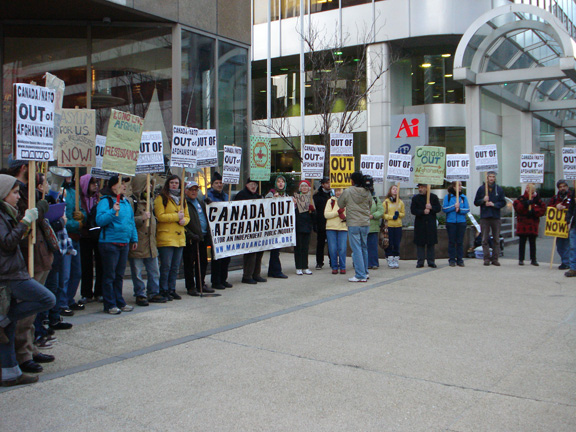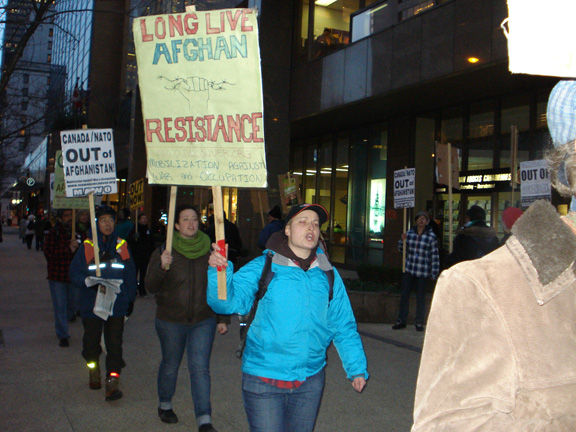 Picketers chant and march in front of the Canadian Forces Recruitment Centre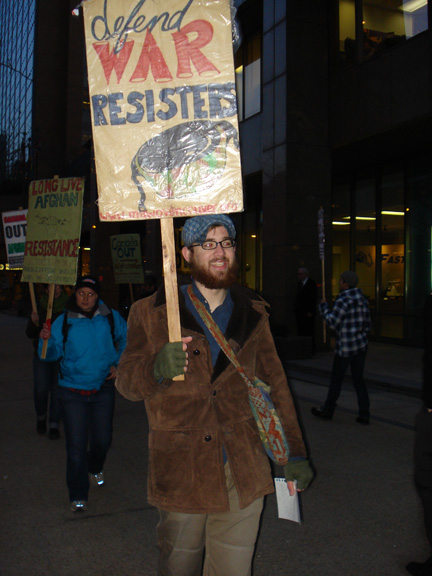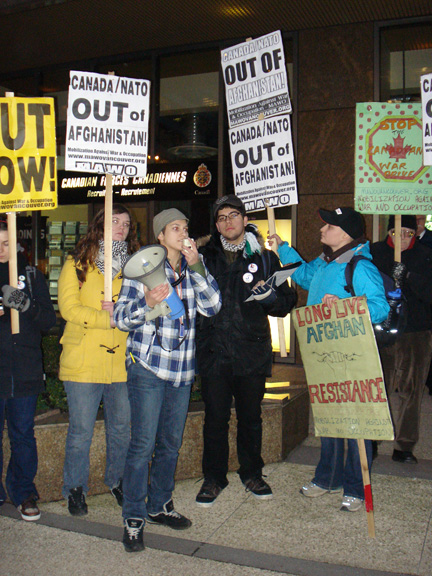 Brad McCall (US War Resister) participates (L), Janine Solanki speaks to the crowd (R)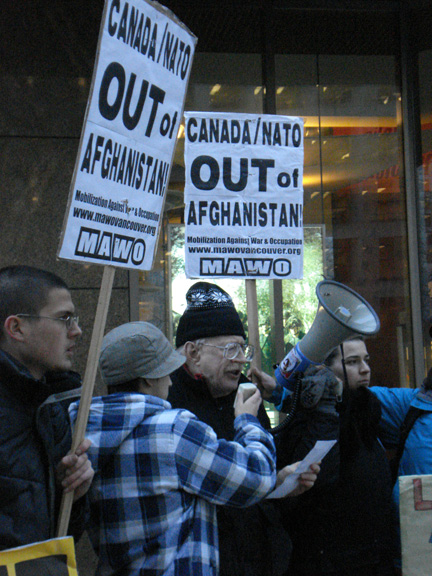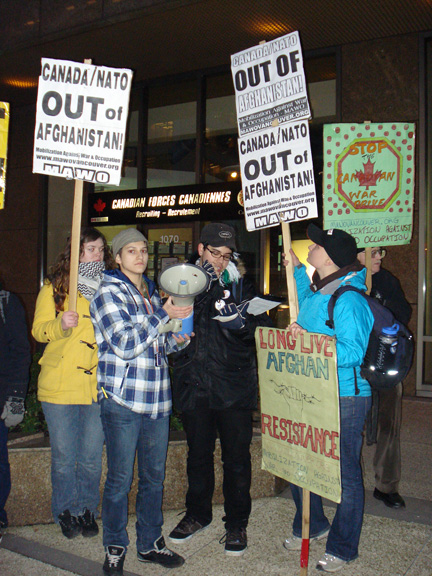 David Whittlesey, a vetran of the Vietnam antiwar era speaks (L), Mike Larson, Capilano College Student talks about the role of youth and students against war(R)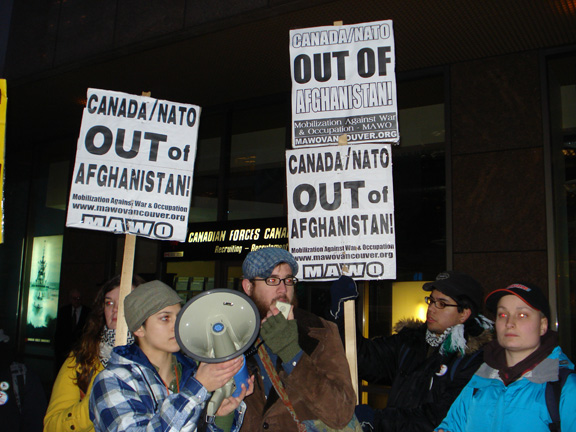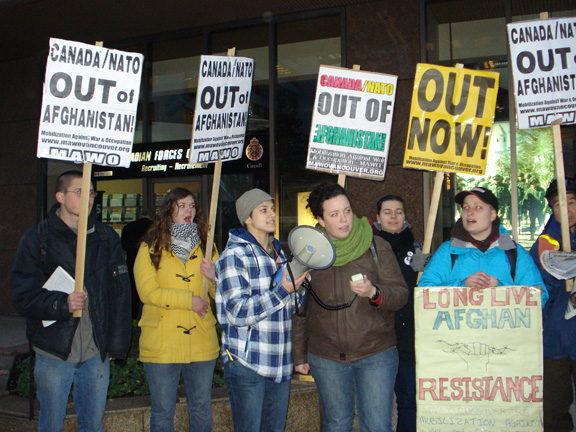 US War Resister Brad McCall addresses the crowd (L), Sophie Ziner, MAWO Organiser, talks on the issue of women in Afghanistan (R)

CANADA/NATO OUT OF AFGHANISTAN NOW!

REPORT

On January15th despite the cold, over 30 people including youth, elders, students and workers, rallied together outside the Canadian Armed Forces Recruitment Center in downtown Vancouver to express their opposition to Canada's increasing war drive in Afghanistan. For organizers and supporters of Mobilization Against War and Occupation (MAWO) this month's action marked the 38th "CANADA OUT OF AFGHANISTAN!" picket organized by MAWO and the first of 2008. Energetic and lively chants of "END THE OCCUPATION NOW!" and "TROOPS OUT NOW!" filled the streets of Vancouver and caught the curious and supportive attention of passers by. A media reporter form Channel M was also present and filmed the protest action, interviewing some of its participants, and the footage was later aired that night.

Janine Solanki, MAWO Co-Chair and Spokesperson, began the picket by reading a statement released by MAWO condemning the recent and ongoing acts of brutality carried out daily by Canadian and NATO forces in Afghanistan. The statement was received loud and clear by supporters who then took to the street demanding an immediate end to the occupation and an independent public inquiry into Canada's war drive in Afghanistan.

First to speak was long time social justice activist David Whittelesey. David graciously shared his experiences and lessons from his participation in both the Civil Rights movement and the Vietnam anti-war movement. MAWO organizer Sophie Ziner, then spoke about the lies and manipulation perpetuated by the Canadian government and their so-called "liberation" of women in Afghanistan, a sentiment put forward by a government that does not even protect women within its own borders.

After more vibrant picketing, U.S. war resister Brad McCall, who quit the U.S. army in opposition to the devastating occupation of Iraq, spoke of his experience in leaving the U.S. army and the necessity to continue fighting against imperialist aggression in the Middle East. Mike Larson, a student at Capilano College, spoke passionately from the perspective of youth and the effects that Canada's ongoing war drive has on young people in both Afghanistan and at home. Mike emphasized the complete lack of access to education in Afghanistan, and that with an ever increasing military budget; tuition fees in Canada continue to rise making it incessantly difficult for young people to receive post secondary education.

The picket came to a close with the promise to continue organizing against Canada's occupation of Afghanistan and the loud and passionate chants of "CANADA OUT OF AFGHANISTAN NOW!" and "END THE OCCUPATION NOW!"