October 27, 2007
Rally & March
CLICK ON PHOTO FOR LARGER VERSION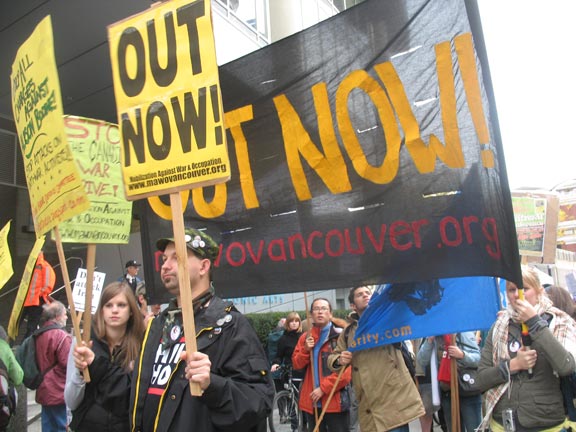 MAWO banners and signs in the march!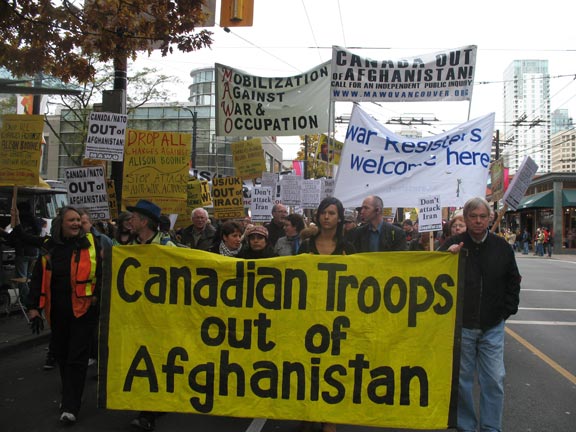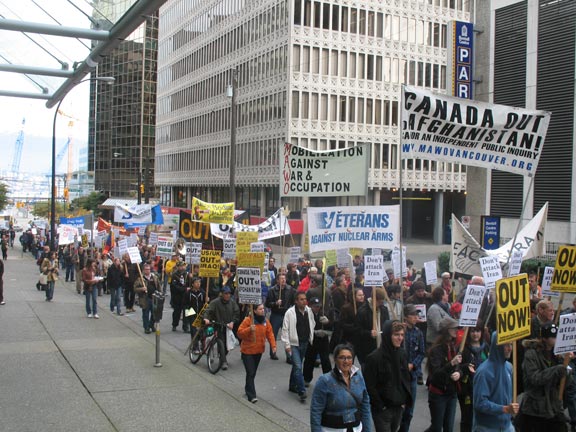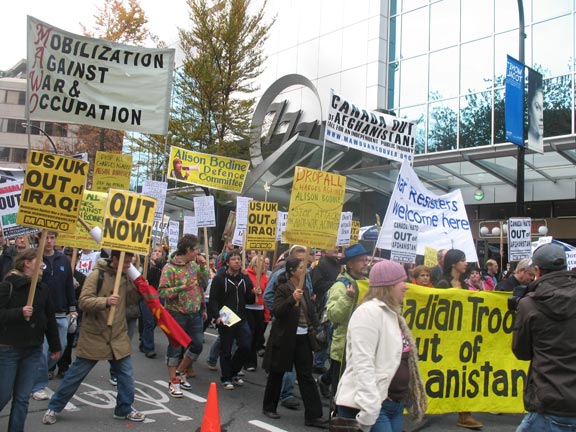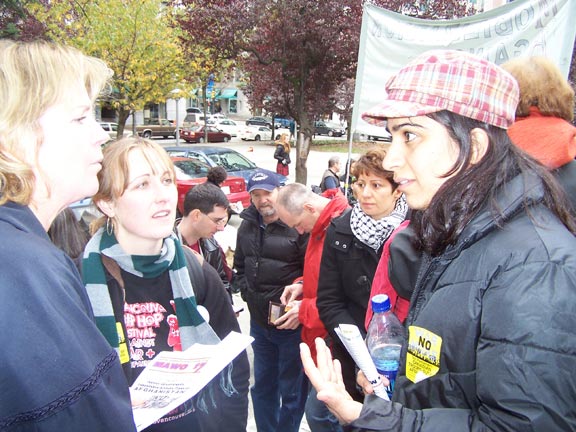 MAWO organizer Shannon Bundock and Code Pink Women for Peace Local Coordinator Lisa Barrett speak with suspended Afghan parliamentarian Malalai Joya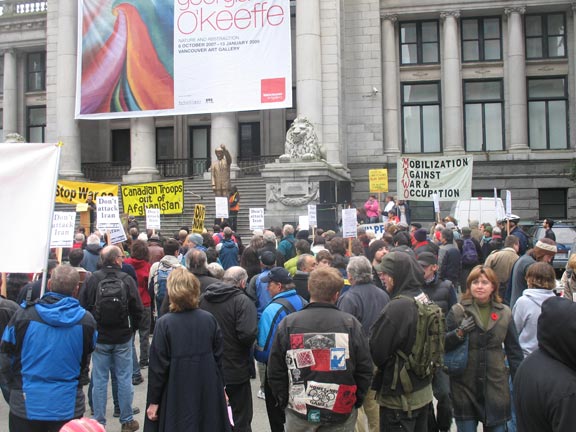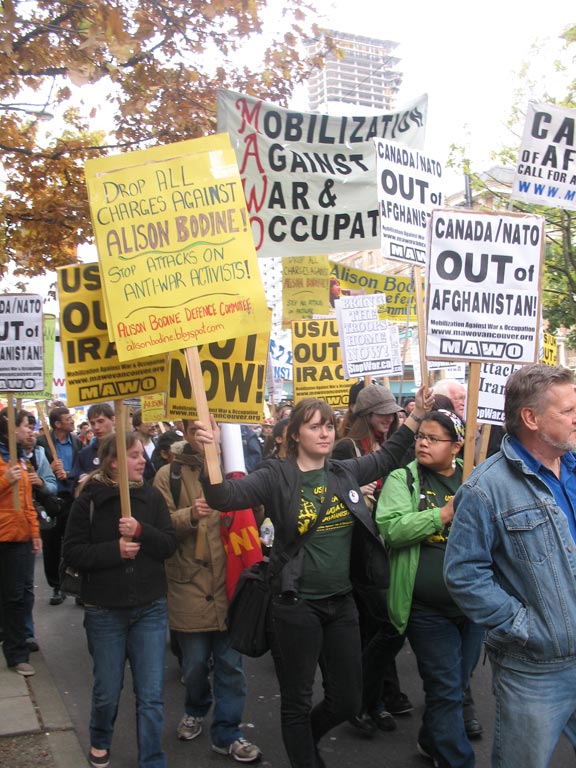 MAWO Co-Chair and spokesperson fighting Canada Border Services Agency political targetting and 2 year ban from Canada, Alison Bodine marches with the crowd

OCTOBER 27, 2007
Rally & March
Mobilization Against War & Occupation (MAWO) endorsed the call by International ANSWER in the US and the Canadian Peace Alliance in Canada for a day of coordinated protest actions calling for "US/UK Out of Iraq!" and "Canada Out of Afghanistan!". In Vancouver, MAWO supported, helped to build and participated in the rally and march organized by Stopwar.ca. MAWO mobilized along with over 400 people who came together on Saturday October 27th to march through the streets of Vancouver finishing with a rally at the Vancouver Art Gallery.


---
OCTOBER 28, 2007
MAWO Antiwar Conference for Organizers, Activists & Everyone!
On the morning of Sunday October 28th over 50 people gathered at the Britannia Community Center for MAWO's 8th antiwar conference "Antiwar Conference for Organizers, Activists & Everyone!"

The day prior, hundreds of thousands of people mobilized across the world as part of the International Day of Action to demand and end to war and occupation from Iraq, Afghanistan and beyond. The MAWO antiwar conference was a part of this motion of oppressed people mobilizing against the present era of war and occupation.

The conference opening was given by US war resister, Brad McCall. Brad was arrested at the US-Canada border on September 15th and is now fighting to win his claim as a refugee to stay in Canada. Brad talked about how he became a soldier for humanity when he learned about the horrific human toll of the war in Iraq and decided to quit the US army as he could not play any part in the US war drive against the Iraqi people.

MAWO Co-Chair and spokesperson Alison Bodine gave the workshop "Antiwar & Social Justice Activists Under Attack: How to Build a Defence Campaign – the Case of Alison Bodine and the Current CBSA crackdown on those speaking out against war & occupation at home and abroad." Alison explained how she had been targeted, harassed and arrested by Canada Border Services Agents in September 2007. She also talked about the huge defence campaign that had been organized and built to free her from detention and to demand that the CBSA drop all charges against her. She also explained the importance of activists and organizers being able to defend themselves against attacks by government forces and agencies.

After lunch, the second half of the conference was opened by Jose Angel. Jose is an organizer with the Vancouver-based Solidarity Coalition for a United Latin America and a lifelong social justice activist from El Salvador.

As the conference was held just 1 day before MAWO's 4th anniversary, a special element of the conference was the narrated slideshow presentation "4 years of MAWO in Action: How Far We Have Come – Constant Campaign Against War and Occupation in Defence of Self-Determination". Hundreds of photos were compiled by MAWO organizers to show the progression and march of the building of MAWO - with rallies pickets, forums, conferences, film showings and festivals all against war and occupation in the last 4 years.

The conference was closed by MAWO Executive Committee member Kira Koshelanyk who summarized what was heard and discussed in the conference that day. She reflected on the importance of regular conferences and discussions on how the antiwar movement is organizing and responding as well as the necessity for this organizing to always expand. In the past four years, MAWO has organized many events like the October 28th conference but the future 4 years and many many more after that must be marked by even more actions and activies activities against war, spread out even more broadly across the map in order to build our forces into a strong, united and effective antiwar movement.


October 28, 2007
MAWO Antiwar Conference
CLICK ON PHOTO FOR LARGER VERSION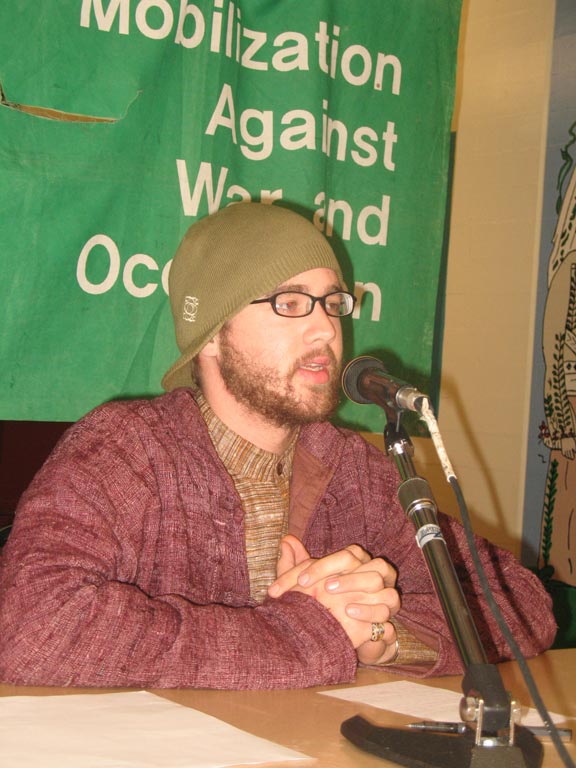 US War Resister Brad McCall gives the opening address of the conference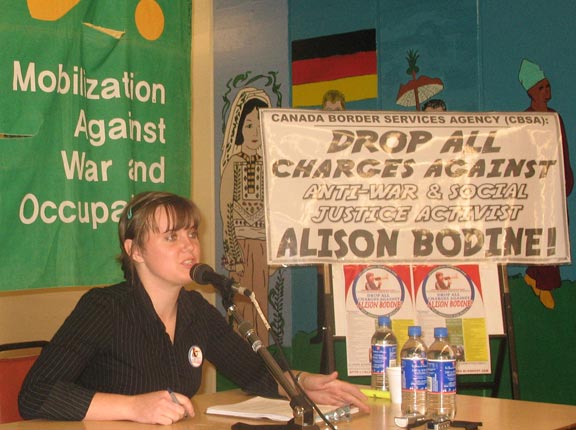 MAWO Co-Chair, spokersperson and politically targeted activist Alison Bodine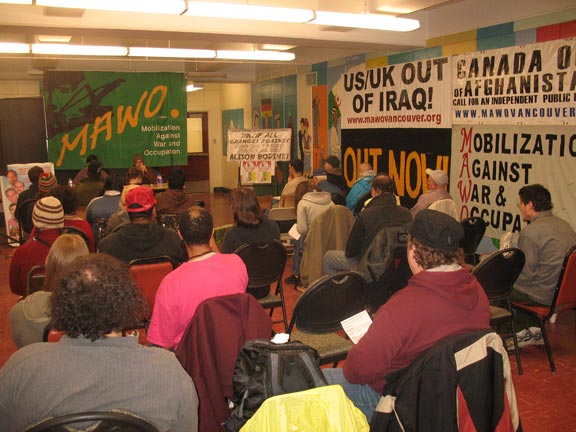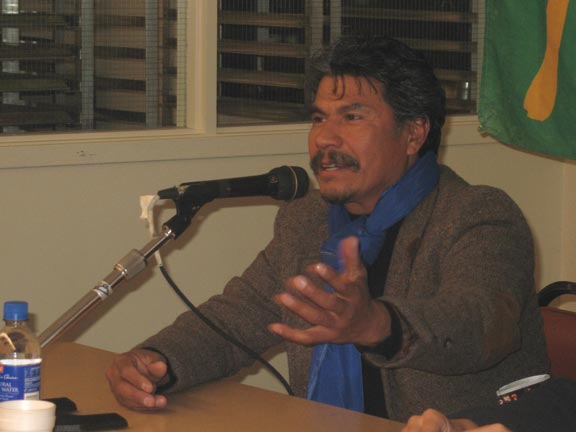 Jose Angel of the Solidarity Coalition for a United Latin America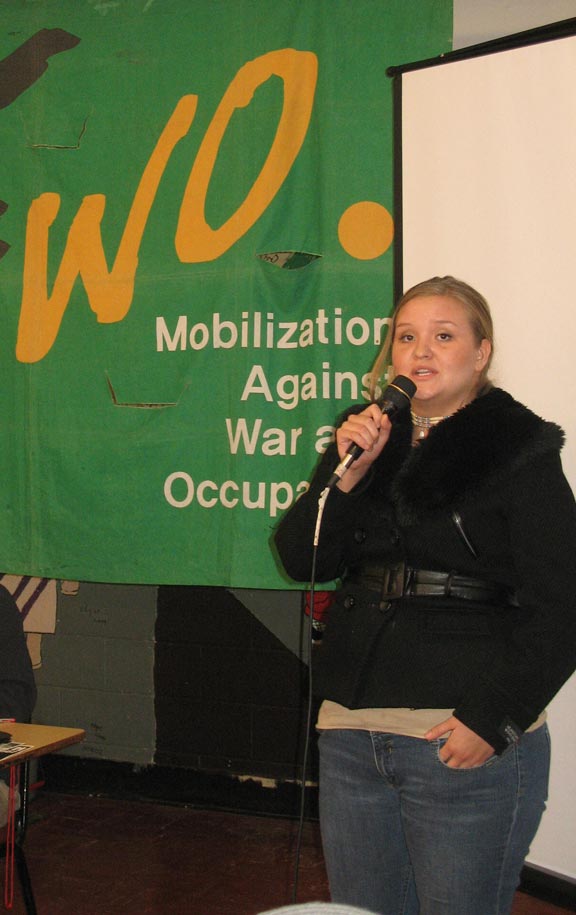 Vina Brown, Capilano Students Union First Nations Issues
Co-ordinator recognizing the unceded Coast Salish territory of Vancouver where the conference was held.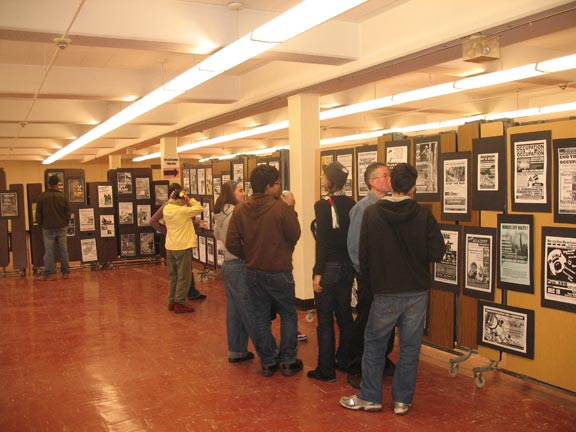 MAWO Poster Art Exhibit "4 Years of MAWO Poster Campaign - Art & Politics in Action & Motion"