CANADIAN FORCES RECRUITMENT CENTRE
CLICK ON PHOTO FOR LARGER VERSION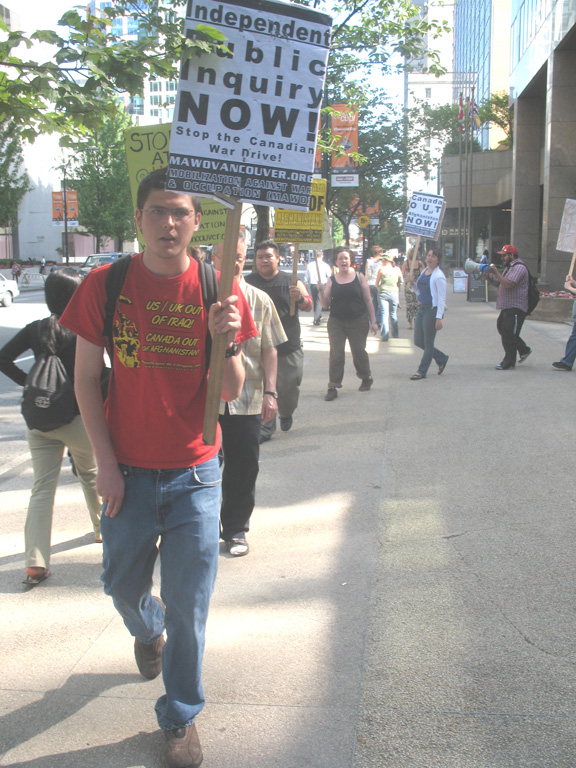 Interview with Radio-Canada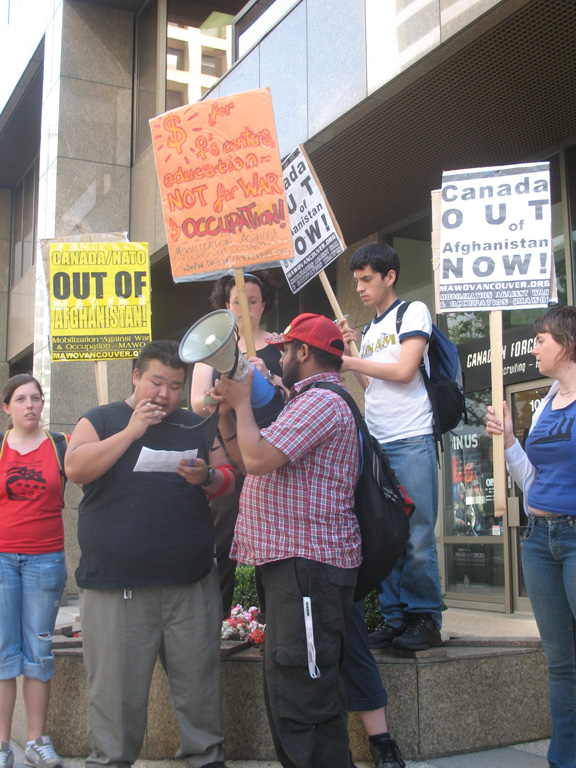 MAWO Co-Chair Shannon Bundock Reading MAWO Statement on Death of 56th Canadian Soldier Killed in Occupation of Afghanistan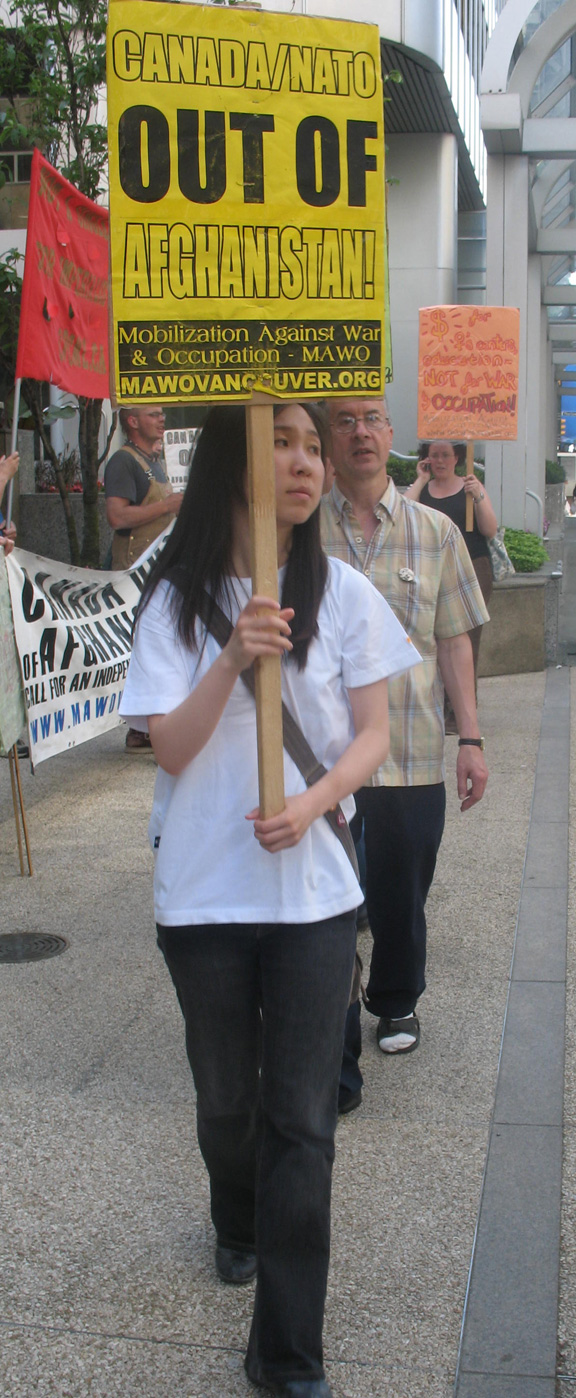 Max Tennant, UVIC Students Against War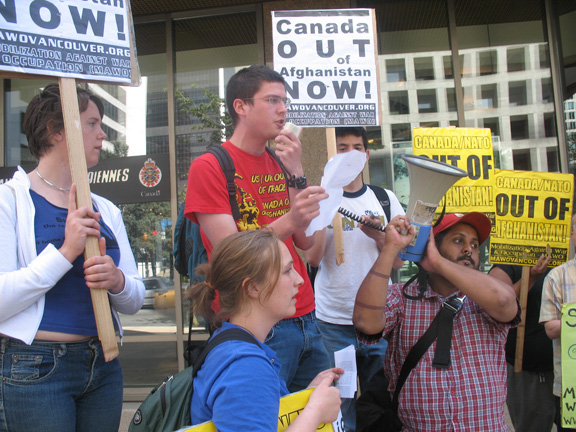 Kevin Neesloss, Indigenous Rights & Action Project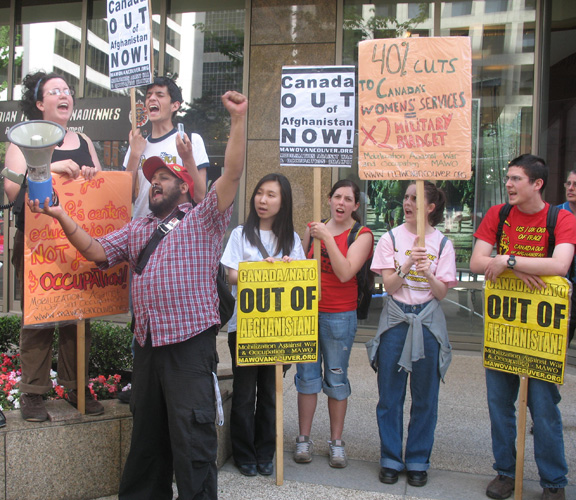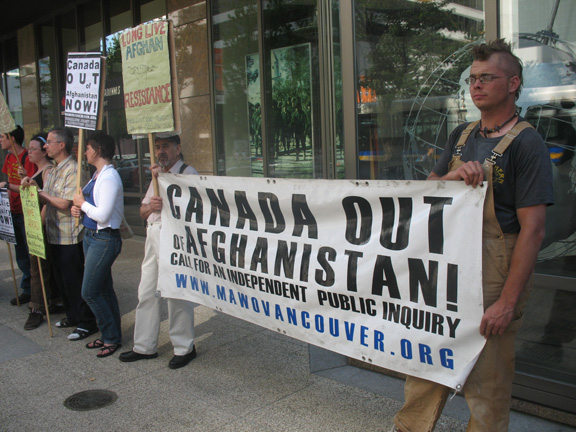 Sophie Ziner, Women's rights activist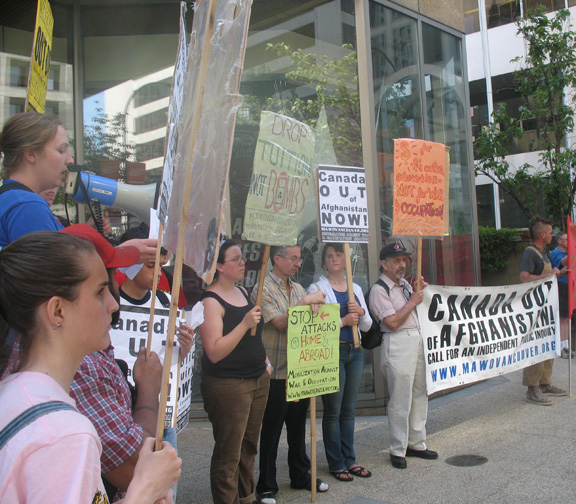 On May 31st 2007 Mobilization Against War & Occupation (MAWO) took to the streets with an emergency picket demanding Canada/NATO Out of Afghanistan! More than 20 picketers marched in front of the Recruitment Centre to demand an end to the occupation of Afghanistan.

See Below for the Press Statement that was issued by MAWO on May 31.

---

In Response to the 56th Canadian Soldier Death and the Massive Killing and Destruction of Afghanistan, We Demand: CANADA/NATO OUT OF AFGHANISTAN NOW!

may 31, 2007 Vancouver, BC
www.mawovancouver.org



The May 31st picket began with an opening statement by Shannon Bundock, co-chair of Mobilization Against War & Occupation (MAWO), which was released by MAWO in response to the death of the 56th Canadian Solider in Afghanistan and the killing of hundreds of Afghans by the recently launched military "Operation Hoover". The protesters then began a loud and energetic picket line, chanting "Canada/NATO Out of Afghanistan!" "End the Occupation NOW, Self-determination NOW!"

Throughout the picket, three speakers addressed the crowd. Each of the speakers presented a different aspect of the war and occupation in Afghanistan, and why people in Canada must oppose the criminal Canadian war drive.

Max Tennant, organizer with University of Victoria (UVIC), Students Against War, spoke of the role of youth in the anti-war movement in Canada, and the participation of youth at the forefront of the resistance movement in Afghanistan. He called on all young people to get involved in defending the demands of the Afghan youth – "End the Occupation Now!"

Kevin Neeslos, of the Indigenous Rights and Action Project (IRAP) spoke following another round of picketing. Kevin related Canada's current imperialist project in Afghanistan, to the colonial drive that slaughtered Indigenous nations, stole their land, and created the foundations for the nation of Canada. On this basis he called on Indigenous people to unite with Afghans against the Canadian war drive.

After the final round of marching and chanting, Sophie Ziner took the megaphone. Sophie is an organizer with MAWO and a women's rights activist. Sophie spoke about the impact of the Canadian war drive on the women of Afghanistan. She related how the cuts to women's services are being paralleled with increased spending for the military in Canada. Sophie called on all women in Canada to defend the women of Afghanistan by standing up and fighting against this brutal war and occupation.

The picket was closed with a reaffirmation that MAWO will continue to organize, mobilize and demand an end to the occupation of Afghanistan, until the last soldier is removed, and the Afghan people are free to decide their own future.

---

See Below for the Press Statement that was issued by MAWO on May 31st.

PRESS STATEMENT
"Canada Out of Afghanistan"

We are here today, at the Canadian Forces Recruitment Centre, in Vancouver BC, to demand an immediate end to the occupation of Afghanistan by Canadian and NATO forces. We are calling for an independent public inquiry into Canada's war drive in Afghanistan. This protest comes on the heels of breaking news that Canada's 56th soldier was killed in Afghanistan less than 24 hours ago, in a Chinook helicopter crash that killed six other NATO troops over Afghanistan's Helmand province. As part of the recently launched military "Operation Hoover", the combat was the second to take the life of a Canadian soldier in 5 days—alongside the lives of hundreds of innocent Afghan civilians.

By this time, people in Canada are beginning to realize something that Afghans have known much too well for the past 6 years: Canada is at war in Afghanistan. This war has brought the military suppression of a resistance movement demanding their right to sovereignty for their country. It has brought air strikes, house raids, checkpoints, arrests and torture.

When commenting on a recent resistance attack on Canadian occupation forces, Minister of National Defence, Gordon O'Connor stated, "[Canadian] troops have a clear mission - to build security and stability in Afghanistan. And it is because our soldiers are succeeding in this mission that they came under attack."

We ask O'Connor what his definition of "security and stability" is, and who is this so-called "security and stability" for? For Afghan people, the "successful mission" to "build security and stability" has resulted in the plummeting of the life expectancy in Afghanistan, which has dropped from 46 to 42 years old since 2001. It has meant the skyrocketing of the maternal mortality rate, which, according to the UN Office for the Coordination of Humanitarian Affairs, is now the second highest in the world. It has meant that the literacy rate in Afghanistan, according to UNESCO is 39% overall, and an appalling 21% among women. It has also meant the wholesale destruction of Afghanistan's infrastructure, the murders of tens of thousands of people and the maiming of hundreds of thousands more. No wonder that Afghan people have rejected this so called "successful mission" being waged by the Canadian/NATO forces!

The government of Canada and NATO continue to maintain that they are fighting a "Taliban insurgency" in Afghanistan. Why? Because saying otherwise would mean admitting the truth: that they are not fighting and killing a small number of isolated rebels, but that they are battling a popular resistance movement of regular Afghan people who are fighting with sticks and stones and everything they have against the occupation.

Canada's war drive in Afghanistan is a brutal and criminal drive, which must be opposed by all peace-loving people in Canada and around the world. For Afghanistan to have a chance to build a future that will benefit the needs of Afghans, they first need self-determination. Mobilization Against War & Occupation (MAWO) calls for an immediate withdrawal of all Canadian troops and NATO forces from Afghanistan, and for an independent public inquiry into the government of Canada's war drive, which has been launched, extended, and had its budget doubled without the consultation of people in Canada, and at the cost of thousands of Afghan lives.

Mobilization Against War and Occupation (MAWO) has circulated a petition demanding an immediate end to Canada's occupation of Afghanistan, collecting more than 13,000 signatures in the Lower Mainland alone.