CANADA OUT OF AFGHANISTAN NOW!

10,000 Signatures Against the Occupation of Afghanistan!

Call for an Independent Public Inquiry into the Canadian War Drive in Afghanistan!


Emergency Picket Line

During the week that the US government admitted to the deaths of over 300 Afghans, Mobilization Against War and Occupation (MAWO) held its thirteenth picket action (since July 2005) against the occupation of Afghanistan.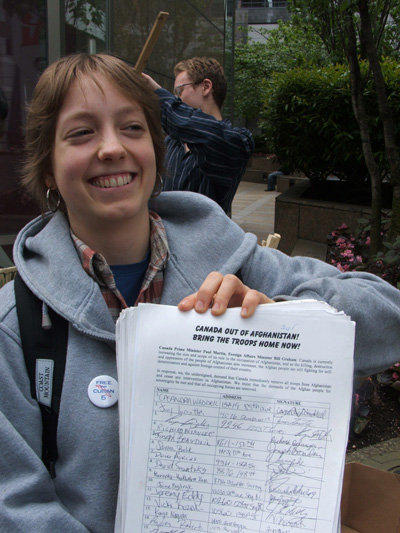 This action on May 25th, 2006 marked the milestone of 10,000 signatures on MAWO's petition demanding Canadian troops out of Afghanistan.

MAWO's acting secretary, Nita Palmer, opened the picket with a press statement, "In the Lower Mainland alone MAWO has collected more than 10,000 signatures against Canada's occupation of Afghanistan. These 10,000 signatures represent the anti-war and anti-occupation sentiment of millions of people across Canada."

She continued on to respond to the parliamentary vote to extend Canada's combat mission mandate in Southern Afghanistan, "The result of the vote in parliament last week to extend Canada's combat mission in Southern Afghanistan does not match the anti-war and anti-occupation sentiment of people in Canada. Through this vote the government of Canada gave the Canadian military a license to kill."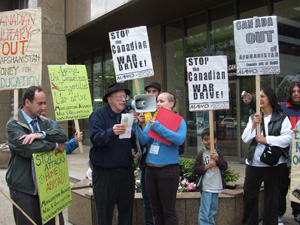 Nita was joined by other speakers who took the megaphone intermittently throughout the hour-long picket action. Long time social justice fighter, 1960's civil rights activist and current MAWO organizer David Whittlesey spoke against the occupation of Afghanistan. He emphasized the need to build a strong, Canada-wide antiwar movement that can effectively oppose Canada's imperialist project.

Fire This Time Movement for Social Justice coordinator Ivan Drury also addressed the picketers and those gathered from the street, "This is a criminal occupation. Canada has contributed nothing but bloodshed, suffering and destruction to the people of Afghanistan. That is why the anti-occupation resistance is growing in Southern Afghanistan. Canada has no 'reconstruction', 'democracy' or 'freedom' to offer the people of Afghanistan. That is why Canada's occupation forces have massacred hundreds of people in Afghanistan this week." In his closing Ivan reiterated MAWO's call for an Independent Public Inquiry into Canada's occupation of Afghanistan.

The 30-plus picketers continued chants throughout the early afternoon, demanding "Canada Out Of Afghanistan NOW!" – "Independent Public Inquiry NOW!" – "Bring the Troops Home NOW!"

This picket was wrapped up with the announcement of a Canada-wide day of action for June 1st 2006. On June 1st people across Canada will have the chance to take to the street together, in a coordinated action against the occupation of Afghanistan. On June 1st MAWO will be back at the Canadian Forces Recruitment Centre in Vancouver for the fourteenth time in 10 months, calling for an end to the occupation of Afghanistan, an Independent Public Inquiry into the occupation of Afghanistan and Self-determination for the Afghan people. (Click here to read the call out!)