Click photo to view large version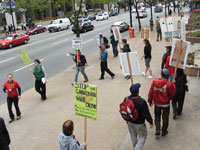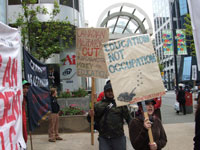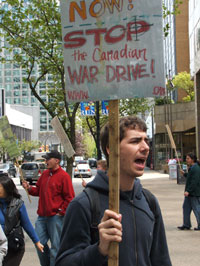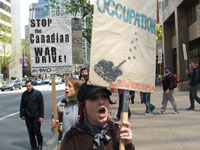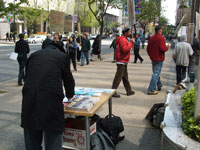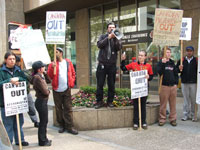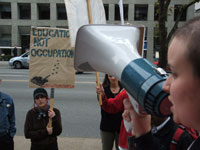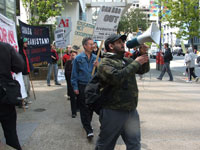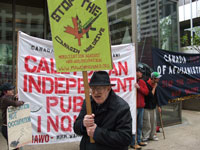 CANADA OUT OF AFGHANISTAN NOW!

Money for Schools, Jobs, Housing, Healthcare - NOT FOR WAR!
Call for an Independent Public Inquiry into the Canadian War Drive in Afghanistan!


Emergency Picket Line



Twenty-five people gathered in front of the Canadian Forces Recruitment Centre in Downtown Vancouver to demand an end to the Canadian occupation of Afghanistan and call for an Independent Public Inquiry into the Canadian War Drive in Afghanistan. The protest, organized by Mobilization Against War and Occupation (MAWO), was the eleventh in a series of picket protests organized by MAWO against Canadian troops in Afghanistan. It came on the heels of Canadian Foreign Affairs Minister Peter MacKay's surprise visit to Afghanistan on May 9th.

The picket was opened by MAWO organizer Sophie Ziner, who outlined the destruction that the occupation of Afghanistan has caused, as well as emphasizing MAWO's call for an Independent Public Inquiry in order to get answers for unanswered questions: "What is Canada doing in Afghanistan?", "Why have 2300 Canadian soldiers been sent there to fight, kill, and die?"

After some energetic picketing and chanting, MAWO Acting Secretary Nita Palmer read a statement to the press and picketers. Nita made note of Foreign Affairs Minister Peter Mackay's recent affirmation that Canada has a "commitment to finish the job" in Afghanistan, noting that "with this statement, Peter MacKay is telling us that there is no end in sight to this brutal occupation. There is no concrete prediction measured in months or years, but that this occupation, and the death for plunder and profit will continue indefinitely, until 'the job is done'."

MAWO organizer Ivan Drury spoke next, emphasizing that the 'Canadian mission' in Afghanistan, despite the supposed boost given by Peter MacKay's visit to Kandahar, was facing waning support at home. "No matter how many opportune visits are made to Afghanistan by Canadian government officials to boost morale, it cannot hide the devastating situation for Afghans brought by thousands of occupying troops, and it cannot hide the growing opposition to this occupation here in Canada." said Ivan. "We will continue our pickets here and our protests against the Canadian War Drive in Afghanistan until our job is done- until the occupation of Afghanistan ends."

The picket was wrapped up with encouragement for people to continue to speak out against the occupation of Afghanistan, and to become a part of the growing movement against the Canadian War Drive in Afghanistan – particularly through upcoming events and actions, such as the next Canada Out of Afghanistan picket on THURSDAY MAY May 18th at 12:30PM at the Canadian Forces Recruiting Office, 1070 West Georgia St.