Click photo to view large version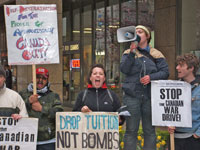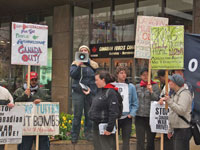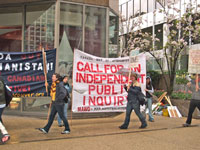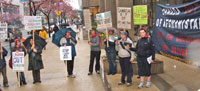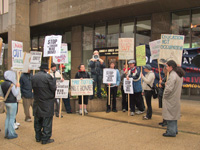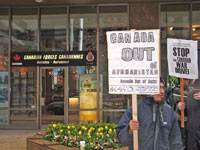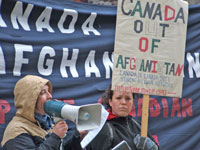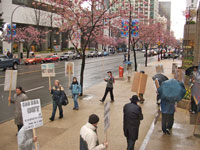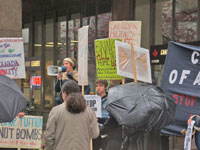 EMERGENCY PICKET AGAINST CANADIAN OCCUPATION OF AFGHANISTAN!

For the tenth time in as many months, twenty-five Mobilization Against War and Occupation (MAWO) members and supporters were back at the Canadian Forces Recruitment office in a picket against the occupation of Afghanistan. The April 13th action was organized in response to the deaths of seven Afghan school children in a missile attack that occurred as a result of the NATO occupation of Afghanistan. These deaths happened only one day following a so-called "debate" in Canada's Parliament that reconfirmed the government's commitment to the occupation of Afghanistan.

In opening the picket, MAWO Co-Chair Shannon Bundock emphasized the demands of MAWO, "Along with people in Canada who are demanding the question of Canada's war drive be opened, we are pushing the call for an Independent Public Inquiry into Canada's war in Afghanistan and an immediate withdrawal of Canadian troops and all troops from Afghanistan."

Following a round of lively picketing and chanting, Nita Palmer UBC student and member of the Coalition Against War on the People of Iraq and Internationally (CAWOPI) addressed the group. Nita highlighted the fact that the latest deaths in Afghanistan were those of schoolchildren. She stated, "The occupation of Afghanistan is funneling money away from education in Canada and into the death and destruction of Afghans. As students in youth in Canada we must stand in solidarity with Afghan youth and students in their fight against the occupation."

While picketers continued their protest outside of the Recruitment Center, the US forces in Afghanistan carried on with their April 12th initiative "Operation Mountain Lion" with 2,500 occupation troops and carrying out some of the heaviest air strikes in Afghanistan since the invasion of 2001.

The picket was wrapped up with the reiteration of the demand for an Independent Public Inquiry into the occupation of Afghanistan- a campaign that will give people in Canada the opportunity to ask why the Government of Canada is cutting social programs as they exponentially increase the Canadian Military budget to fund the increasingly aggressive war drive in Afghanistan.

Picketers left with plans to return as part of their work to raise awareness and opposition to the occupation of Afghanistan. The next upcoming events include a forum entitled Hands off Iran! being held on April 21st at SFU Harbour Center(515 W Hastings) at 6:30pm and a protest rally April 23rd demanding US/UK Out of Iraq! 3 pm Sunday Vancouver Art Gallery (Robson St. @ Howe St.).

CANADA OUT OF AFGHANISTAN! BRING THE TROOPS HOME NOW! CALL FOR AN INDEPENDENT PUBLIC INQUIRY INTO THE CANADIAN WAR DRIVE IN AFGHANISTAN!