IN RESPONSE TO DEATH OF 10TH CANADIAN SOLDIER IN AFGHANISTAN MAWO ORGANIZES PICKET, DEMANDS:

"CANADA OUT OF AFGHANISTAN"

View Press Release Here

click photos to view larger version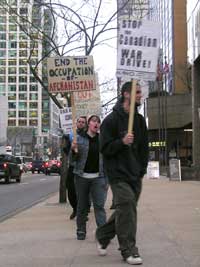 Just 12 hours after news of the death of Canadian Cpl. Paul James Davis of Bridgewater Nova Scotia reached Canadian shores, the Lower Mainland's anti-war coalition Mobilization Against War and Occupation (MAWO) held a press conference and Emergency Picket Action against Canada's occupation of Afghanistan.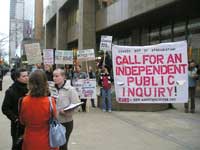 Speaking on behalf of MAWO at the picket, MAWO Acting-Secretary and UBC student-organizer Nita Palmer said, "The new Canadian war drive is in full swing. As of February 28th there are 2,300 Canadian troops on the ground in Afghanistan, mostly in the heavy combat area of Kandahar. Already we are seeing that Canada's 'top soldier' Rick Hillier's predictions about this combat mission are coming true – Canadian soldiers are coming home in body bags." Her statements from the press conference and picket action were covered and reported on CKNW AM 980 and on CBC TV, as well as on the independent news website www.anarac.com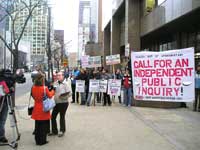 Twenty-five picketers who had gathered together on only four hours notice of the action cheered Palmer and MAWO's call for an Independent Public Inquiry into Canada's occupation of Afghanistan and chanted "Bring all troops home now!" The picketers marched before the closed doors of the Canadian Forces Recruitment Centre in downtown Vancouver while commuters in rush hour traffic honked their approval of the protest's demands.


Aaron Mercredi, Redwire Native Youth Media board member and organizer with MAWO spoke at the end of the picket to explain that Canada's occupation of Afghanistan has roots in Canada's occupation of Indigenous nations in Canada. "Since the occupation of Afghanistan began, life expectancy for Afghan people has dropped by four and a half years," Mercredi explained, "It's no coincidence that Indigenous people have the lowest life expectancy rate of anyone in Canada. This is what occupation does to people."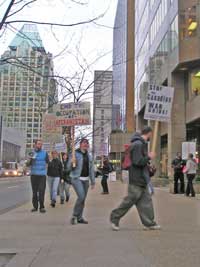 Thursday's emergency picket marked MAWO's 6th picket action in front of the Canada Forces Recruitment Centre since July 21 2005, when General Rick Hillier announced the deployment of 2,000 Canadian troops to Afghanistan. MAWO plans to return to picket in front of the Canadian Forces Recruitment Centre at 1070 W. Georgia St this coming Monday March 6th at 12noon, and to return every time a Canadian soldier is killed in Afghanistan.

JOIN THE NEXT PICKET ACTION AGAINST CANADA'S OCCUPATION OF AFGHANISTAN!

Monday March 6th
12noon-1pm
Canada Forces Recruitment Centre (1070 W. Georgia St)

Canada out of Afghanistan!
Stop the Canadian War Drive!
Independent Public Inquiry into Canada's Occupation of Afghanistan!