SUN PEAKS OUT OF SKWELKWEK'WELT!

click photos to view larger version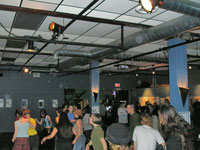 On Friday February 24, over 100 people packed into Video In Studios to support two Indigenous activists, Mayuk and Beverly Manuel in their struggle. For five years the Secwepemc people have been fighting against the colonial expansion of the Sun Peaks ski resort. Throughout these five years of struggle against the expansion, there have been over 57 arrests of community members resisting the development and defending Secwepemc land. Next month, Mayuk and Beverly Manuel will be appearing before the BC Supreme Court to challenge the charges that were brought against them for defending and asserting sovereignty over their territory. (More info: http://www.skwelkwekwelt.net/ )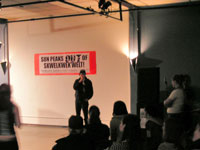 To begin this legal battle will cost thousands of dollars and so in a gesture of solidarity Mobilization Against War & Occupation (MAWO) organized a fundraiser to help raise money for their legal costs in this battle against Sun Peaks and the colonial governments of BC and Canada. The fundraiser was endorsed and supported by the Skwelkwek'welt Protection Centre Defenders and Redwire Native Youth Media.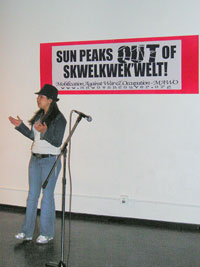 Aaron Mercredi, Metis youth, MAWO organizer, and Board Member of Redwire Native Youth Media hosted the evening, welcoming the supporters and introducing the incredible talent gracing the stage that night.


The evening was opened by Lady Sincere of the Squamish and Nisga'a Nations who shared traditional welcome and prayer songs and spoken word of resistance. She was followed by Tamara Nile a local Metis acoustic musician and songstress.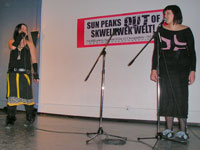 Iffer & Eliza of the Women's Empowerment Team, a project for Aboriginal Women musicians took over next and energized the crowd with their inventive electronic composition and songs.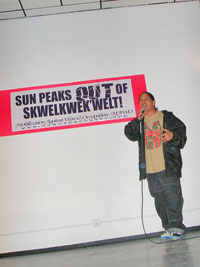 Manik 1derful, East Vancouver's #1 hip hopper followed next with his freestyle skills, rhyming words against war and occupation at home and abroad. MAWO Co-chair Kira Koshelanyk spoke in a break from the musical acts about why MAWO organized the fundraiser. She explained that we support Beverly and Mayuk as leaders in the struggle against colonialism today. Also we recognize that Canada's colonial beginnings are rooted in this stolen land but are now extending abroad in the occupations of Afghanistan and Haiti and Canada's leading occupying role there and we all need to support our brothers and sisters in struggle against imperialism and colonialism at home and abroad.


The music resumed with special guest Sista Hailstorm up from Los Angeles who rapped and gave shout outs to Indigenous people in struggle across the continent and around the world.

Obese Chief the notorious East Van rapper took the stage next and got everyone up dancing. The multi-talented Skeena Reece followed. A Tsimshian woman musician, singer, comedian and performance artist, Skeena stirred things up next impressing us with her voice and jokes and bringing us to tears with her touching stories. Skeena was joined by Jason Burnstick, professional musician and slide guitarist who also followed with his own set.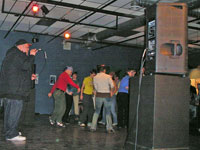 The evening was wrapped up with the stylings of DJ Contradiction who played reggaeton and Latin American hip-hop while people filled the dance floor.

Not only was the evening a success in surpassing the fundraising goal for the evening and gathering over $1300 for Beverly and Mayuk's legal defense but also in strengthening the bonds of solidarity and support in the community. Antiwar organizers, Indigenous activists and co-fighters and supporters all joined together against occupation in Skwelkwek'welt, all Indigenous nations in Canada and abroad, making our voices louder and stronger on that night and in the future!

SUN PEAKS OUT OF SKWELKWEK'WELT!
SELF-DETERMINATION FOR THE SECWEPEMC AND ALL INDIGENOUS NATIONS IN CANADA!