Picket Demands for an End to the Occupation of Afghanistan and Calls for an Inquiry into Canadian Occupation of Afghanistan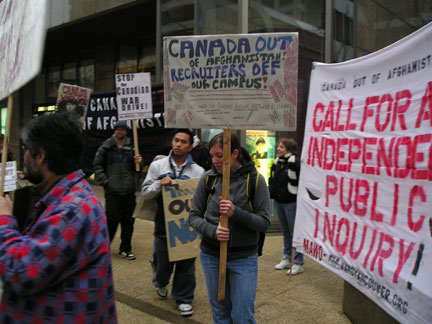 Dec 5th 2005 brought a picket action against the occupation of Afghanistan to the doorsteps of the downtown Canadian Army Recruitment Office for the second week in a row. The crowd of participants swelled from the first Mobilization Against War and Occupation (MAWO) action on Nov 28th. Dec 5th had over 30 picketers joining in between 12noon and 1pm. The chants of the crowd were joined with supportive horn-honking from drivers passing by throughout the action. At 12:30, Nicole Burton, Douglas College student and coordinator of MAWO's "Canada Out" campaign, delivered a short speech outlining the current developments in Afghanistan and the call for an Independent Public Inquiry into Canada's war drive. Nicole Burton condemned the destruction, death and devastation that the occupation has brought to the Afghan people. Afghan people suffer in a war-ravaged and chronically un-reconstructed country rife with sweeping unemployment and a life expectancy of 42 years old. Nicole connected this to the recent deaths and injuries of Canadian soldiers in Afghanistan and emphasized that the growing battle is proving that Afghanistan is indeed an occupied country and Canada's military is indeed at war in Afghanistan. We must discard and reject the racist rhetoric of the government of Canada, which said in July 2005, through General Hillier, "They detest our freedoms. They detest our society. They detest our liberties," All people in Canada must repudiate these attacks and turn to embrace our Afghan brothers and sisters. From inside Canada, and inside Afghanistan, we can fight together against the Canadian war drive.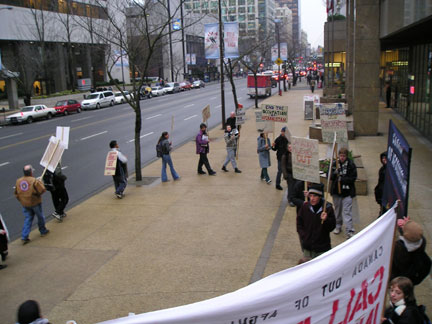 As a part of that fight, the Dec 5th picket demanded answers to the questions: "Why is the government of Canada spending 25.8 billion dollars on the military when tuition at colleges in BC has gone up 200% in the last 4 years?" "Why is Canada engaged in an occupation that has decreased the life expectancy in Afghanistan by 4.5 years since 2003?" "What is the government of Canada's real objective in occupying Afghanistan?" and "Why weren't people in Canada consulted before this action was taken?" The crowd continued to march and picket never once letting up on the chants for an end to the occupation of Afghanistan, to bring troops home now and calling for an independent public inquiry into the Canadian war drive in Afghanistan. As the rally wrapped up the MAWO picketers stated their commitment to return and to continue demonstrating, organizing and educating to build a movement against the Canadian war drive in Afghanistan. The rally ended with the call that had echoed off of the downtown buildings for the past hour:

INDEPENDENT PUBLIC INQUIRY NOW!
CANADA OUT OF AFGHANISTAN!