PULLING OFF THE PEACEKEEPING MASK! CANADA OUT OF AFGHANISTAN!

The Call for an Independent Public Inquiry into the Occupation of Afghanistan comes to Vancouver Island!
On Friday October 7, over 35 people piled into the main meeting hall of the Comox United Church in the Comox Valley on Vancouver Island for the forum and discussion "Canada Out of Afghanistan: Pulling Off the Peacekeeping Mask". The event was organized by local antiwar activists and Mobilization Against War & Occupation (MAWO) and endorsed by the Comox United Church Outreach. Many of participants were young people and students from Highland Secondary and North Island College. All had come out that night to discuss Canada's increased role in the occupation of Afghanistan and how to build the antiwar movement effectively in Canada.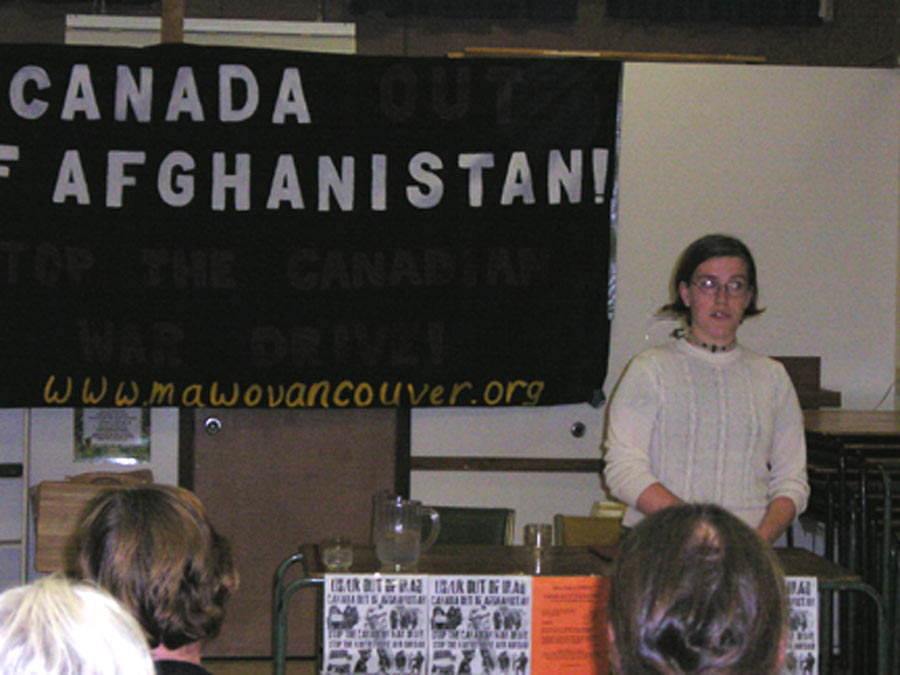 The evening was opened by MC and main event organizer Sara Grant, a grade 11 student at Highland Secondary School. Barb Biley, from Comox Valley Peace Group spoke first and explained the 2004 invasion and following occupation of Haiti by Canada, US and France and Canada's role in the ongoing UN occupation of that country.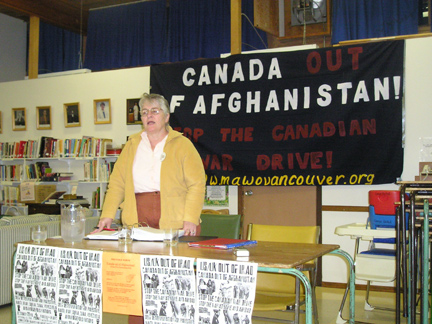 She was followed by Nita Palmer, a student organizer with the Coalition Against War on the People of Iraq and Internationally at the University of British Columbia in Vancouver. Nita explained the conditions for Afghan people under occupation, especially the situation of women, which has worsened significantly during the 4 years of occupation.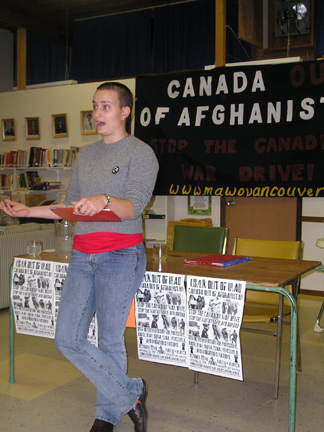 The panel was closed by Nicole Burton, a student organizer at Douglas College and the coordinator of the "Operation: Canada Out!" campaign organized by Mobilization Against War & Occupation. She introduced the call for an independent public inquiry into the Canadian military occupation of Afghanistan. She explained that this call and the process of the inquiry would give space for people in Canada to start discussing and questioning the increasingly aggressive role that the Canadian military is pursuing.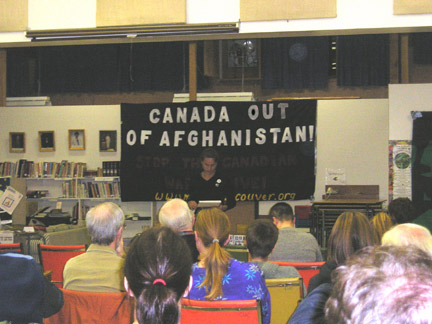 Discussion that followed was lengthy, energetic with many of those in attendance contributing their questions, comments and points of debate.

The forum was an important success in showing and expansion of opposition to Canada's war drive. With all of its diversity of opinion, the forum reflected a growing understanding of the need to open discussion at all levels, in all communities. The interest in MAWO's campaign to oppose Canada's criminal war-making policies was received with interest and support from the forum participants. The knowledge of Canada's increased war drive and increasing attacks on poor and working people abroad are reaching a wide variety of people across Canada including those in the smaller communities. With this increased awareness the energy of the antiwar movement and opposition to the Canadian war drive will emerge everywhere.