July 28 MAWO Picket Line Against the Canadian War Drive Targets the Canadian Forces Recruiting Centre… two weeks in a row!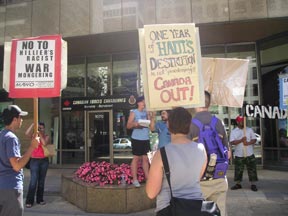 On July 14th 2005 Canadian General Rick Hillier announced that Canadian troops deployed to Afghanistan will target "detestable murderers and scumbags" as part of their job, which – he clarified – is to "kill people." Nestled in his racist rhetoric was the announcement that by February of 2006, two thousand more Canadian troops will be killing people in Afghanistan.

Every single major political party in Canada vocally supported Hillier's comments… but in Vancouver, Mobilization Against War and Occupation (MAWO) responded with a call to action for the anti-war movement against Hillier's war mongering and against the occupation of Afghanistan and Haiti, and for self-determination for Indigenous Nations in Canada.

Today, Thursday July 28th MAWO held true to this call to action with a demonstration picket line at the Canadian Forces Recruiting Centre in the financial heart of downtown Vancouver for the second week in a row.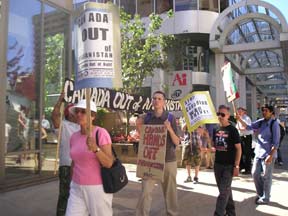 More than 30 people held a strong picket line and filled the busy streets with chants that rose above the din of early rush hour traffic while leafleters distributed newsletters to more than 200 people who passed by. Many of these people stopped to listen to speakers and to sign the petitions demanding "Canada out of Afghanistan and Haiti!"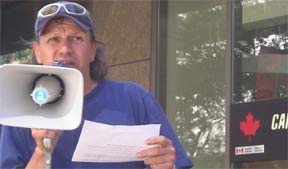 The first speaker, Dave Diewert, leader in the Christian community and professor at Regent College explained, "When we sow fear, hatred, and violence around the world through our policies and practices of war and occupation, unjust economic repression, and punishing political arrangements, we reap the same… We must raise a voice of protest against this strategy of death."

Aaron Mercredi, MAWO member, Metis youth organizer and Redwire Native Youth Media Board member followed Diewert with the words, "It is no coincidence that Afghanistan is the poorest country in Asia, that Haiti is the poorest country in the Western Hemisphere, and that Indigenous people are the poorest in Canada. These different nations, different peoples, different cultures all have one thing in common; they are all occupied by the Canadian Forces."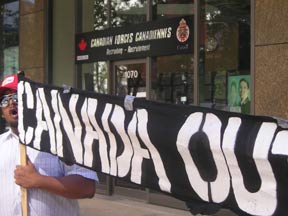 Kira Koshelanyk closed the picket with a statement that no working, poor or oppressed person in Canada or anywhere in the world benefits from the Canadian war drive and she stated MAWO's promise to continue to organize against Canadian war and occupation. The picket-demonstrators responded with the chant – familiar in the US and now, with the recent DOUBLING of the Canadian war budget, making a lot of sense in Canada – "Money for housing / education / health care, NOT FOR WAR; Occupation NO MORE!" and "No to Hillier's racist lies! Stop the Canadian war drive!"On top of the "Operation Canada Out!" petition drive campaign (which has collected more than 7,000 signatures against the occupations of Afghanistan and Haiti), MAWO has responded to Hillier's July 14th statements with a series of protest pickets against the Canadian war drive at the Canadian Forces Recruitment Centre at 1070 W. Georgia in downtown Vancouver.

CANADA OUT OF AFGHANISTAN! CANADA OUT OF HAITI! NO TO HILLIER'S RACIST WAR MONGERING! STOP THE CANADIAN WAR DRIVE!

click here to read the call to action and find out more!