---
Halfway through 5 straight days of Hip Hop Against War & Occupation!

---
Mobilization Against War and Occupation's (MAWO) Hip Hop Festival Against War and Occupation has reached the half way mark. With two incredible shows passed and amidst international acclaim, the five day festival is now hitting the weekend. Already, the Hip Hop Festival Against War and Occupation has highlighted Vancouver as a cultural landmark in the world hip hop and anti-war scenes.

The festival was kicked off with a press conference featuring two hip hop MCs, Manik 1derful of the East Vancouver Indigenous hip hop crew Sunday Skool Dropoutz and the top female MC in Vancouver Ndidi Cascade.

Manik 1derful explained his reason for Sunday Skool Dropoutz' participation in every single event of the festival, "As an Indigenous person living under Canadian occupation, colonialism and racism I understand how important the cause of anti-war, anti-occupation is. As a hip hop MC, I know how powerful hip hop can be as a tool of communication to people. That's why we are supporting and performing at every show in this festival."

After only two days, the Hip Hop Festival Against War and Occupation has already accomplished the goal of raising the voices of oppressed people, through hip hop, through and above Vancouver against war and against occupation – and much more.

At the first show, at the Sonar nightclub on Wednesday June 8th, more than 350 people packed the show to a diverse lineup. Thursday night, alongside a number 2 listing in the Vancouver Sun's "Top Summer Festivals of 2005" calendar, the enormous festival continued with a packed-to-the-rafters show at the El Cocal restaurant on Commercial Drive.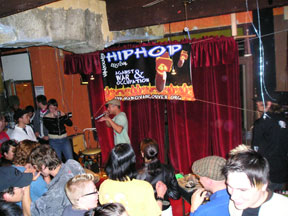 Tonight the festival continues with a show at the Edmonds Community Centre (7282 Kingsway – Burnaby) featuring performances by the high school breakdance clubs "Remix" (hailing from Britannia High School) and the Burnaby Mountain – Moscrop Highschool break team. With support from the City of Burnaby and collaboration with the Burnaby youth centre, this all-ages show is expected to be packed with young people and high school students.

This focus on youth and students will continue with the all-day outdoor show at Grandview Park. With support from the Britannia Community Centre, this show will feature 17 local hip hop DJs and MCs plus local graffiti artists and break dance teams from Britannia High School and the Britannia Teen Centre. The show will also feature a graffiti wall and workshops for those uninitiated into the world of graffiti and speakers from MAWO and other peace and justice oriented community groups.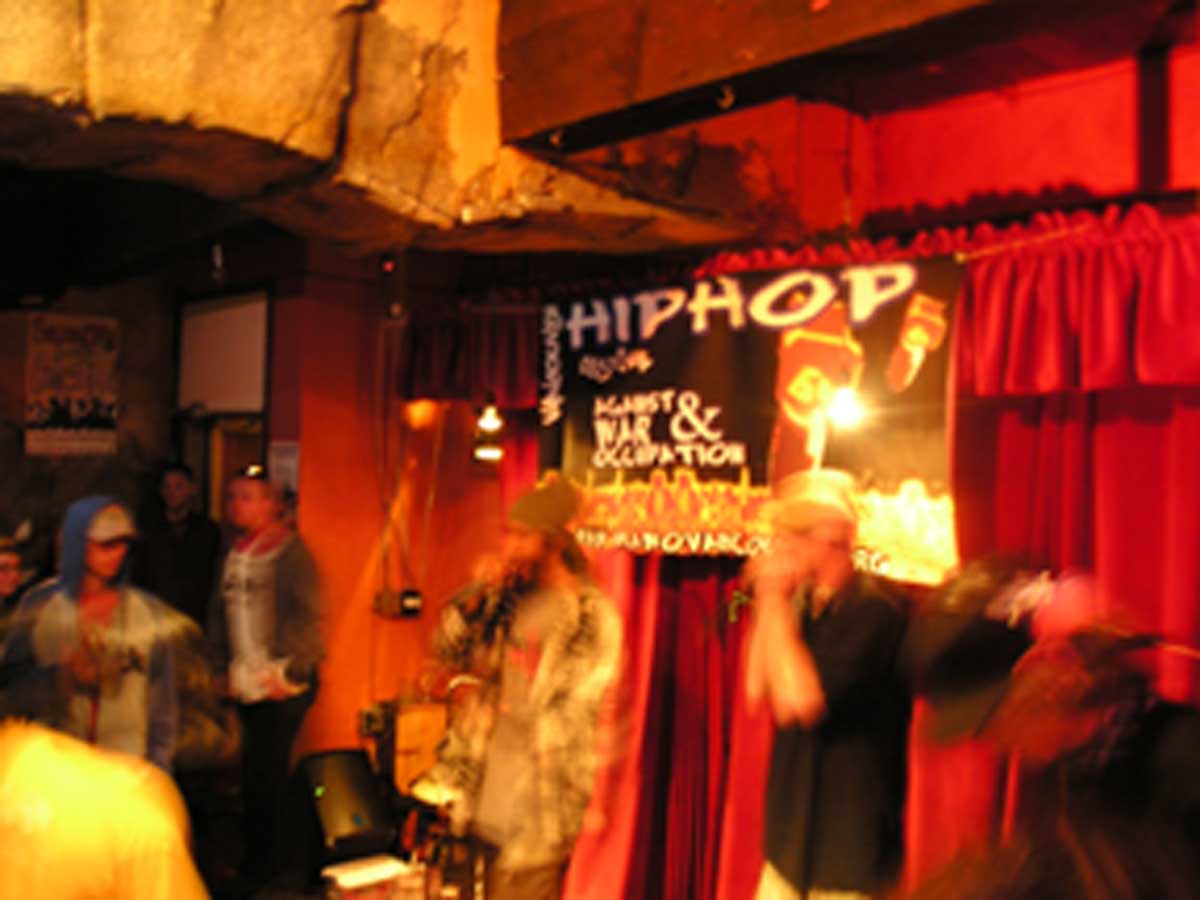 MAWO Hip Hop Festival Against War and Occupation Mix-CDs are available to order for $5 each (postage included) through info@mawovancouver.org or at any of the Festival events. Promotional CDs available for free to all media.