April 2nd - 4 The People Fundraiser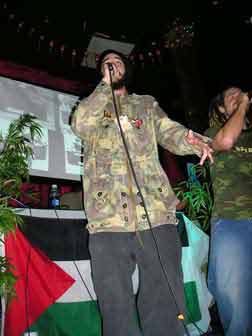 On Saturday April 2nd over 150 people came out to the Lick Club in Vancouver for 4 The People, a fundraiser to benefit Mobilization Against War and Occupation (MAWO). The evening featured a line up of great performances by local DJ's, Hip Hop artists, and visual artists. With the support of all the people that came out for the event MAWO has raised over $1000 for ongoing antiwar, anti-occupation work. Featuring performances by DJ Sage, P.O.S., Ndidi Cascade, Sons of Zadok, Gemineye, and Slow DJ's, the night was a huge success showing the relationship between the art & culture of Hip Hop and the politics of war and occupation.

Visuals that accompanied performers cast images of resistance from Iraq to Palestine on the stage. Original footage of Palestinian youth battling IDF tanks with small stones and rubble while half way across the world MC's stood on the stage speaking of struggle and resistance. Combining MAWO's antiwar work with performances, 4 The People was incredibly effective at adding this perspective of art and culture to the antiwar movement. Thanks to everyone who made the night possible and continuing to work to expand the antiwar, anti-occupation movement.