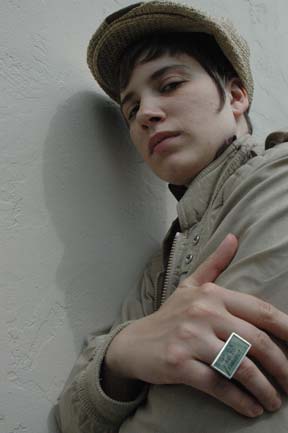 INVINCIBLE Fierce female MC straight out of Detroit!

Invincible is considered a dangerous lyrical warrior whose verses are steeped in defiance. It is rumored her lab in the microgalaxy known as Detroit, MI, has been the headquarters for historic metamorphosis with conspirators including her crew the ANOMOLIES, Finale, Suheir Hammad, and Waajeed of bling47/PPP. Splitting her time between youth organizing with Detroit Summer's Live Arts Media Project, the US Palestine Youth Solidarity Network, and constant touring, she blurs the line between art and activism. Invincible's latest evolution, and long awaited solo debut: "Shapeshifters", promises to be even more rebelliously appealing to the masses than her previous work. www.myspace.com/invincilana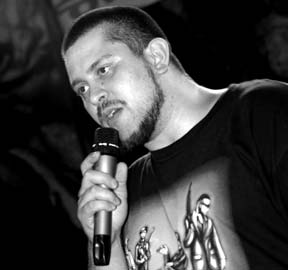 SPIN Guatemalan-born Spoken word and wicked rhymes out of Toronto!

Guatemalan-born spoken word artist and freedom fighter, SPIN has been blazing audiences in two languages from across the continent for the last three years. His poetry has aired on the CBC and he was recently a contestant in the CBC Poetry Face Off. Blessed with the versatility to rip the stage at the rowdiest Hip Hop concert and still entice the most avid poetry lover, SPIN has shared the stage with Internationally renowned Hip hop recording artists such as K'naan and M1 from Dead Prez. SPIN ripped up the stage in his mother tongue (Spanish) in front of thousands of Venezuelan youth from the barrios of Caracas in 2005 and was the only poet to spit spoken word at the Havana International Hip Hop Festival in Cuba in 2004.www.myspace.com/revolution06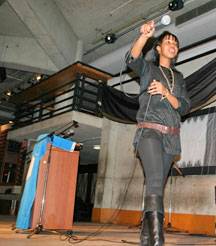 MUNA JIMALE Somali Spoken Word Artist from Toronto!



Muna Jimale was born into a family with a strong connection to their oral traditions; her grandfather was a celebrated poet in the Somali community. She uses poetry as an outlet to shed light on the gross oppression of peoples, which lie below the radar, and manipulation of minds and institutions.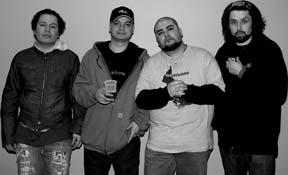 PEOPLES POETS Social Justice Hip Hop Quartet coming live from Edmonton!

The people's poets are three Edmonton MCs who rap about social justice issues, local and global. rosouljah, 4 Life and solidario joined up in the fall of 2006 with the intention of making critically conscious hip hop. They then hooked up with Edmonton's renowned cut artist DJ Dice, who has over two decades of experience in contributing to the local Hip Hop scene. This hip hop colectivo mixes rhymes about life experiences with political commentary.www.myspace.com/peoplespoets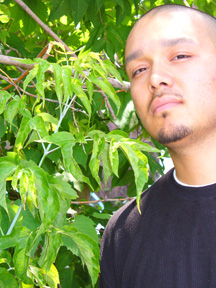 MEMO Salvadorian spoken word out of Toronto!

Born American raised Canadian with Salvadorian blood Memos poetry is based on opinions, experience and personal connections. He is a slam poet. He performed in Kingston, Ontario for the Dubb Poetry Festival. He came second place in the Ontario College Literacy Poetry Contest. He has facilitated workshops for the youth of Toronto. He is part of S.T.E.P U.P a group of young poets under the Dubb Poetry Collective. He has organized a group of poets from Humber College called The Unheard Head where he is studying to become a child youth worker.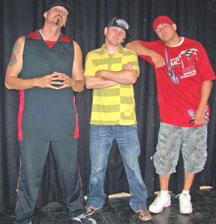 7TH GENERATION Indigenous Youth Empowerment Hip Hop Trio from the Okanagan!

7th Generation has been involved in hip hop for over 10 years and was formed as a group over 7 years ago, proof that all members are dedicated and passionate about the work that they do and the message that they send.
Hip hop has taken the world by storm and is a musical genre that has touched people of all ages, all backgrounds, and all languages. There is not one country where the youth of the world have not been touched by hip hop. There is a stereotypical image of hip hop that many new artists are trying to break out of. There are many artists using their lyrics as a way to communicate positively with their audiences to send a real message of hardships, triumph and success.
This year has been one of 7th Generations most successful years so far. They have reached over 100,000 people in the past year and are one of the most listened to, downloaded and visited native hip hop sites on the internet, as well as one of the most traveled and most requested groups in the native and non native youth communities in Western Canada. They are also the only group in the Okanagan to be considered to open up for some of the bigger names in hip hop, such as The Game, Lloyd Banks and Obie Trice. www.7thgeneration.biz



---
... & LOCAL TALENT!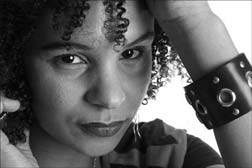 Kia Kadiri (with Brigee K)

From soulful singing to rap to spoken word, Kia has recorded with Moka Only (Battle Axe) and Prevail (Swollen Members) and opened for such heavyweights as Rahzel, Mix Master Mike, Spearhead, Ivana Santilli and Kinnie Starr. Currently she is working on her debut recording with acclaimed jazz bassist Sean Drabitt, Juno award winner Brad Turner, and groove guru DJ Meta4. Expect an enchanting performance from this emerging nu - school diva.www.myspace.com/kiakadiri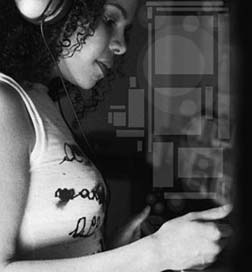 Ndidi Cascade & Deanna

Ndidi Cascade and Deanna radiate a positive vibe through their message-based music. Ndidi Cascade is known for her rhythmic flow and insightful lyrics, whereas Deanna is known to captivate audiences with her powerful and soulful vocals. These talented women have shared the stage with artists such as Femi Kuti, Michael Franti and De La Soul. They are very active in the community facilitating youth workshops using hip hop as a medium for self-expression and healing.www.myspace.com/ndidicascade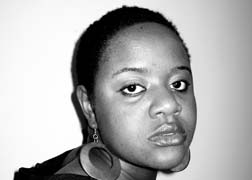 Molasses Jones

Natoya Ellis AKA Molasses Jones, is a multifaceted Artist, She is a Poet, Writer, Painter, Sculptor and Lover. She draws her inspiration from nature and the elements within it, she also draws inspiration from the characteristics and emotions of people, whether it be good or evil. She believes it the delicate balance of universe and the elements within that brings forth change. So she tries to lead a postive life, ever conscious of the delicate balance which must be kept.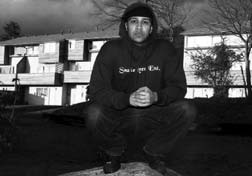 Discreet Da Chosen 1

Discreet Da Chosen 1 (a.k.a. Leeland Askew) has drawn considerable media attention for his performances alongside some of today's influential hip-hop acts—The Game and Chamillionaire—and for his appearances on MTV Canada and City TV. His diverse background has groomed him to become that rare combination of multi-talented artist and uncompromising social activist. Discreet uses his diverse background as an Aboriginal African-Canadian to bring a unique worldview to the hip-hop scene.www.myspace.com/snakeeyesentertainment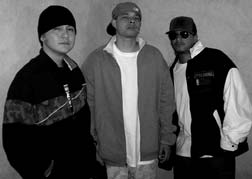 Sunday Skool Dropoutz

Manik, Os 12 and Sichuan have all individually been into hip hop for over a decade each. Together, they are the Sunday Skool Dropoutz and combining the forces of Fresh Coast and City Planners, they have always supported community based hip hop events. They see war as a tool to perpetuate different colonial occupations and they speak from an Indigenous-turtle island perspective.www.myspace.com/sundayskooldropoutz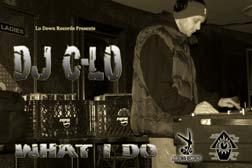 C-LO Festival Resident DJ two years running!

DJ C-Lo is the definition of an underground DJ, steadily building his impeccable mixing skills over the last fifteen years. Listening to C-Lo's live mixing will take you on a trip from early to mid 90's underground to the present day hip hop you want to hear. Whether expertly blending tracks, supplying the foundation of beats, mixing and scratches for his groups Influents or FTS, or holding down his own up and coming label Lo Down Records, DJ C Lo always represents real hip hop and revolution with class and respect.www.myspace.com/djcashlo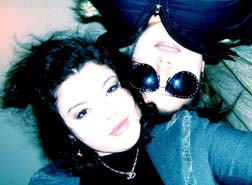 Genetics

From Vancouver, Canada comes one of the most talented and diverse duos in years. Fusing Hip Hop, with dance music and R&B. Genetics unique style has allowed them to blend their music in a wide variety of music scenes within the industry. Everything from sharing the stage with Hip Hop pioneers 'Naughty by Nature', to taking part in a world beat collaboration between 15 musicians from around the globe. 'Genetics' was Formed in 2002 by twin sisters 'Dee' and 'One six'. Their collaborative nature and 10 year songwriting experience has attracted a broad and diverse fan base that continues to grow.www.myspace.com/geneticspage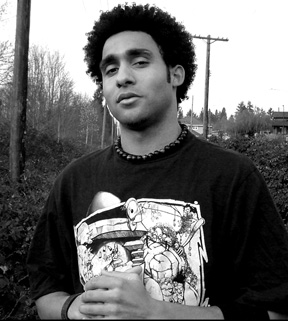 Project

Between the high energy of live performances and a thorough understanding and respect of the history of rap music, PROJECT is a return to the conscious MC who draws from the rhythmic feel of his art to progress to anew, yet classic style of hip hop.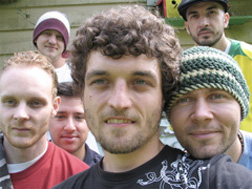 Influents

Influents have solidified their position at the fore-front of socially conscious hip-hop, locally. Backing their uplifting content with equally progressive action, "The Flu" have been seen as often in high schools and youth centers, or performing at charities and political rallies, as they have lighting up house parties and dance halls. Calling out for more B-boy solidarity and a return to "peace, love, unity, and having fun."www.myspace.com/influentscrew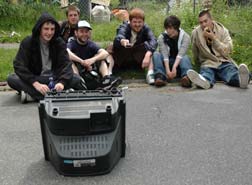 Dance Dance Revolution

Six individuals have come together to offer you a taste of something different, A REVOLUTION OF SOUND. Fearlessly defying genre boundaries by mixing HipHop, Rock, Dance, even Classical and Progressive music styles, this is a project that everyone can enjoy. Smash your TV kids, and turn up the stereo,because This Dance Dance Revolution Will Not Be Televised.www.myspace.com/ddrworldwide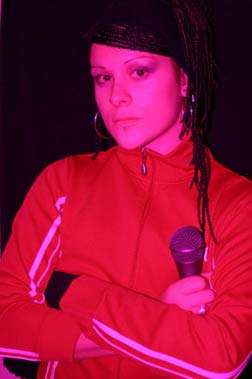 Brigee K (with Kia Kadiri)

Brigee.K decorates the mic with her rhyming quickness and thought evoking lyrics. From hip hop to soul, jungle to drum and bass, dancehall to grime this woman captivates audiences from coast to coast with her genera less styles and effortless transitions. Teaching work shops, leadership conferences and counseling are some of the avenues she has taken in order to inspire, motivate and elevate young minds. As a strong independent female artist she has taken her skills and used them as a powerful tool to create awareness for various causes and organizations. The "Make Poverty History" Rally, as well as Project STITCH (Vancouver AIDS Society), Youthco and United Action for Children are some just to name a few.www.myspace.com/19899652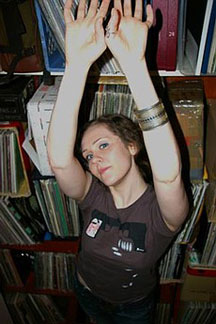 Geneva B

Steel-City raised and Vancouver-based recording artist geneva.b incorporates everything from old funk jams to cyborg future rap into her hybrid sound that is best described as indescribable. Raised on heavy electronics and possessing a serious passion for innovative lyrical content, geneva.b believes music is a catalyst for change. She appears on Ira Lee's new double album "Die" and a track from Aamir's "Underwater Regions" also featuring 2Mex (Project Blowed) and Bigg Jus (Company Flow) will be released on vinyl later this year. Expect a mixtape before the year is out!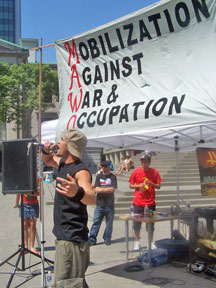 Sandman

Sandman of Chronic Vibes a collective duo of Illusion and Sandman, has been writin and spittin rhymes for 4 years. With two independently produced albums, Chronic Vibe is breaking into the seen with a long lasting instinctive feel for the underground sound. They will be laying tracks from their new album "Who brings the Vibe?" available during the festival with proceeds from sales going to help MAWO in building the anti-war movement.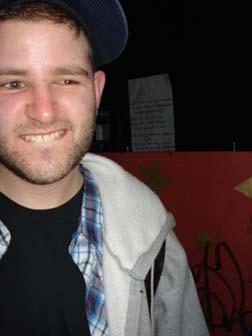 Chadio

Chadio has been making quite a name for himself over the last few years.This one-man lyrical powerhouse is a founder of the Imaginations Treetrunkcrew, as well as a member of Dance Dance Revolution and Quoted Motives, three crews that have been responsible for some of the most original hiphopmusic Vancouver has seen since 2002. Last year he played over 40 shows inand around Canada and this year he just realeased his first solo project, "Underestimated Raindrops" with Treetrunk's main producer, Aalo Guha.www.myspace.com/chadiotreetrunk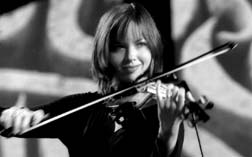 Kytami

Kytami, violinistextremist, is an eclectic one-woman violin revolution. Currently she is staying busy by being a member of five groups: live hip hop/dancehall/drum'n'bass group Third Eye Tribe, acoustic folk-punk band Blackie and Kytami, the dramatic hard-core band Lownote, the punjabi/celtic fusion group Delhi to Dublin and violin vs. vinyl hip hop duo Dream Sequence. Kytami has played at festivals and events all over the west coast, worked with a wide variety of artists and independently released one album. She is planning to release her second album early this summer. www.kytami.com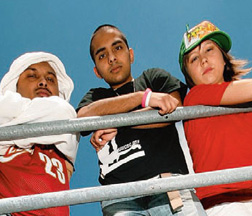 A-SLAM Productions

In June 2007 a-slam released their first mix tape entitled 'Now They're Talking'. The disc features the hit single "For You" (produced by EV & freerapbeats.com), which received first place in the 2006 International Song writing Competition (hip-hop / r&b category). The accomplishment has given a-slam extensive media coverage, including radio spots, a segment on Global BC news, and the front page of the 24 hours daily newspaper.

Their disc is a must have, toping off with 26 tracks - a combination of remixes, original hip-hop tracks, and cultural fusion tracks. www.myspace.com/evmusic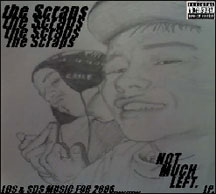 Da Scraps

Da Scraps formed as a group in 2002/03.The group consists of two young men from Shuswap territory that go by the names Geo and Rye Optiks otherwise know as Bemo. Geo is from DMC Reservation (Dead Mans Creek) and Bemo is from KIB (Kamloops Indian Band). With two different styles and views on life they make an incredible, hard hitting team. Geo's rap style often reflects on the politics that surround him on the reserve and tell the hard hitting truth about life on the "rez". His music also reflects on the hardcore lifestlye of Aboriginal youth from the rez and what they have to live through on a day to day basis, this is very serious, as is the message that young people need more support in their everyday lives. Bemo on the otherhand represents for his people and stays proud to to be an aboriginal person in this day and age. Bemo works hard to spread the message, representing not only for people from the Rez but also people on the streets and across the map, he believes that "the time is now", and it's time to take back what is rightfully ours and not allow other people to do it for us!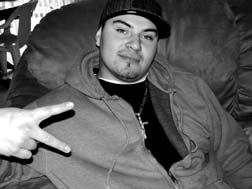 Bound-2-Be

Bound-2-Be was born October of 1984 in San Salvador, El Salvador . In 1991 his family moved to Canada Ontario leaving the civil war behind . Recently Bound-2-Be has performed in shows such as, Fresh Coast 20604 Re-union, The Rap Show, Rent Money MC Battle, GVUAS Graduation, Pulse for the Heart & Stroke Foundation. He has collaborated with Artist such as Emotionz, Apt Excact, Chancewon, Genetics, Messa, Ill-Eagle, Vertiflow, J Productions, Overground Beats and Much more . Bound2Be is working on an Album & Mixtape Soon to be released early 2008.www.myspace.com/bound2be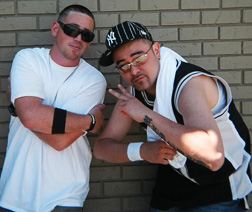 Random Henchmen

Random Henchmen (Mr. Archive and Flip Da Lip) is a crew that's in it strictly for the love of music. We combined old school flavour with a new twist - our style can go from smooth-ish to yelling on the mic. We've been doing this for fun since we were little brats, and we won't stop 'till we drop.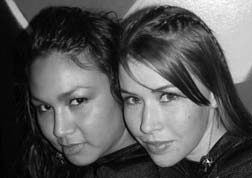 Gold

Gold is comprised of Okalani LeBlanc and Inez Jasper. Okalani has a strong foundation based on a life dedicated to performance arts and tours as a support vocalist for Juno award winning artist Leela Gilday. Inez is rooted in jazz but has showed her versatility in various collaborations with artists such as Jason Burnstick and Sandy Scofield. A majority of the beats are created by Ashley "Sichuan" Gunn who has penned beats for a majority of the cities Hip Hop community. The end result is music that fits with the day and ages pop culture with a unique Vancouver flavor added.www.myspace.com/musicbygold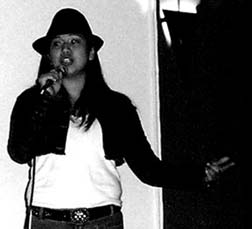 Lady Sincere

Mandy Nahanee (AKA Lady Sincere) is a 23-year-old Squamish/Nisgaa activist, other and strong Indigenous fighter whose life and politics are best represented by her music. From powerful traditional songs to thoughtful and piercingly honest flows, Lady Sincere returns to the Hip Hop Festival Against War and Occupation.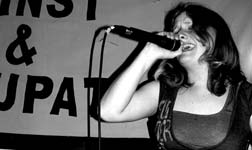 "VC"

Originating from 195th and Willowbrook Drive to holding it down for all of Cloverdale from 184th and 64th, V.C has been rocking the mic since the early days of 1995 where she wrote her first rap in a basement after being inspired by the sounds of the Wu-tang clan and hasn't stopped since. She brings a unique flavour everytime she steps to the mic and never disappoints the true hip hop heads.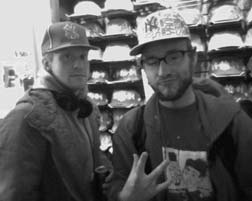 Bitter Tastebud

Was the universe created for us? What is the real world definition of progress? These questions were the basis of the formation of a cosmography for the Bitter Taste Bud. Some years and many influences later the cultivation began. Flows, concepts and songs were produced. An alleviation resulting from musical creation seemed to counter balance the burden of being aware of the conditions we live. With each passing chapter making it clear that we are actually inhabitants of the culture of make believe. Teamed together with DJ Us & Them, they comprise the entity known as The Slow Rot.www.myspace.com/bittertastebud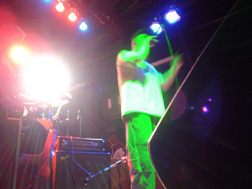 Lyric

Born and raised in Surrey, BC, Lyric's limited exposure to commercial and gangsta rap sparked a preference for punk rock and skateboarding. However, in stumbling across groups like DeLa Soul, Quannum, Del and Common in the late nineties, his musical horizons were broadened considerably. As his understanding of rhyming evolved, so grew his love affair with the craft; he began to write and has yet to stop.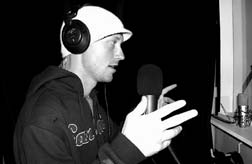 Speeches Beyond

First and foremost I don't consider myself to be a generic rap artist. I perceive myself first to be a poet, but not in the sense of someone who talks or writes poetry, but in the sense of someone who lives as the poet would. – forever searching the earth for the truth about life then relaying that message back to the people in the form of words. This is the purpose of a true poet.www.myspace.com/speechesbeyond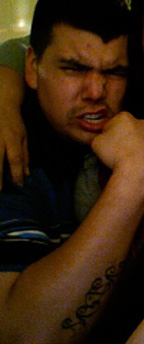 Mathew Anton Eric Nordli

Mathew Nordli is a 21 year old Dene artist born in Comox B.C. Currently residing in the East end of Vancouver, Mathew is a contempary first nations artist who specializing in stylized urban fonts attaching them to walls, clothing, and canvas. He is currently in a training program called "Spirit Rising Memorial Project". Which is teaching aboriginal youth and adults to carve. The end result is to create a Memorial totem pole for the missing women of the downtown eastside. He is very committed to his community, which inspired him to create logos for youth organization's programs such as Roving Leader, and Urban Native Youth Association (UNYA). Mathew is also apart of the Knowledgeable Aboriginal Youth Association's Youth Action Group for the Arts (YAGA). With the YAGA they had an exhibit at the annual Talking Stick Festival called Impulsive Expression in February 2007.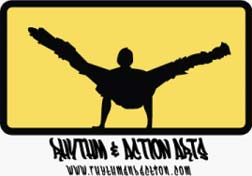 Rhythm & Action Arts Society

Rhythm & Action Arts is a non-profit society dedicated to the social and physical development of youth through dance, martial arts, gymnastics, urban arts and sport. Founding Directors Monir Osman and Kelly Balon share a vision that many disciplines of dance and movement are interconnected through their deliberating execution of form and style. Breakdancing is the core of Rhythm and Action Arts because of the supreme athleticism and individuality required to master the art, and its applicability and relevance to urban-youth culture. Recognizing the influences of breakdancing - kung fu, capoeira, gymnastics and cultural dance – Rhythm and Action Arts promotes respect for these synergies of movement and provides the platform to inspire cross-cultural and interdisciplinary training, thus creating a community of, and resource base for amateur and professional dancers, athletes and artists. Rhythm and Action Arts is a talent collective representing hip hop, powwow/ fancy dance, capoeira, bhangra, skateboarders, graffiti artists, DJs and other cultural dances. www.rhythmandaction.com




For more information about the HIP-HOP Festival Against War and Occupation 3...
Call (604) 719-7410 or e-mail: info@mawovancouver.org